Music graduate pursues his passion at Juilliard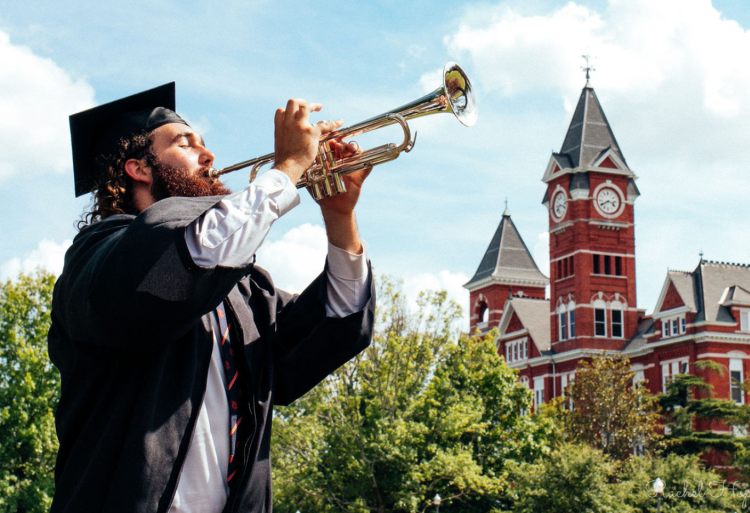 After attending a summer band camp, Wilson Childers decided to double major in engineering and music, but he found his passion for the trumpet was stronger than that for his engineering classes. Today, the 2020 graduate is currently furthering his musical talent at the prestigious Juilliard School. Learn more about Childers below:
Where are you from and why did you decide to major in music at Auburn University?
I'm from Warner Robins, Georgia and, actually, I didn't always want to major in music! I thought for the longest time that I wanted to follow in my father's footsteps and get an engineering degree from Auburn, but I met Dr. Mark DeGoti (Auburn Professor of Trumpet) through the Auburn Summer Band Camps, and he somehow talked me into doing a music and engineering double major. During my sophomore year, after surviving year one of my double degree, I found myself absolutely miserable in my engineering classes but really excited about what I was doing in music. Following an encouraging push from Dr. DeGoti and Dr. Rick Good (Director of Bands), I changed my major, dove headfirst into music, and never looked back!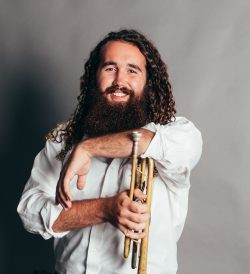 How did your professors and classes prepare you for study at The Juilliard School?
I attribute a lot of my musical success at Juilliard to Dr. Good's near daily lectures on musicality and basic musical manners. The musical suggestions I hear most often from conductors at Juilliard are actually the same ones Dr. Good spent years drilling into the Auburn Symphonic Band. My ability to keep up musically is really a testament to the musical intuition I learned from Dr. Good. I also can't overstate the impact that Dr. DeGoti and the Auburn Trumpet Studio have had on my musical development. Dr. DeGoti's studio is recognized on the national level and is comprised of some of the finest trumpet players I've met. Sharing the stage—and the practice room—with them was as educational as any masterclass or lecture.
What is the biggest difference between Auburn and Juilliard?
The biggest difference is being surrounded by people who share my interests and passions. At Auburn, my best friends were engineers, veterinarians, teachers, mathematicians, you name it. But at Juilliard, everyone lives to perform. I really loved the diversity of thought I was exposed to at Auburn, but spending time surrounded by other born and bred performers is such a unique experience.
If you could go back, would you do anything differently during your time at Auburn?
If I could go back and change one thing, I would probably just stay at Auburn longer! I had a fun five years there, but I feel like I had another two or three in me at least. Really though, there's nothing I would change about my time at Auburn. It was without a doubt one of the most special times of my life, and the memories I made there are ones I will treasure for a lifetime.
What is your favorite thing about playing trumpet? Your least favorite or most challenging?
My first trumpet teacher once told me, "The trumpet gets all the fun parts", and after 12 years of playing the trumpet I've come to agree with him! The trumpet, when operated correctly, is incredibly nimble and can navigate solo lines with the playfulness of an oboe and the virtuosity of a violin. At the same time, it serves as the lead voice of the orchestra's brass section, so it gets to soar over the orchestra at the boldest moments of musical triumph. Since, of course, you can't have too much of a good thing, the trumpet is relegated largely to those two roles of "soloist" and "brilliant soaring melodies", and those are—to me—the two most fun roles to play.
So, fittingly, the worst part of trumpet playing is that we can't play more of it. Trumpet playing is very physical, and it is one of the only instruments that causes injuries not related to overuse. Split lip tissue, torn muscles and even hernias are not uncommon among trumpet players. Even when the issues aren't that serious, fatigue and outright lip muscle failure regularly limit what we're able to do on our instrument.
What is your favorite piece to play and why?
A recent favorite of mine is "Legende" by George Enesco, an early 20th-century French piece for trumpet and piano. The trumpet part is just beautiful and a true joy to play, but the piano part is what really makes the work special. It's one of the few works in our repertoire where the piano part is as beautiful as the trumpet part, and when I get the chance to perform it with a great pianist it can be a really special musical experience.
What are your career goals?
This is a question every music major dreads answering! Ultimately, I'd love to perform with full-time with a professional orchestra. I'm also planning on trying to get into the Broadway scene once theaters open back up, and the military bands are a great career option as well.
Any advice for someone wanting to pursue a similar path as you?
The best advice I can give is this: Get out of wherever you are! If you're comfortable in the little scene you're used to, take a chance and go somewhere that makes you feel like you're way out of your league. You'd be surprised how fast you catch up.
What is an interesting fact about yourself?
I'm a fourth-generation Auburn student! My father graduated in '92 and my mother in '94. My grandfather graduated in '63 and both of my great-grandparents in 1937. My great-great grandmother never attended the university, but she did live in Auburn for many years. Her house was downtown around where Auburn Bank stands today, and she owned a shop a few doors down from the current J&M Bookstore. I guess you could say Auburn runs in my family!
Related Articles
---