Auburn alumni Thom Gossom Jr., Michael O'Neill to stage world premiere of 'Alabama Boys' at Woltosz Theatre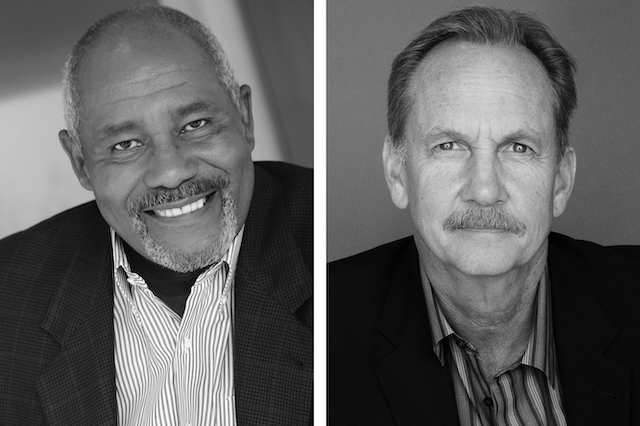 The Jay and Susie Gogue Performing Arts Center at Auburn University will soon present the world premiere of "Alabama Boys," a new play written by and starring College of Liberal Arts alumni Thom Gossom Jr. and Michael O'Neill, on Wednesday, Oct. 26, and Thursday, Oct. 27, at the Woltosz Theatre.
Gossom and O'Neill have enjoyed prolific careers as actors of film, television and stage; their journeys into the entertainment industry launched from the soil of their native Alabama. Penned by Gossom and O'Neill, and produced by fellow Auburn alumnus Walt Woltosz, "Alabama Boys" is an honest reflection by two men—one Black, one white—about coming of age in the South during the civil rights era.
The play traces their formative years and examines how their time at Auburn shaped the rest of their lives. "Alabama Boys" is the first-ever theatrical work produced and presented by the Gogue Center.
In celebration of the play's premiere, the Gogue Center is offering Auburn students, alumni, faculty and staff a special Auburn Family discount on tickets. University students can secure up to two free tickets for "Alabama Boys," while alumni, faculty and staff can book two tickets for $20 each. To reserve seats, Auburn Family members should log in to their Gogue Center patron account HERE and enter promotional code AUFAMILY.
Tickets for both performances can be purchased by telephone at 334-844-TIXS (8497), online at goguecentertickets.auburn.edu, or in person at the Gogue Center box office, located at 910 S. College St. in Auburn, from 10 a.m.­-4 p.m. Tuesday through Friday.
Tags: Arts and Culture Alumni
Related Articles
---