Alumni Spotlight: Davis Shelfer, '17, Sociology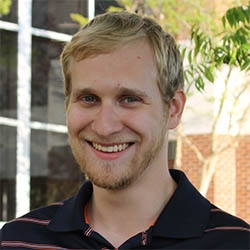 Davis Shelfer, '17, graduated from Auburn with a degree in sociology. The Houston native credits the field of sociology in helping to develop critical-thinking and writing skills, which he says will benefit him as he seeks to pursue a graduate degree in criminal justice. Shelfer plans to research police science, violent crime, and alternative court systems, and says that time working with a sociology professor has had a profound impact on him. 
 
Would you tell us about yourself? 
I'm from Houston, Texas, born and raised. But I grew up on a steady diet of Auburn football courtesy of my granddad, Lee Dabbs ('62). But more than that, the Auburn Family culture and presence of a sociology program focused my efforts in high school on getting accepted and finding enough generous scholarships to afford the cost of a top-notch, out-of-state education. I have always been interested in systems and statistics, seeing how complex structures work and analyzing the data they produce. With childhood interests in both law enforcement and politics, sociology seemed like a great fit for all of the above, as it teaches you how to study the visible and invisible institutions and structures around us and just how important they are to both our everyday life and our future as a society.
What was your Auburn experience like as a student?
My experience at Auburn was fantastic. From my first day of classes in the Haley Center to my last day walking across the stage in Auburn Arena, the tremendous support of faculty and staff and the friendly, collaborative environment alumni before us had established helped make Auburn an incredible place to live and learn. I'm sure I won't be the first to tell you how great the food is or how exhilarating our athletics are, but even more importantly, the quality of professors across the department and college as a whole was exceptional and I feel more than prepared for the next chapter in my life.

What was your path after graduating from Auburn? And why/how did you decide upon it?  
After graduation, I applied to several graduate programs in pursuit of a master's degree in criminal justice. I enjoyed so many of the theoretical models presented across various sociology classes in my time at Auburn that it seemed the opportunities for research and education were endless, and pursuing a graduate degree after completing this program is the best option for that. I would like to conduct research into police science, violent crime, and alternative court systems. I had the great privilege of working with Dr. Weaver on a research project into line-of-duty deaths of law enforcement officers and it was invaluable to me.
Do you think your sociology/liberal arts education has helped prepare you for success? If so, how?
Learning to both read and write effectively in an academic context is crucial for the kind of research and reform work I plan to do, and I feel confident that I'm heading into graduate school with a leg up thanks to not just the array of topics we were taught to write on, but the quality of feedback we received. Practice makes perfect and this department really helped me develop these skills. Also, being able to connect the broad array of theory in the sociological literature to real-life social systems and issues, and being able to connect those to the individual level are difficult, but the liberal arts education I received at Auburn helped me not just identify issues and inequalities, but understand how those issues are being studied and how they are being worked on by real-world practitioners on the ground. I feel I was able to develop a great deal of empathy and perception in my time here.

What advice do you have for current students who are looking to follow a similar path as yours?
Meet with your professors! I know terms like "networking" and "making connections" are thrown around a lot but I cannot overstate how helpful it can be to connect with professors, especially those who taught classes you enjoyed in fields you are interested in. Chances are, if they've done the work you want to do as professionals, or studied your field of interest as professors, then they will have some great advice and opportunities for answering your questions and developing your passions.
Tags: Alumni Sociology Anthropology and Social Work Sociology
Related Articles
---