FetchMD CEO, Michael Zucker '88, reflects on his Auburn days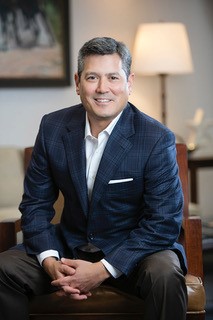 The Health Services Administration program at Auburn has always been popular with students and employers, alike. Established in 1971, our health services administration program has more than 1,100 alumni across the United States, and is recognized as one of the leading undergraduate healthcare administration programs in the U.S.
 
One of those 1,100 alumni is Michael Zucker. For Zucker, Auburn University was initially just one of many colleges he was considering.
 
"I really wasn't swayed one way or the other when I was sending out applications. I just knew I wanted to go to a top tier school in the South, so I applied to a dozen schools from Virginia to Auburn, and everything in between. My father and I made a week-long road trip to visit all of the campuses. Auburn was the very last school we visited, and I'm so glad it worked out that way," Zucker recalled.
 
Zucker said that he and his father made their way to the admissions office when they arrived in Auburn and was introduced to Debbie Shaw, who had just started her career at Auburn as an admissions counselor. 
 
"I can't begin to tell you the impression Debbie had upon me (and my father), and how different the entire Auburn experience was compared to the other campuses we visited. She lived and breathed the Auburn spirit and it was contagious! Most everyone at Auburn will know of Debbie's name as she's held many roles, culminating as Vice President Emeritus of Alumni Affairs. Debbie and I are still friends today some 37 years later."
 
Zucker graduated in 1988 with a bachelor's degree in health services administration. He is currently the CEO and co-founder of FetchMD, a mobile application that enables consumers to connect with independent healthcare providers to access convenient care. Zucker said to think of FetchMD as AirBnB, Uber, and an urgent care center all wrapped up into one.
 
We asked Zucker to revisit his first impressions of Auburn and to share some of his favorite memories in our Q&A, below.
 
How did you choose your major?
Probably the greatest influence on my decision was a conversation with one of our neighbors growing up in Virginia…he was the CEO of a large healthcare system (Sentara Healthcare) and shared with me what he did, his outlook on the future, and the importance of a solid education in healthcare administration, which was still an evolving field. With that in mind, I concentrated on the schools that offered that degree, and Auburn was one of the few that offered it at the undergraduate level, as it was mainly a post-graduate degree. The health administration program was small and part of the Department of Political Science. I think back then, there may have been just 15 students in my major and I think only a few of us actually started and finished in the major. Two of my classmates I still keep in touch with today, Vanessa Usher ('88) and Mike Poore ('87), who went on to have very distinguished careers in healthcare administration. Anyways, I knew I was in the right major from the first day of class and I never looked back!
 
What was your Auburn student experience like?  
My student experience was the best. I made so many new friends from my first day on campus. I got involved in the Greek life (Lambda Chi Alpha) and lived in the fraternity house. I was also a member of the Interfraternity Council (IFC) and the Student Government Association (President, College of Liberal Arts) my senior year. I loved Auburn so much that I decided to stay every summer and worked in admissions as an orientation leader for the next three years. In a "blast from the past", I was cleaning out my parents' attic last fall and came across a box of all of those orientation leader shirts and nametags that I had collected. There is nothing more enjoyable than being an Auburn ambassador and paying it forward just like Debbie Shaw and my summer orientation leaders did to introduce me to the Auburn Family.
 
Do you have a favorite Auburn memory or tradition?  
Like so many other students past and present, rolling Toomer's Corner has to be at the very top of the list. The celebration and electric energy of the Auburn Family coming together as one to celebrate always brings me great joy. I can still remember every time I have rolled Toomer's Corner and who I was with. It's no longer there, but the Sani-Freeze, aka "The Flush", also brings back memories of many a warm, southern evening, and the slow strolls to and from, with whomever I happened to be dating (or courting) at the time. Then, there are those exciting moments in Jordan-Hare Stadium that are forever etched into my memory. And of course, watching our beloved War Eagle circle the stadium before every football game is priceless!
 
What was your career path after graduation? And do you feel your liberal arts education prepared you for this path? 
I went straight to graduate school to pursue a master's degree in healthcare administration that took me to the Medical College of Virginia/Virginia Commonwealth University, one of the top ranked programs in the country. So, the fact that I was accepted directly into a top-tier program which typically prefers a few years of work experience, I feel speaks to the value of my Auburn education. Besides myself, there were only three others that were accepted directly from undergrad. Some of the classes that challenged me the most at Auburn, such as statistics and economics, actually came quite naturally to me in graduate school, probably because of the foundation I gained at Auburn. These classes are the ones I probably use the most that frame my overall approach to the business world. Funny how that happens because looking back, I would say to myself "how am I ever going to use econ-101 in my future?" I also believe having earned a degree from the College of Liberal Arts exposed me to a broader base of learning and emphasized areas such as English and communications that have served me well in my career.
 
Can you tell us a little bit about how you and the other co-founders came up with the idea for FetchMD? 
Like most start-up companies, it wasn't our original business. We actually started a company called Ranger Health in 2015. I had spent the past 30 years working in the hospital industry with companies like HCA, Vanguard, and Tenet. I had also done some early stage companies in between, so had a taste for entrepreneurship and felt like I had "one more in me." I decided to leave my last corporate position and started Ranger Health with two people I had done business with in the past while in the hospital industry. These two gentlemen had started AirStrip Technologies and became my co-founders in Ranger Health. We were working with mid-size to large employers in Texas. Within our first year of operations, we noticed a very clear trend – our clients' (the employers) employees were contacting us daily about their minor healthcare needs (strep throat, sinus infections, flu, lacerations) and were needing assistance identifying the appropriate healthcare provider and/or trying to get an appointment the same or next day, which was virtually impossible. It often took weeks to schedule an appointment with their primary care physician. Or, they would seek out costly care in the emergency room or urgent care center for those minor needs. So, we decided to try something unique and offer it directly to our clients. We hired a physician assistant and made our PA available to come to the home or office "on demand" to see their employees for their minor needs. Within a week, we couldn't keep up with the demand and hired another PA. A week later we were hiring our third PA. Then, we starting getting calls from people that were hearing about us from their friends, family, neighbors and on social media. We decided to open up our service to everyone in San Antonio a month later. We offered our services for a flat fee (then $99) and covered everything from "strep to stitches."  We soon struggled with trying to keep up with demand, and that's when we realized we would need a more robust technology platform to manage our growth. And this is where my co-founders brought their past experience building a healthcare technology company to help us transform Ranger Health to what is today, FetchMD. FetchMD is a mobile application that enables consumers to connect with independent healthcare providers to access convenient care. We started in San Antonio and soon expanded to Austin, as we continued to evolve our software and business model. Think of FetchMD as AirBnB, Uber, and an urgent care center all wrapped up into one. Today, we are laying the groundwork to expand nationally given the scalability of our model and the consumer's appetite for fast, affordable, and convenient care. The consumer now expects everything to come to them and on their terms…we believe healthcare should be no different. 
 
As busy as you are with FetchMD, why is it important for you to make time to stay connected to Auburn? 
I could never imagine not being connected to Auburn. My education, my friends, my memories, my "Auburn Family," embodies all that I am. I continue to be actively involved with the university, whether it's visiting with potential students from Texas who are interested in attending, hosting an Auburn student for a summer internship, speaking with seniors seeking their first jobs, meeting with professors who are seeking curriculum input to best prepare future students, or coming back to campus to lecture from time to time. And, never missing an Iron Bowl in Jordan-Hare Stadium. War Eagle!
Tags: Alumni Political Science
Related Articles
---