Kristin Denmark selected as student marshal for Auburn University's fall 2022 commencement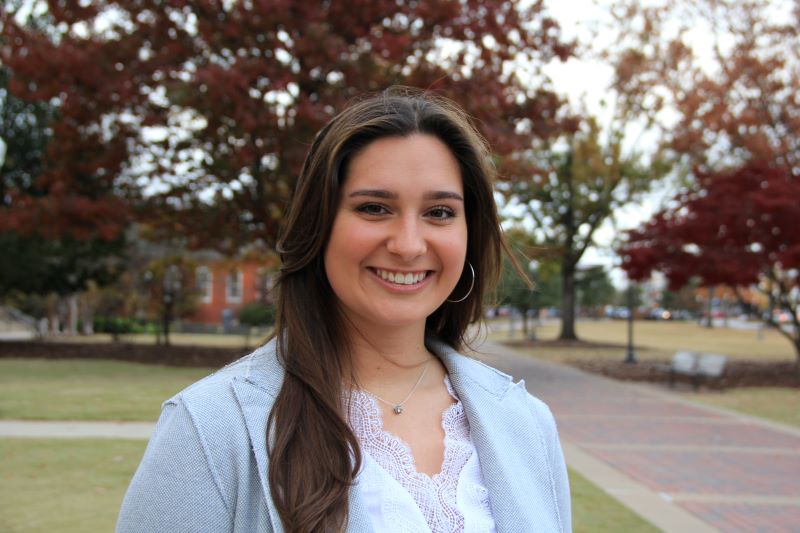 Kristin Denmark, a graduating senior in the Auburn University psychology program from Woodstock, Georgia, has been selected to lead the College of Liberal Arts' class of 2022 in this fall's commencement ceremonies Dec. 9-10.
"My time here at Auburn has been such a joy, and I am so sad to see my undergraduate experience come to an end," Denmark said. "The opportunities are endless within the undergraduate Department of Psychological Sciences, and I only wish I had gotten more time to soak up everything it has to offer."
Denmark first joined the College of Liberal Arts as a professional flight student. She got involved in Auburn Panhellenic through Pi Chi and Zeta Tau Alpha, the High School Leadership Conference and Active Minds, which advocates for mental health on Auburn's campus.
After serving as an Aviation Ambassador through Striped Wings and earning her private pilot's license, her academic goals shifted during an introductory psychology course.
Denmark transferred to the Department of Psychological Sciences shortly thereafter. She supplemented her studies by working in the Research on Eating Disorders and Suicidality, or REDS, Lab, the AppearanCe Concerns, Eating Prevention and Treatment, or ACCEPT, Lab and the Drugs and Behavior Research Lab.
"My favorite part about the program here at Auburn is the Department of Psychological Sciences faculty and staff," Denmark said. "They instantly made me feel at home within a new department and never failed to find creative ways to make their course content interesting and applicable. Without the mentorship and guidance I received within the department, I wouldn't be half of the student that I am privileged enough to be today."
After receiving her degree in psychology this fall, Denmark plans to pursue a doctorate in clinical psychology and study disordered eating pathology within underrepresented populations. She hopes to become both a researcher and a clinician to help those who struggle with disordered eating and body image concerns.
"Kristin Denmark really shows the great things that can happen when undergraduate students get involved with research," said College of Liberal Arts Dean Jason Hicks. "We're glad to have cultivated that excitement for scholarship in Kristin, and we're very happy she's been chosen to lead the students of our graduating class, all of whom will follow their own passions beyond Auburn."
The university will kick off its graduation weekend at 5 p.m. CT on Friday, Dec. 9, with a commencement address from Auburn alumna Simona Black, a retired colonel in the U.S. Army Nurse Corps. Black's commencement Friday night address will take place at Neville Arena and will precede the university's conferral ceremonies at the arena on Saturday.
Additional information, including updates regarding inclement weather, is available on the commencement website and information will be posted on the Facebook and Instagram accounts.
All ceremonies will be livestreamed, with recordings available on the commencement website following the weekend festivities, and graduates and their families are encouraged to check the website regularly for updated information.
Related Articles
---