CLA names department chairs for History, Psychological Sciences and Political Science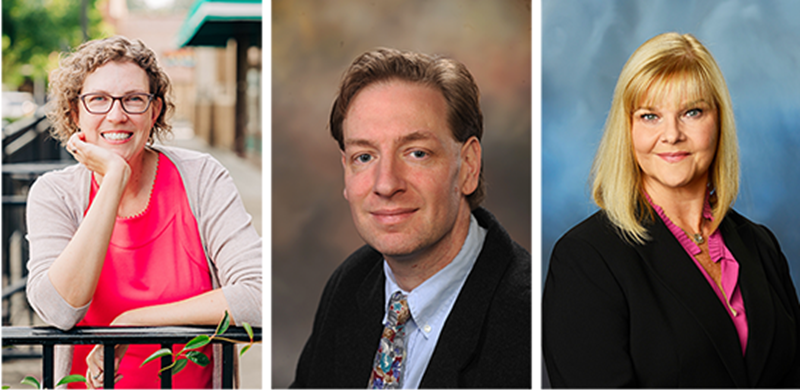 From left to right: Department of History Chair Melissa Blair, Department of Psychological Sciences Chair Chris Correia and Department of Political Science Chair Cathleen Erwin.
The College of Liberal Arts at Auburn University looks forward to the 2022-2023 academic year under new leadership in three of its departments.
In addition to the selection of a new dean, Melissa Blair, Chris Correia and Cathleen Erwin have been named chairs for the Department of History, the Department of Psychological Sciences and the Department of Political Science, respectively.
As chairs, the three faculty members will lead their renowned departments and support faculty, staff and student success for the next three years.
Melissa Blair, Department of History
Associate professor Melissa Blair, a faculty member since 2015, will lead the Department of History.
"As chair, I get to sing the praises of my extraordinary colleagues, making sure that everyone on campus and in the wider Auburn family knows what a remarkable group of scholars we have on the third floor of Thach Hall," Blair said. "I also get to help undergraduate students and their parents understand the many ways that a history major or minor prepares students for 21st century success by giving them all kinds of transportable, flexible skills. As chair, I am most looking forward to supporting this wonderful team of faculty and continuing to grow our programs."
Blair teaches courses at the undergraduate and graduate levels, including the senior thesis course for history majors. Her research on U.S. women and gender, 20th-century U.S. politics and the history of feminism is nationally recognized and has culminated in two books, the second of which is expected in late 2022.
Students under Blair's mentorship have received research support from the Five Colleges Consortium, the Schlesinger Library of Radcliffe Institute at Harvard and the Adams Center for Military History & Strategic Analysis at the Virginia Military Institute.
Blair received a bachelor's degree from the University of Kentucky and earned both her master's and doctoral degrees at the University of Virginia.
Chris Correia, Department of Psychological Sciences
Professor Chris Correia will lead the Department of Psychological Sciences.
"It is a tremendous honor to serve as the Chair of the Department of Psychological Sciences, and I am taking on this role with a great deal of humility and enthusiasm," Correia said. "In many ways, I am still a student at heart. And so, I am most looking forward to learning more about what my colleagues in the department are most excited about when it comes to the work they do. I also want to learn more about how the Department of Psychological Sciences can continue to make a strong contribution to the University, the community and the field of psychology through teaching, research, service and outreach."
Correia joined Auburn University's faculty in 2002. He previously served as the Alumni Associate Professor of Psychology at Auburn University, as well as the clinical supervisor for the Auburn University Health Behavior Assessment Center, which provides brief assessments and interventions for students with concerns about alcohol use.
Correia's research focuses on understanding the use of psychoactive substances and has been published in the Journal of Alcohol and Drug Education, Psychology of Addictive Behaviors and Psychopharmacology, among others. He teaches courses including psychology of addictive behaviors, clinical research methods and ethics and the clinical psychology introduction and practicum courses.
Correia received a Bachelor of Science in psychology from the University of Scranton and his PhD in clinical psychology from Syracuse University. He completed his clinical internship at Syracuse Veterans Administration Medical Center and a post-doctoral training fellowship at the Johns Hopkins School of Medicine's Behavioral Pharmacology Research Unit.
Cathleen Erwin, Department of Political Science
Cathleen Erwin, who was named the Shug Jordan Associate Professor of Writing in 2019, will lead the Department of Political Science.
"As a second-generation Auburn University alumna, I am thrilled to have the opportunity to serve my alma mater in this role," Erwin said. "As department chair, I look forward to being a problem-solver and to addressing important issues raised by our departmental faculty, staff and students. Ultimately, I want to utilize my administrative background and experience to meet the needs of our faculty, staff and students, and to help facilitate strategic visioning for the future of the department."
Prior to joining the faculty in 2010, Erwin spent more than 25 years in the nonprofit health care, higher education and arts industries. Her research focuses on a variety of strategic management issues faced by health care organizations. She is also active in the Alabama chapter of the American College of Healthcare Executives, the Health Care Management division of the Academy of Management, the Association of University Programs in Health Administration and the Association for Research on Nonprofit Organizations and Voluntary Action.
Erwin is an award-winning educator and teaches a variety of courses in the health care administration program, including health care management, health care delivery systems, health information technology and the capstone seminar.
Erwin received a bachelor's degree from Auburn University, an MBA from Auburn University Montgomery and a PhD in administration-health services from the University of Alabama at Birmingham.
Related Articles
---