Juried Fine Art Student Exhibition showcases Auburn students' work in Biggin Gallery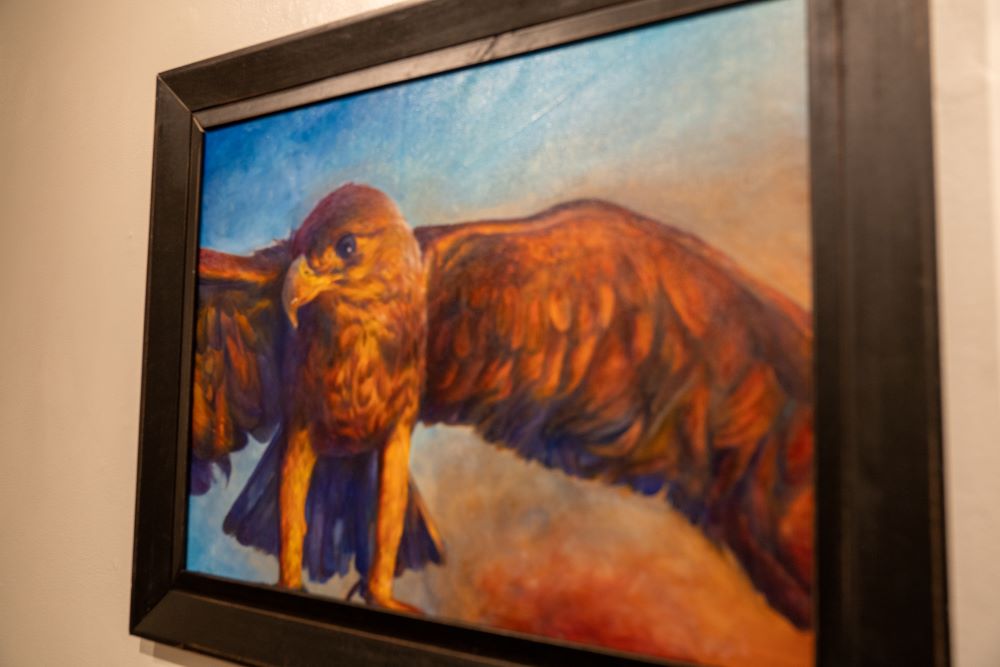 Artworks by students in the Department of Art & Art History will be on display in Biggin Gallery until March 31. The exhibit, celebrating the talent and passion of Auburn art students, opened Monday, March 20, with an awards ceremony and lecture from distinguished guest juror Jamaal Barber.
Barber specializes in woodcuts and mixed media printmaking. His has exhibited his artwork in the ZuCot Gallery, Decatur Arts Festival, Atlanta Print Biennial Show, Emory University, among other venues; shared it on Twitter; and published it in the New York Times, Black Art in America, and Penguin Random House publications. He also hosts Studio Noize, a weekly art podcast featuring conversations with Black artists.
Barber said as a juror, artworks with humanity and impact stood out to him. He encouraged students to work hard on their artmaking throughout their time in college and to develop not just their skills, but also their concepts and goals as artists.
"It's not about waiting for inspiration, it's all about the making, if you have the drive," Barber said. "The most important thing is to trust yourself. Learn that in school, when you have support and people to talk to, because when you leave, it's just you. Keep making, stay true to the process and discover who you are. Then once you do that, that's when you can really start taking off."
The artworks in the Juried Fine Art Student Exhibition were eligible for several awards, including the Dean's Choice Purchase Award, for which the College of Liberal Arts dean selects an artwork to hang in their Tichenor Hall office.
College of Liberal Arts Dean Jason Hicks chose Sarah Walker's oil painting "War Eagle" for its vibrancy and celebration of an Auburn tradition. Hicks, who joined the College of Liberal Arts as dean in July 2022, said each artwork on display spoke to the quality of Auburn's arts program.
"Being new in my role gives me a chance to appreciate the talents and values that students in our very diverse college really bring to bear," Hicks said. "I've been in a mode the last few months really understanding Auburn University, its culture, the people here, what makes people so proud of it, so 'War Eagle' really stood out to me. It's very neat, vibrant, certainly the kind of thing that I would want to display anywhere."
Walker, a senior BFA major with a concentration in painting, produced Auburn's War Eagle as part of a series focused on animals and nature. To capture the spirit of Auburn's iconic golden eagle, Walker experimented with light and color.
"With the color study, I found it was a lot of fun to break free from charcoal and graphite and really just let loose with color," Walker said. "The award itself boosts my confidence as an artist, and I'm very thankful to be here with my peers and see all of our work together. I'm so honored and it really means a lot to me."
The student art exhibition will be displayed in the Biggin Gallery through Friday, March 31. Auburn students, faculty, staff, alumni and community members are invited to view the exhibition in support of Auburn's talented art students.
"The annual Juried Student Fine Art Exhibition is always one of the highlights of Biggin Gallery's calendar since we get to see the incredible range of our students' creativity and celebrate their work," Joyce de Vries, chair of the Department of Art & Art History, said. "We have on exhibition projects by students in our foundations courses all the way through more advanced studios in animation, ceramics, drawing, painting, photography, printmaking and sculpture."
Find more information about the 2023 Juried Fine Art Student Exhibition.
Tags: Art and Art History Students
Related Articles
---