Graduating senior Kourtney Clay blends music, international study at Auburn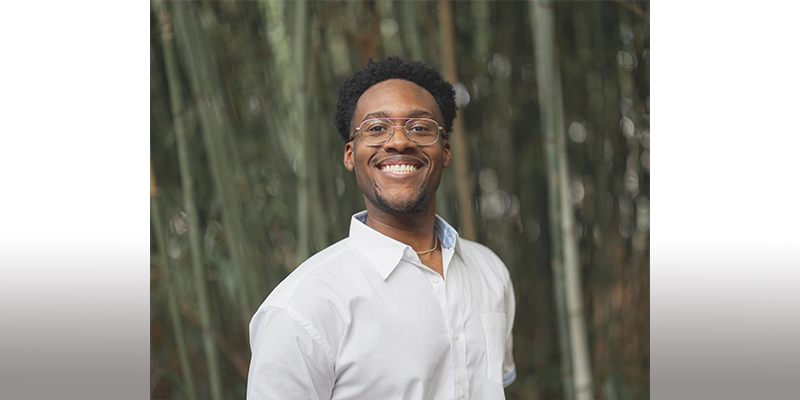 As music major Kourtney Clay receives his diploma on Saturday, he'll reflect upon an Auburn experience defined by connection and culture. Learn how Clay chose Auburn and experienced a once-in-a-lifetime meeting with one of Italy's most renowned conductors.
How did you choose Auburn?
In 2018, during my junior year in high school, I was introduced to Auburn University when I attended a classical voice competition. It was there that I had the opportunity to meet Dr. Rosephanye Powell, a professor of voice studies, who spoke enthusiastically about the Auburn music program. She encouraged me to stay in touch with her and her husband, Dr. William Powell, the director of choral activities, for any future admissions and audition inquiries. Their support and guidance played a significant role in my decision to attend Auburn. Finally, in 2022, I transferred to Auburn University to pursue my studies.
You're majoring in Music with a minor in Italian Studies. How did you choose your major and what prompted you to declare a minor in Italian Studies?
I chose my major in music because I've always sung in the choir since I was young, and it was during middle school when I played in the band that I became interested in musical composition. Upon transferring to Auburn, I decided on the Composition and Technology major, all the while actively participating in choirs.
As a vocalist and composer, it's crucial for me to acquaint myself with various cultures and music genres. Italian holds a significant place in the classical music scene, with opera tracing its origins back to 17th-century Italy. Besides my passion for music, I've also had a keen interest in languages and how they function. So, during periods when I wasn't entirely focused on music, I devoted my time to studying languages and connecting with online language partners worldwide, immersing myself in their cultures. Italian was the first language that truly captivated me.
How do you think your minor enhances your Auburn experience?
The Italian minor provides me with the opportunity to connect with various departments at Auburn University. Through this minor, I can meet people from different academic fields and witness how they are incorporating Italian language skills to enhance their future careers.
What was your favorite class and why?
My favorite class at Auburn was Elementary Italian 2, taught by Rosetta Caponetto. I truly enjoyed this class because of her strong encouragement for class participation. For me, actively speaking and listening are crucial aspects of the learning process, and her teaching style made it engaging and effective.
You participated in the Tuscany study abroad program this summer.  What advice would you give a student thinking about studying abroad?
My top advice would be to study the language before you go, even if it's just basic restaurant or shopping vocabulary, or small facts about yourself and what you do. I'm grateful that I had learned enough Italian to hold conversations with locals. They truly appreciate your efforts, and the experience is incredibly rewarding overall.
While in Italy this summer, you had the opportunity to meet the famous Italian conductor, Gilberto Serembe. What was that like?
Yes, I did have the opportunity to have a Zoom call with Gilberto, and it was truly inspiring. He was incredibly kind and open about his passion for music, which made the conversation even more enjoyable. I sent Gilberto a video of me conducting, and his words of encouragement were truly uplifting. He said, "You are one of the most natural young conductors I met during last times. I am sure you can and MUST continue your study in conducting. Your talent is not common." Such praise from him has motivated me even more to pursue my passion for conducting. I sincerely hope to work with him in the future as I continue to grow as a musician!
What are your post-graduation plans?
Regarding my plans, I'm currently considering pursuing a master's degree in the United States first. However, I'm delighted to know that the possibility of studying with Gilberto remains open after completing my master's here.
What is your ultimate career goal?
My ultimate career goals involve collaborating with diverse ensembles, opera houses and musical groups both nationally and internationally. Additionally, I aspire to work with film producers, creating captivating film scores.
Tags: Students World Languages Literatures and Cultures Music
Related Articles
---