Faculty Spotlight: Kristrina Shuler, Anthropology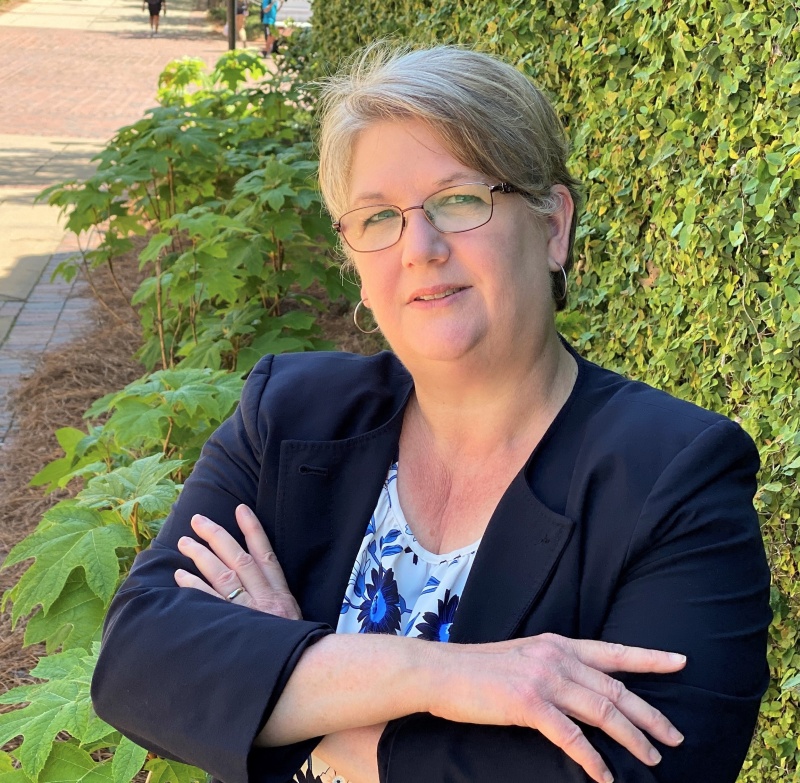 If you're familiar with forensic anthropology, it's probably from popular TV shows and books – but did you know that forensic anthropology is a specialized area within biological anthropology, which includes much more?
As a biological anthropologist, Kristrina Shuler, associate professor and director of the anthropology program at Auburn, focuses her research on bioarchaeology to explore the intersections of health and power relations of marginalized groups through time. She has directed numerous archaeological excavations in the U.S. and Barbados and spent many years working in cultural resource management, assisting local communities when archaeological sites, historic properties, and cemeteries were encountered during development projects.
We recently sat down with Shuler to find out more about how she became interested in the unique field of bioanthropology.
When she was an undergraduate at the University of South Carolina in the late 80s, Shuler enrolled in a forensic anthropology course taught by Ted Rathbun. He was one of only 40 board-certified forensic anthropologists in the US at that time and had earned his PhD working with the famous William Bass who founded the "Body Farm" at the University of Tennessee.
Taking that forensics course led Shuler to her current area of research.
"I was considering a career in archaeology and had recently finished a summer field school near Camden, South Carolina where archaeologists were attempting to locate the ceremonial site of Cofitachequi that was documented by Hernando de Soto. As it turned out, Ted Rathbun was conducting research at archaeological sites in South Carolina around that time, using his expertise in forensics to investigate the health of enslaved Africans who had lived on rice plantations in the Lowcountry. My interests really started to converge in ways that I hadn't imagined between taking courses and visiting Dr. Rathbun during office hours and in the lab to learn about his research."
What is bioarchaeology?
According to Shuler, bioarchaeology overlaps with forensic anthropology in many ways.
"Both rely on extensive knowledge of human anatomy and the same methods for reconstructing identity and the lifetime effects of behavior on the skeleton, including potential trauma. Where forensic anthropology investigates medicolegal questions, bioarcheology takes a broader, more holistic approach that focuses on individuals and populations through time. Bioarcheologists often combine epidemiological and sociocultural approaches to address health and behavioral questions that we cannot understand from archival sources alone. As a student, I was fascinated to learn how anthropologists can look at the skeleton to understand health and behavior in the past. This is especially insightful for understanding people who are not well represented in historic accounts such as enslaved and indigenous people as well as women and children in many communities."

Shuler is particularly interested in understanding the health of past groups.
"In addition to demographic information, such as age and sex, bioarchaeology offers tools for discovering a range of issues: growth and development, nutritional stress, metabolic disorders, chronic infectious diseases, activity-related changes, and injuries to the body. We can compare some of these data with information from historic accounts, such as growth trends and disease rates through time, but it's especially insightful in cases where there are no written histories. Bioarchaeology allows us to explore differences within and across groups, including those who are not well-represented historically."
While still in graduate school, Shuler began working on an archaeological site that had originally been excavated in the 1970s and later studied by her PhD advisor Robert Corruccini at Southern Illinois University.
"After finishing a master's thesis focusing on the health of 16th century Maya children from the Spanish Mission site in Belize, I had the extraordinary opportunity to conduct research at the Newton Plantation in Barbados, which is one of the largest known archaeological sites associated with enslaved Africans in the world. This 17th –  18th century site was discovered in the 1970s, providing extensive information on mortuary practices, social identities, paleodemography, nutrition, and even infant weaning practices."
The previous studies had been limited due to restrictions with the field excavations, and Shuler's work brought new questions.
"Corruccini and his colleagues conducted numerous bioanthropology studies at Newton through the 1980s, but their research questions were shaped by the limited sampling strategies used in the 1970s. As a PhD student working with Dr. Corruccini, I received a National Science Foundation dissertation grant in 1996 to take up where the original excavations left off. The aim was to attempt a comprehensive analyses of population health patterns that could be compared with archival documents from the region. Following two field seasons by the excavation teams, my dissertation documented the preliminary demographic and health patterns for the community, which was only the beginning."
Since her start at Auburn in 2007, Shuler has collaborated with a team of scholars to explore complex patterns of identity, migration, health and quality of life. Shuler explained that our bodies provide a snapshot of life, including the different forms of stress that individuals encounter during growth and development.
"Evidence such as hypoplastic lines that can occur in the teeth, shorten height relative to age, and metabolic stress due to vitamin D deficiency and anemias can be compared with historic accounts of the nutritional stress experienced during childhood. Generalized infections were common at Newton, particularly in the lower bodies of adults. Along with widespread evidence of muscle strain and arthritis, even in younger adults, the osteological patterns fit with historic accounts of the brutal life experienced by enslaved laborers on colonial sugar plantations in the Caribbean. But it also provides evidence of the lifetime effects of enslavement that aren't available through plantation records or even recorded by physicians. Most strikingly, the average age of death in this group was a mere 19 years of age. It's unimaginable what these men, women, and children endured."
When asked why it's important to her to study the health of humans from over 150 years ago, Shuler replied, "We have a group of individuals who were treated as commodities, which is reflected in historic texts. We have very little insight into their everyday lives, and really no first-hand accounts, especially into the lives of women and children. Bioarchaeology gives us some sense of the past that we can't gain through other avenues."
Shuler currently curates the Newton Plantation skeletal series at Auburn for the Barbados Museum,  According to Shuler, the Newton project has been long supported by the Barbados Museum and their excavation team included members from the local community. The historic significance of the Newton site is well-known in Barbados and globally, and the site was nominated by the national of Barbados in 2014 for tentative inclusion on the UNESCO World Heritage List due to its outstanding universal value as part of the "Sugar Revolution." 
Shuler told us a little about the current state of projects on the site. She said that scholars from a variety of fields are involved with this research. The Literary Archaeology Project, out of the University of Bristol, recently engaged with writers who used bioarchaeological and archival data as a foundation for creative literary interpretations to promote public understanding of the experiences of slavery.
"In addition to ongoing research on the effects of activity and labor at Newton, there are several graduate dissertations and thesis projects underway. Notably, most of the current research projects are being led by Black scholars across the US where a new generation of bioarchaeologists such as Andreana Cunningham, a PhD candidate from the University of Florida, are uniting critical race theory with bioarchaeology and exploring a range of issues that expand our understandings of the past."
Shuler notes that "the past year has been challenging with most lab-based research on hold due to travel restrictions, but guest researchers and students are starting to reach out to schedule visits and also returning to the lab for volunteer work. It is exciting that these important projects can finally resume as bioarchaeologists return to Auburn again this summer and fall."
To learn more about Shuler and her research, visit: https://cla.auburn.edu/sociology/people/kristrina-shuler/
Tags: Faculty Research Sociology Anthropology and Social Work Anthropology
Related Articles
---