News

|

Articles

|

Can We Talk About Your Research? with Steven Nichols, PhD student in Cognitive and Behavioral Sciences
Can We Talk About Your Research? with Steven Nichols, PhD student in Cognitive and Behavioral Sciences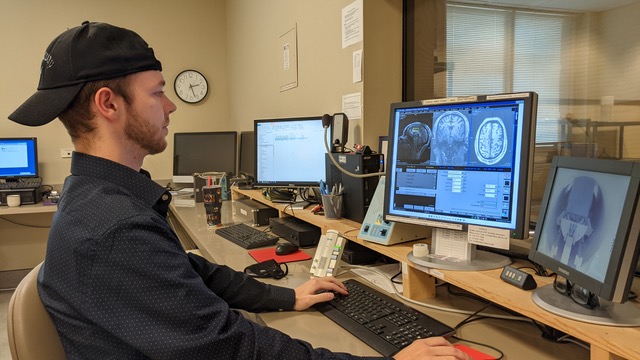 Clarissa Beavers, a graduate assistant in the College of Liberal Arts' Office of Communications and Marketing, connected with Steven Nichols, a PhD student in Cognitive and Behavioral Sciences, to learn more about his work with an imaging study to look at how pain affects neurometabolites in the midbrain and brainstem.

Nichols studied psychology at Georgia Southern University and graduated in 2019 with a Bachelor of Science degree. Since then, he has spent his time at Auburn as a PhD student and graduate research assistant in the College of Engineering. Check out the conversation.

How did you decide on your research topic?
I'm interested in using neuroimaging to study brain chemistry and architecture. Pain is something that everyone experiences. While many individuals feel pain only momentarily and intensely, an estimated 20% of the world's population will suffer from chronic pain at some time in their life. Because of its pervasiveness, a better understanding of the neurological foundations of pain is a goal that might help many individuals in the future. I'm interested in the neurometabolic signatures of pain processing in the anterior cingulate cortex.

What motivates you to continue researching and studying imaging and pain?
One major motivator is the opportunity to enhance the lives of so many people all around the globe. Overcoming the difficulties that pain research presents is very motivating. Neuroimaging is a powerful tool for investigating a wide range of topics, including pain, and few locations are better prepared to do so than Auburn's MRI Research Center.

What have you found to be the most exciting within the research you're doing?
For me, the most exciting thing is the novelty of our research, and the importance of the data we produce as a result of that novelty. I believe functional magnetic resonance spectroscopy to be an underutilized methodology within the field of neuroimaging; as such, the opportunity to conduct that type of research at 7 Tesla resolution here at Auburn is extremely exciting and rewarding.

Can you share what empowers you to be a professor over other professions in hard sciences?
The teaching aspect of being a professor is what first drew me to the job. I've wanted to be a teacher in some capacity for as long as I can remember, and although there are many ways to pursue a career in education, the idea of doing it at the university level is extremely appealing. College is such an exciting time for students to follow their true passions and being able to share your expertise with young kids who are interested in your area is the most gratifying opportunity I've ever had.


Related Articles
---