Dance student helps choreograph 'Fractals: Infinite Movement'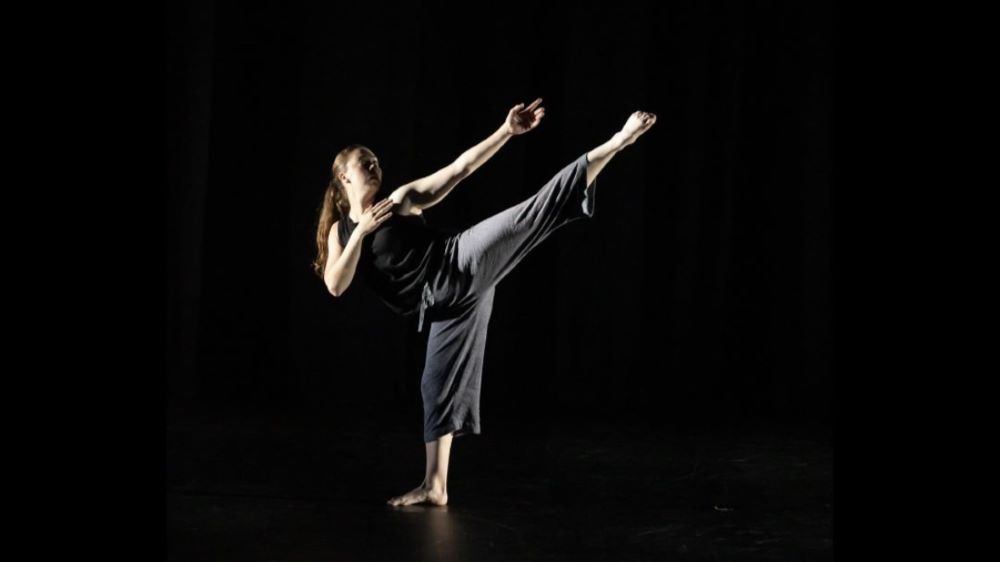 The Department of Theatre and Dance will present "Fractals: Infinite Movement," a concert celebrating the multifaceted worlds of dance and movement, opening at 7:30 p.m. Tuesday, Nov. 14, in the Telfair B. Peet Theatre. Behind the scenes, faculty, staff and students are gearing up for the performance, with Samantha Briggs eagerly awaiting the day her dancers can showcase her intricate choreography.
Briggs, a senior majoring in exercise science with a minor in dance, worked in collaboration with Senior Lecturer Jeri Dickey and Professor Adrienne Wilson to choreograph the concert. Although Briggs has experience choreographing solos, creating choreography for a group concert presents a new and exciting challenge.
"It was difficult at first, so I pulled a lot from many mentors that I've had over my lifetime," said Briggs. "My process starts with just putting my movement on the dancers in no specific order. I call them phrases, so I'll give them six or seven base phrases of movement, and that's how the first three-ish rehearsals went. Then, on the fourth day, I can say, 'Okay, start with phrase five, but facing this direction,' and it was already in their body, so it moves a little quicker. But this is the first time I've really done a lot of this."
Throughout the concert, performers gracefully navigate the stage, but Briggs acknowledges that there's a significant element of improvisation and spontaneity when it comes to choreography.
"I always try and show up with a plan in my rehearsals, but when I'm thinking about it in my head, sometimes the dancers will move a lot quicker or farther," said Briggs. "I never really believed my professors when they would say, 'Oh, I just thought of this.' I would think, 'How did you just think of that?' But it actually does happen when you're in this space with the dancers. Not having everything planned is definitely a lesson I've learned."
Briggs has experienced the complement between dance and exercise science firsthand. The Lexington, Kentucky, native credits the in-depth, movement-based curriculum of the dance program with bolstering her knowledge for her future career path.
"The curriculum involves a lot of specificity on the body and anatomy. I've learned a lot about how the body works. I actually want to go into occupational therapy, so that ties directly into what I want to do with my life. It's super fun to be able to say I have a minor in dance and that I'm an active mover when I'm applying to OT schools," said Briggs. "It's very inclusive. You can have people who have never danced a day in their life come and take class with you. I've learned just from working with those students and learning how to teach classes of many levels from our faculty."
Some may recognize Briggs from Auburn's championship equestrian team, where she is a member of the jumping seat corps. While she initially came to Auburn for equestrian pursuits, the Department of Theatre and Dance has allowed her to continue her enduring passion for dance.
"Dance is something that I'll always have. I started dancing at a very young age. It runs in the family," said Briggs. "I ended up here at Auburn due to the equestrian team, but I am very thankful that they have a great dance program here that has given me opportunities to succeed."
About the show
The run time for "Fractals" is approximately 50 minutes without intermission. Tickets for "Fractals: Infinite Movement" are available now.
Buy Tickets
Tickets for the production of Fractals are available now. Auburn students get free tickets, and faculty and staff get special promotions for all performances from the Theatre and Dance Department. Log in to unlock your benefits.
Call the box office at 334-844-4154, or email at theatre@auburn.edu.
Talkback
To engage in discussion around the performance or learn more about the production, make plans to attend "Talkback Thursday" on Thursday, November 16, after the show for a conversation with the directors and company members.
Showtimes
Tuesday, Nov. 14, 7:30 p.m.
Wednesday, Nov. 15, 7:30 p.m.
Thursday, Nov. 16, 7:30 p.m. *
Friday, Nov. 17, 7:30 p.m.
*Talkback after show
Ticket Prices
General: $18
Senior Citizen: $14
Faculty and Staff: $14
AU student with ID: Free
Non-Auburn University Student: $14
Box Office Hours
Monday–Friday: 8:00 a.m.–4:45 p.m.
On Saturday evening performances: 6–8 p.m.
For matinee performances: 1–3 p.m.
Or call the box office: 334-844-4154
Tags: Students Theatre and Dance
Related Articles
---