Brown receives prestigious Algernon Sydney Sullivan Award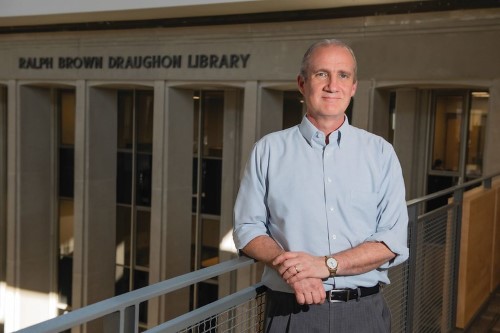 Political Science Professor Steven Brown has been selected as one of the 2021 recipients of the prestigious Algernon Sydney Sullivan Award. The award is given annually by the university to individuals who embody high qualities and nobility of character. Brown is the Morris Savage Endowed Chair for the Department of Political Science in the College of Liberal Arts, or CLA. 
Brown—an Auburn professor since 1998—recently won the Award for Excellence in Faculty Outreach as part of Auburn's 2020 Faculty Awards. He is an expert in everything from constitutional law and church-and-state issues to the Supreme Court and American legal history, and Brown was the inaugural recipient of the Auburn University Parents Association's Faculty Award in 2018.
The Algernon Sydney Sullivan Award has been presented at Auburn since 1951 as a reminder of the noblest human qualities exemplified by Algernon Sydney Sullivan, a prominent humanitarian and first president of the New York Southern Society, now the Algernon Sydney Sullivan Foundation. Each year, Auburn bestows the honor on one male and one female student from the graduating class and this year also will honor Brown as an exemplary faculty member.
Brown is a National Society of Collegiate Scholars Faculty of the Year Award recipient, is heavily involved in the Osher Lifelong Learning Institute, or OLLI, as an instructor and guest lecturer and is an award-winning writer who has been published regularly since 2002. He received the National Communication Association's Franklyn S. Haiman Award for Distinguished Scholarship in Freedom of Expression in 2005 for his book, "Trumping Religion: The New Christian Right, The Free Speech Clause and the Courts."
Brown's article, "The Girard Will and Twin Landmarks of Supreme Court History," received the Supreme Court Historical Society's 2017 Hughes-Gossett Senior Prize, which was awarded by Chief Justice John Roberts. Earlier this year, Brown's book, "Alabama Justice: The Cases and Faces That Changed a Nation," the companion book to his award-winning traveling exhibition, was awarded the Anne B. and James B. McMillian Prize in Southern History, and the exhibit was named a finalist for the 2020 Silver Gavel Award for Media and the Arts by the American Bar Association.
Two students, William Illiano and Meredith Sylvia, also received this award and are from College of Sciences and Mathematics, or COSAM.
Tags: Faculty Research Political Science
Related Articles
---