Auburn students, alumni produce award-winning film in 48-hour film festival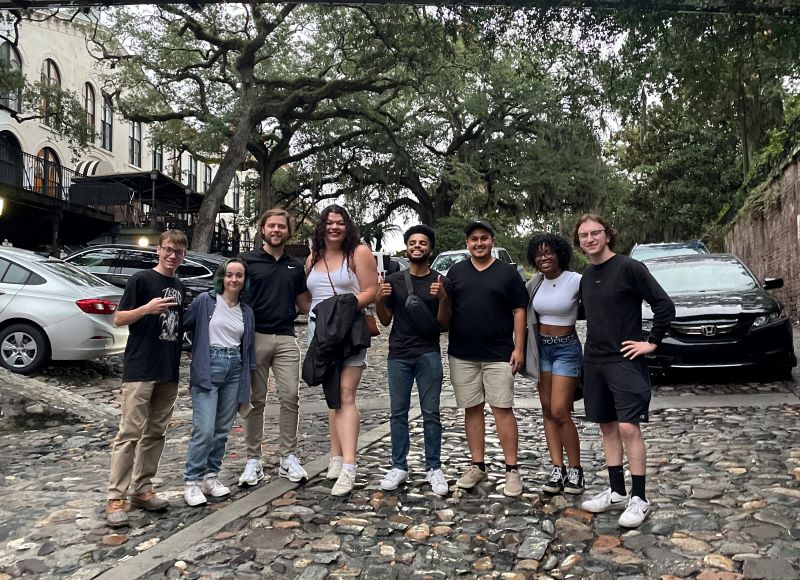 While some may see the task of writing, shooting and editing a film in 48 hours as near impossible, the team behind the award-winning film, "Avenoir", composed of current and former visual media studies majors from Auburn University's College of Liberal Arts, stepped up to the challenge and achieved incredible results.
The "Avenoir" team received multiple nominations and won Best Film of 2022, Best Directing and Best Cinematography.
Cheyanne Blevins '21 and Sam Prim '25 were two of eight members on the Auburn-based team competing in the 48-Hour Film Festival located in Savannah, Georgia.
"Each team is given a prop, a character and a line of dialogue," said Blevins. "Each team also draws for the genre of the film. Once everything is assigned, you have precisely 48 hours to write, shoot, edit and submit the film. Anything after that is disqualified."
The Auburn-based team was tasked with making a romance film that had to include a notebook as a prop, "Where are we going?" as a line of dialogue and a character, George/Georgiette the barber/hairdresser.
The team was on a tight schedule; anything submitted after the 48-hour deadline would not be eligible to win awards.
"Time management was difficult," said Blevins. "Staying on a schedule and also fitting your basic needs such as eating and sleeping was a balancing act."
The competition began on Aug. 12 at 7:30 p.m. and ended on Aug. 14 at 7:30 p.m. According to Blevins, this leaves little time for teams to get to know each other. However, this was far from an issue for the team.
"Living in a small house with eight people, you really get to know them," said Blevins. "We were staying up all night while others slept on the floor and couch. You really learn about people that way."
Blevins and Prim said the team became close throughout the festival.
"We really became a family. I made friends for life during this," Prim said. "I'm just getting into my studies, so to have the experience and to meet these people is incredible."
While some team members know each other well, they found a connection through the visual media studies curriculum in the College of Liberal Arts and the New Media Club.  During her time at Auburn, Blevins was president of the New Media Club, which brings students interested in visual media together to discuss films, share ideas and create a sense of community. Prim currently serves as the vice president of the club.
"Many of us have or had the same professors and most of us are in or were in the New Media Club at one point, so it wasn't hard to bond over that stuff," said Blevins. "Visual media studies is a pretty small group, so we are all pretty connected."
Blevins and Prim take pride in the group.
"I am proud that we kept it together as a team and submitted it on time," said Prim. "I only knew one person going into it, so it was cool to see our bond and stay as a team when things got difficult."
While the 48-Hour Film Festival has ended, Blevins and Prim will hold the lessons and experiences from the weekend closely.
"The whole weekend will be one of my favorite memories for the rest of my life," said Blevins. "I know that sounds dramatic, but I really do feel that way."
Blevins said those wanting to excel in filmmaking should be confident and put themselves out there.
"It's so important for any kind of film major to get out there and make stuff," said Blevins. "I don't think it is stressed enough. Aside from the classes you take, it is important to show your creativity outside the classroom."
This is not the last we will see of the "Avenoir" team.
 "This is just the beginning, said Prim. "This is just the start of students and alumni creating some incredible things and getting our name out there."
In early 2023, "Avenoir" will go on to be part of the 48-hour film project Filmapaloosa in Los Angeles alongside the winners from other city competitions. 
For more information about visual media studies in the College of Liberal Arts, visit here.
Related Articles
---