Auburn Aviation named top collegiate program for second straight year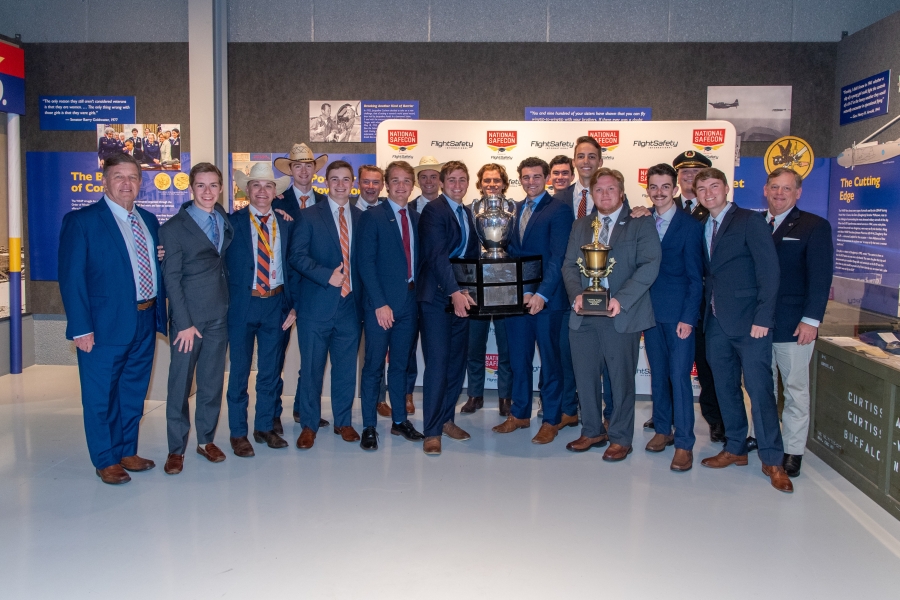 For the second year in a row, Auburn University has been recognized as the most outstanding all-around collegiate aviation program in the nation.
Auburn's School of Aviation was presented with the prestigious Loening trophy by Delta Air Lines and the National Intercollegiate Flying Association at the 2023 SAFECON competition. The award recognizes the school's commitment to creating a culture of excellence and enduring legacy.
"The Loening trophy is the 'Super Bowl' of all collegiate aviation competitions," said School Director James Witte. "Pride, respect and humility are all part of the award; Auburn students have maintained the standards of the Auburn Creed penned by George Petrie and have brought a point of pride, respect and humility to the Auburn Family."
The award committee considers academics, community involvement, aviation skills and their advancement, a comprehensive safety program, professionalism, and a pro-active enhancement of the future of aviation when deciding which institution will receive the Loening trophy.
"Receiving this award for the second year is further proof of the meaningful work of our aviation faculty and staff to create impactful educational experiences for our students," said Dean Jason Hicks. "This award solidifies our place as an exemplar of what a collegiate aviation program should provide its students."
The Loening trophy, collegiate aviation's oldest and rarest award, was first awarded in 1929 by a judging panel that included aviation legends such as Charles Lindbergh and Amelia Earhart. The award itself is named after Grover Loening, an aeronautical engineer who worked with the Wright Brothers.
In addition to the Loening trophy, the School of Aviation's War Eagle Flying Team won several individual awards at the 2023 SAFECON competition.
Individual awards include:
Luke Russo - Placed 1st in the Certified Flight Instructor event
Riley Hoag - Placed 1st in the Instrument Simulated Flight event
Riley Colliau and Riley Hoag (Nav. Team) - Placed 1st in the Unlimited Navigation event
The War Eagle Flying Team is a student-run organization for Auburn flight students passionate about aviation. Each year, the team competes in NIFA's SAFECON, a national competition for collegiate aviators. Teams and individuals are judged on academics, safety, professionalism and more.
For more information about the School of Aviation at Auburn University, visit here.
Tags: Aviation
Related Articles
---