30 Under 30: Jacqueline Keck Chandler, '18, VP of business development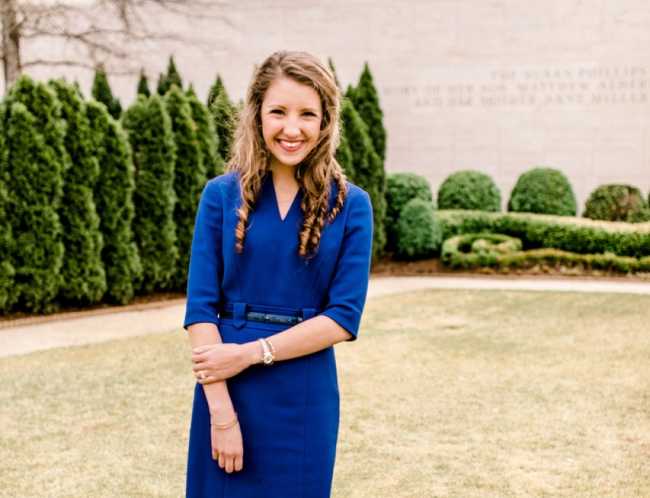 Meet Jacqueline Keck Chandler, a 2018 alumna who majored in economics while attending Auburn University. Chandler grew up in Guntersville, Alabama, and is currently the vice president for business development for an economic development company in Birmingham called NextSite. During her time as an Auburn student, Chandler was active in a variety of organizations including becoming the third female president of the Student Government Association. She was also involved with War Eagle Girls and Plainsmen. During her interview with student writer Elizabeth Phillips, Chandler speaks about the importance of the Auburn community and how her passion for data and people led her to her current role.

Would you please tell us about yourself?
I was born and raised in Guntersville, Alabama. While in high school I spent my time on my high school cheer team and in the Student Government Association. Post-graduation I attended Auburn University for four years and eventually found my first job in Auburn, with the City of Auburn as the director of industrial development, where I worked for two years. I now live in Birmingham with my husband Austin Chandler and work for an economic development consulting firm called NextSite.

What made you decide to attend Auburn?
I went to Girls State where my counselor was a current Auburn student and she convinced me to take a tour of Auburn University before making any final decisions about where to go to school and the rest was history!

How did you choose your major?
I have a love for people and a passion for numbers and data which create sound decisions and policies. So, economics was a perfect combination of the two. Plus, it was flexible enough for me to choose among a variety of career paths, which eventually led me to the field of economic development.

What was your Auburn experience like as a student? What organizations do you believe helped you the most post-graduation?
My time as an Auburn student was unmatched! I loved every minute of my time at Auburn and experienced growth and challenges around every corner. I learned something different from every organization I was a part of, but I carry with me the lessons that I learned from the Student Government Association (SGA) and War Eagle Girls. My time in SGA taught me how to think strategically, communicate effectively, and build relationships based on a common goal while WEPG taught me the ins–and–outs of hospitality. Both skill sets have become big components of my professional life and contributed to my success at work. Regardless of which organization a student chooses, it will be well worthwhile as long as they are growing in thought and skill from their participation.
What is your favorite memory or tradition at Auburn?
My favorite Auburn memory is of Austin proposing to me in the Samford clock tower!

What was your career path after graduation?
After graduation, I did an internship with the Economic Development Association of Alabama and from there went to work for the City of Auburn's Economic Development Department as the director of industrial development. My professors played an integral role in forming my critical thinking ability, the presentation and use of relevant and complete data, and the importance of tracking measurables.
Would you please tell us a little about what you do, or what a typical day might look like for you?
In my current role, my job is to work and recruit communities, provide them helpful data points about their cities/towns, and connect them to commercial development opportunities. I spend a lot of time on the phone, connecting opportunities via email and brainstorming with our clients what their goals and hopes are to grow their community.
Why is it important to stay connected to Auburn?
It is those who continue to play a role and give back to Auburn that makes the university what it is and creates the opportunity for the student experience to be all that it is—from financial to time invested. Personally, Auburn gave so very much to me that it is a delight to give back even an ounce of what it gave me during my four years of college. Plus it is fun to see Auburn continuing to educate and develop the next generation of leaders and an honor to play a small part in that.
What advice do you have for those looking to work in your field?
Call me! I'd love to talk to anyone interested in economic development. I also would encourage everyone to reach out to Auburn alumni or anyone you may know in a field of your interest. People are eager to help and love when students reach out.


Tags: Alumni Economics 30 Under 30
Related Articles
---