Art

|

Time Change / Change Time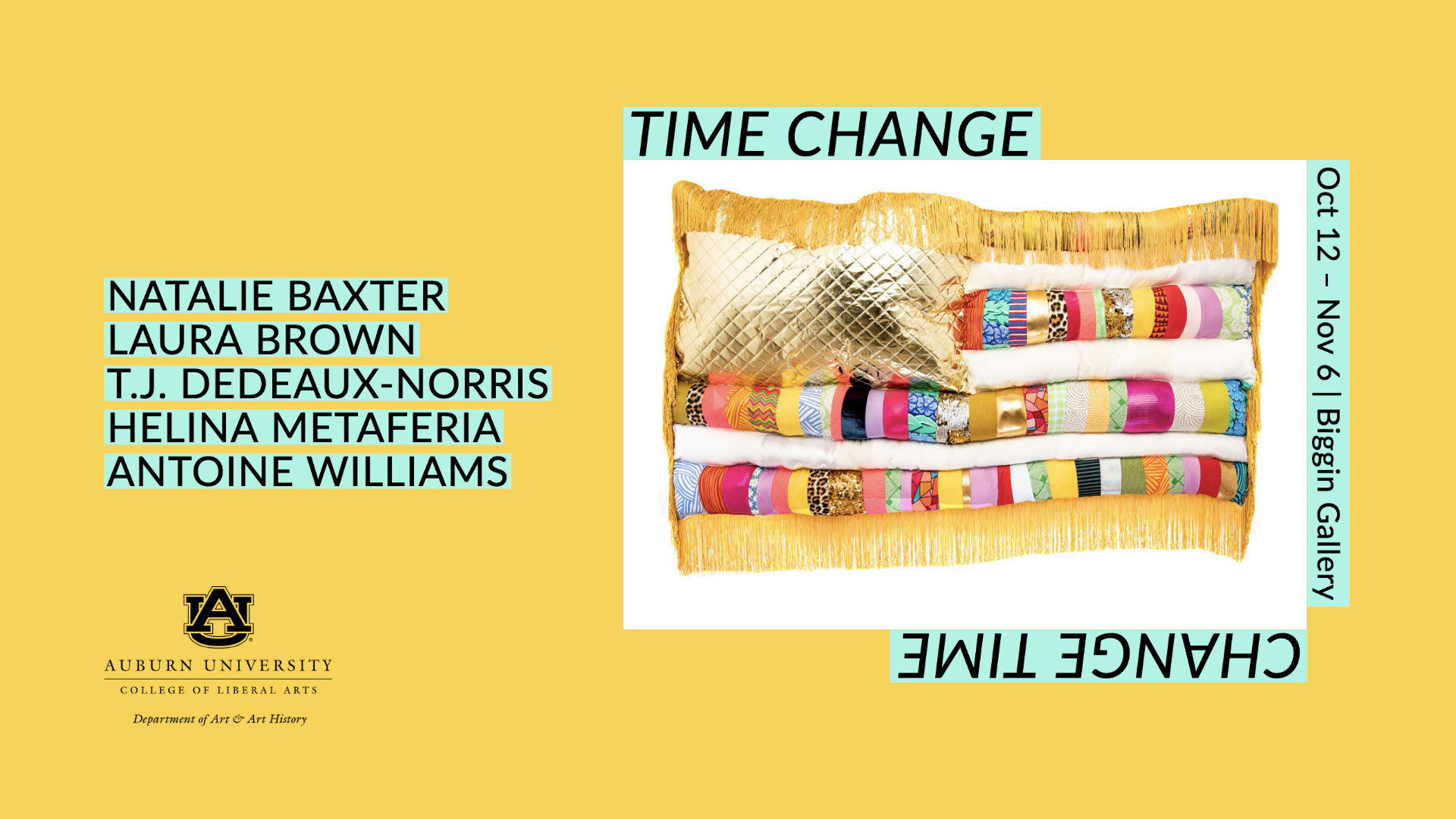 Group exhibition featuring works by Natalie Baxter, Laura Brown, T.J. Dedeaux-Norris, Helina Metaferia and Antoine Williams.
October 12 – November 6, 2020
Taking place during seasonal shifts in weather and time, and against the backdrop of a pivotal election cycle, this group exhibition features artwork exploring persistent American issues. Through fabric sculptures and paintings, quilts, collages, and paper and printmaking installations, the five artists in this exhibition turn close observations of American culture into visual conversations about gun violence, the complexities of contemporary Black life, protest and voting. See artwork inspired by the current moment, and the possibilities and symbols of change.
Join us for artist lectures online:
October 27 @ 5 pm  Natalie Baxter & Laura Brown
October 29 @ 7 pm  Helina Metaferia & Antoine Williams
November 2 @ 7 pm  T.J. Dedeaux-Norris
*All times in CDT through October 31, 2020; CST begins November 1, 2020
Access the talks on Facebook Live.
About the Artists
Born in Kentucky, Natalie Baxter explores concepts of place-identity, nostalgic Americana, and gender stereotypes through sculpture and video. Baxter received an MFA from the University of Kentucky in 2012 and a BA in Fine Art from the University of the South in Sewanee, TN in 2007. Her work has been exhibited in galleries and museums internationally, with recent solo exhibitions at The Elijah Wheat Showroom (Brooklyn, NY), Next to Nothing Gallery (New York, NY), Cunsthaus (Tampa, FL), and Institute 193 (Lexington, KY). Press for Baxter's work includes The New York Times, The Boston Globe, Hyperallergic, The Guardian, and Bomb Magazine. She currently lives and works in New York, NY.
Laura Brown is a printmaker, book artist, collaborator and teacher based in Minneapolis, MN. Currently, her work uses the vocabulary of ubiquitous construction signage as a way of investigating social and political upheaval in today's American society. Brown holds an MFA from the University of Texas at Austin. She has participated in residencies at the Myren Graffikk in Kristiansand, Norway; the Kala Art Institute in Berkeley, California; Minnesota Center for Book Arts in Minneapolis, Minnesota; and the Women's Studio Workshop in Rosendale, New York. Her work appears in collections at Yale University and the Library of Congress, among others. Brown's work has been shown internationally, nationally and locally, most recently at the Soap Factory in Minneapolis, MN. She teaches at the Minnesota Center for Book Arts and is an active member of the print collective Proof Public, which aims to amplify marginalized voices through letterpress printing.
T.J. Dedeaux-Norris fka Tameka Jenean Norris was born in Guam and received their undergraduate degree at the University of California, Los Angeles before graduating with an MFA from Yale University School of Art. Dedeaux-Norris has recently participated in numerous exhibitions and festivals including at Nasher Museum of Art at Duke University, Durham, NC; Yerba Buena Museum, San Francisco, CA; Prospect.3 Biennial, New Orleans, LA; The Walker Museum, Minneapolis, MN; Performa 13; Contemporary Arts Museum Houston, Houston, TX; The Studio Museum, Harlem, NY; Rotterdam Film Festival, Rotterdam, Netherlands; Sundance Film Festival, New York, NY; Mission Creek Festival, Iowa City, IA among many others. Dedeaux-Norris has participated in residencies at the Skowhegan School of Painting and Sculpture, the Fountainhead Residency, Grant Wood Colony Fellowship, The MacDowell Colony, Vermont Studio Center and Yaddo. They are the 2017 recipient of a National Endowment for the Arts grant, a 2018 National Endowment for the Arts fellowship, and a 2019-2020 Pollock-Krasner Foundation grantee. Dedeaux-Norris is currently an Assistant Professor at the University of Iowa.
Helina Metaferia is an interdisciplinary artist working in collage, video, performance, installation, and social engagement. Her work investigates the politics of the body in space as it pertains to identity and notions of citizenship. Metaferia has exhibited her work at venues including Museum of African Diaspora (San Francisco), Museum of Contemporary Art Detroit (Detroit), Museum of Fine Arts (Boston), Smack Mellon (New York), and Modern Art Museum (Addis Ababa, Ethiopia). Metaferia completed her MFA at Tufts University's School of the Museum of Fine Arts in 2015 and attended the Skowhegan School of Painting and Sculpture. Her work has been supported by various artist residencies, including Bemis Center for Contemporary Art, MacDowell Colony, Yaddo, MASS MoCA, and Triangle Arts Association. Her work has been reviewed in Hyperallergic, Artnet News, The Boston Globe, The Washington Post, San Francisco Chronicle, and Performa Magazine. Metaferia has taught in the BFA and MFA departments at the San Francisco Art Institute, Michigan State University, and Parsons Fine Arts. She is currently an Andrew W. Mellon Fellow / Assistant Professor at Brown University, and lives and works in New York City.
Antoine Williams's mixed media work investigates his cultural identity by exploring power, fear and the perception of signs within society. Heavily influenced by science fiction and his rural, working-class upbringing in Red Springs, North Carolina, Williams has created his own mythology about the complexities of contemporary Black life. An artist-educator, Williams received his BFA from the University of North Carolina, Charlotte, and his MFA from UNC Chapel Hill. He helped start the God City Art Collective in Charlotte, where he participated in a number of social practice projects. He has exhibited in a number of places, including at the Mint Museum of Art, Michigan State University, Columbia Museum of Art, Smack Mellon, Brooklyn, 21c Museum, as well as many other venues. He is also a recipient of the 2017 Joan Mitchell Painters & Sculptors Grant. Williams is an assistant professor of art at Guilford College.