Art

|

Against a Sharp White Background | Helina Metaferia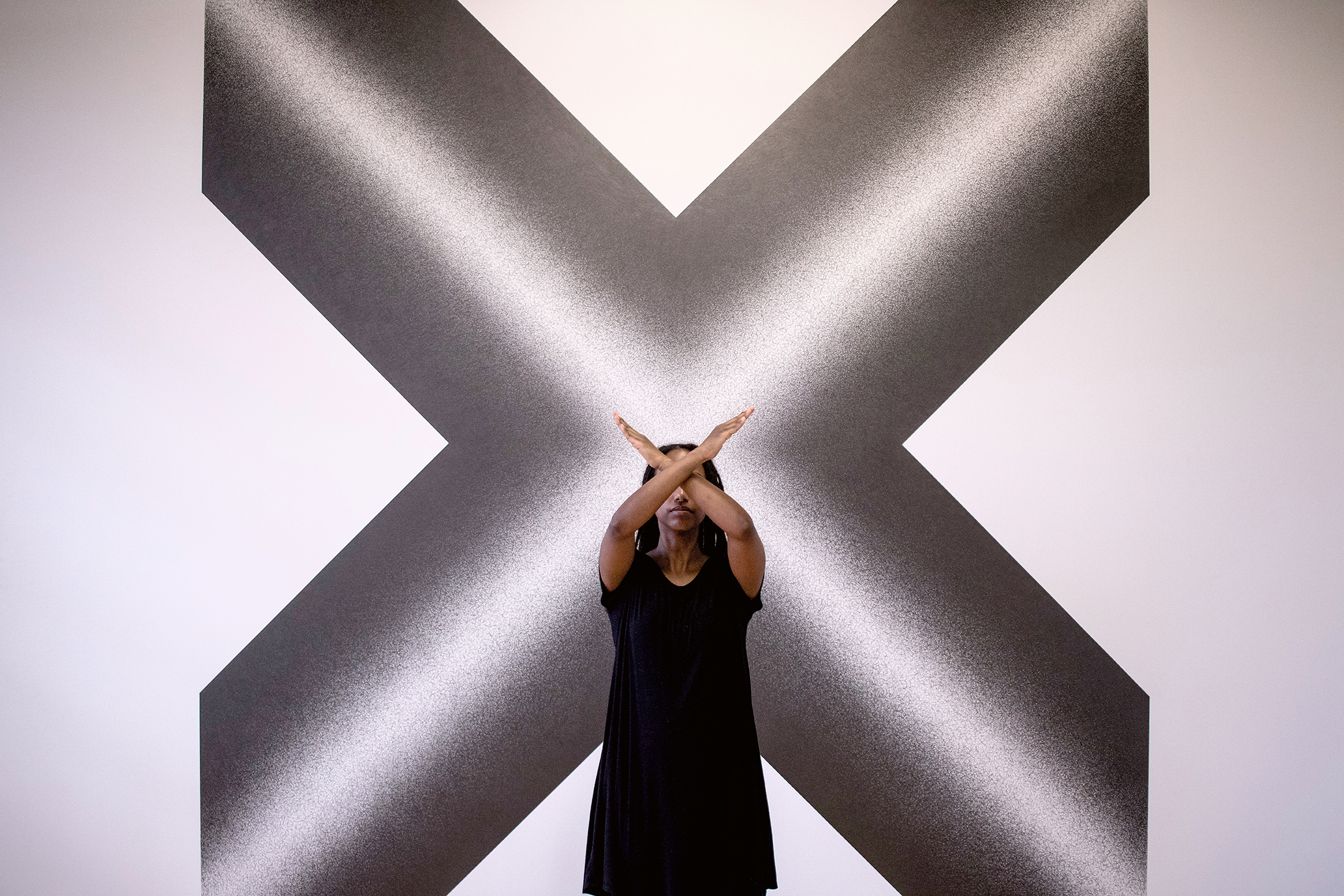 Solo exhibition featuring works by Helina Metaferia. Originally shown at Northeastern University's Gallery 360 and curated by Amy Halliday, the College of Art, Media and Design's Director of the Center for the Arts.
November 16, 2020 – January 15, 2021
The title of this solo exhibition of works by Helina Metaferia pays homage to Zora Neale Hurston, anthropologist, folklorist, and author of the classic novel Their Eyes Were Watching God. In a 1928 essay, Hurston reflects on her racialized lived experience:
"I feel most colored when I am thrown against a sharp white background."
Metaferia layers the original Hurston reference onto the monochrome walls of the modernist "white cube" gallery. Canonical works of twentieth-century American and European art (predominantly by white men) were — and largely continue to be — given visual and spatial primacy in major arts institutions, rendering women of color distinctly "out of place."
By way of response, and in chorus with artists and activists such as Glenn Ligon, Shirley Chisholm, and Solange Knowles, Metaferia brings her own seat to the table: in this case, a folding chair and performative intervention into Joseph Kosuth's foundational conceptual art installation, One and Three Chairs (1965). Throughout her performance work, Metaferia choreographs her own body's mark-making in relation to the "sharp, white backgrounds" of famous characters in western art history's exclusionary narrative: Mark Rothko, Sol Le Witt, Robert Motherwell, Barnett Newman, Jackson Pollock.
In her collages, Metaferia addresses the broader social, economic, and political structures in and through which art is displayed, circulated, and consumed. She combines photographic stills from her performances with found materials from auction catalogues, scholarly books, and art magazines (drawn mostly from her birth decade of the '80s) which function as the "legitimating ephemera" of the art world. Refiguring these materials in her own image, Metaferia reclaims space in art history for under-recognized and marginalized women and artists of color.
Online Artist Lecture: Tuesday, January 12, 2021 at 7:00 p.m. Central. Join at https://auburn.zoom.us/j/83345229339.
About the Artist
Helina Metaferia is an interdisciplinary artist working in collage, video, performance, installation, and social engagement. Her work investigates the politics of the body in space as it pertains to identity and notions of citizenship. Metaferia has exhibited her work at venues including Museum of African Diaspora (San Francisco), Museum of Contemporary Art Detroit (Detroit), Museum of Fine Arts (Boston), Smack Mellon (New York), and Modern Art Museum (Addis Ababa, Ethiopia).
Metaferia completed her MFA at Tufts University's School of the Museum of Fine Arts in 2015 and attended the Skowhegan School of Painting and Sculpture. Her work has been supported by various artist residencies, including Bemis Center for Contemporary Art, MacDowell Colony, Yaddo, MASS MoCA, and Triangle Arts Association. Her work has been reviewed in Hyperallergic, Artnet News, The Boston Globe, The Washington Post, San Francisco Chronicle, and Performa Magazine. Metaferia has taught in the BFA and MFA departments at the San Francisco Art Institute, Michigan State University, and Parsons Fine Arts. She is currently an Andrew W. Mellon Fellow / Assistant Professor at Brown University, and lives and works in New York City.