School of Aviation's Witte honored for 50 years of flight with Wright Brothers Master Pilot Award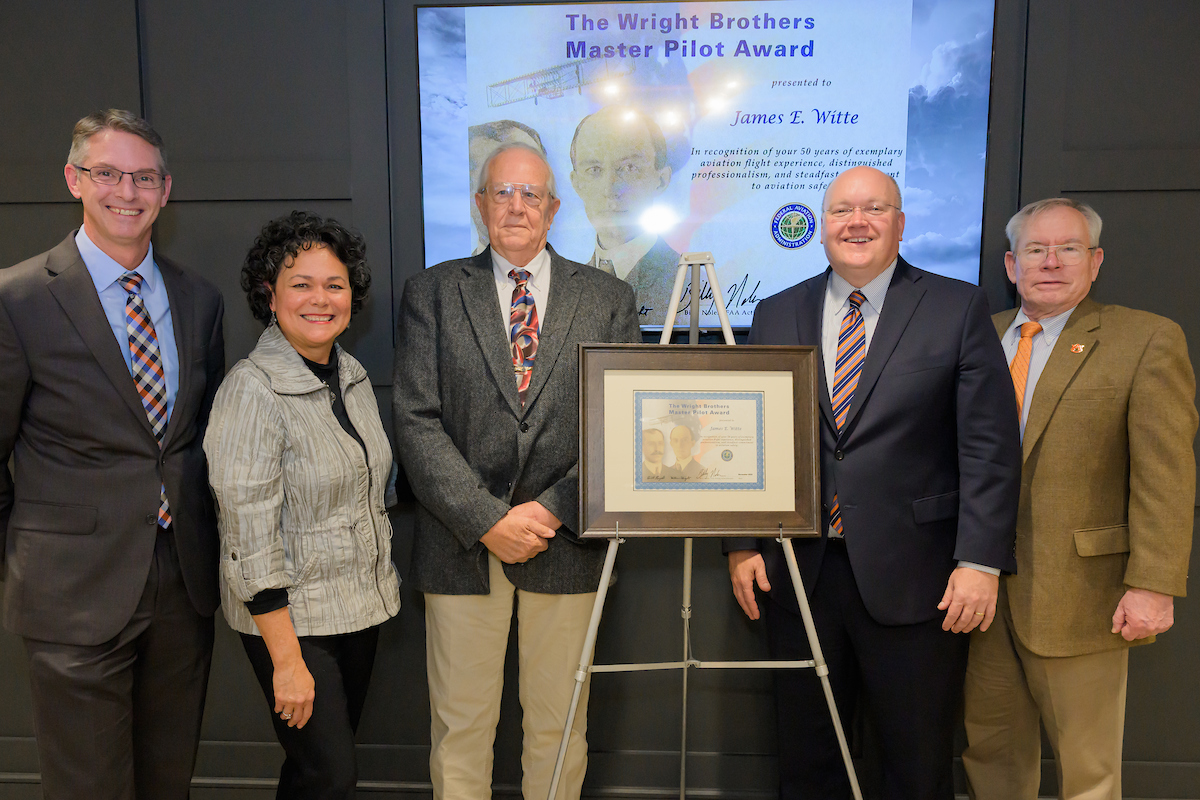 Auburn University leadership and community leaders gathered on Jan. 27 to honor the career of School of Aviation Director James Witte, who was selected to receive the prestigious Wright Brothers Master Pilot Award.
Auburn President Christopher B. Roberts, Executive Vice President Lt. Gen. (ret.) Ronald Burgess, College of Liberal Arts Dean Jason Hicks and Maria Witte, associate dean of the Graduate School and Witte's wife, joined Alabama State Representative Joe Lovvorn, Auburn Mayor Ron Anders and other dignitaries from the community in celebrating Witte's one-of-a-kind honor.
The award is the Federal Aviation Administration's most prestigious award and the highest honor the agency issues to pilots certified under Title 14 of the Code of Federal Regulations Part 61. Established in 2003, it consolidated the FAA's many pilot recognition programs that existed at the time under one national standard, aptly named in honor of America's first pilots, Orville and Wilbur Wright.  
The award "recognizes individuals who have exhibited exemplary aviation expertise, distinguished professionalism and steadfast commitment for at least 50 years of piloting experience or 50 or more years combined experience in both piloting and aircraft operations."
Witte was humble and thankful about receiving the high honor.
"The Wright Brothers Master Pilot Award is more than an individual recognition," Witte said. "It is a reflection of the entire School of Aviation."
Both of his parents were licensed pilots, and Witte completed his first solo flight on his 16th birthday on Dec. 22, 1957. His flight in a Piper Tri Pacer started him along a path that has taken him to the United States Army.
He joined the branch in 1964 and spent time as a helicopter pilot flying countless missions during multiple tours in Vietnam and rescue missions in Pakistan. By the time he retired from military service in 1990, he had risen to the rank of Lieutenant Colonel and earned 29 air medals, two Bronze Stars, the Pakistani Wings and the Vietnamese Cross of Gallantry.
After retiring from the Army, Witte earned a doctorate in adult education from the University of South Florida, where he remained as a professor until 1999. That year, Witte came to Auburn as the only faculty member in the university's adult education program. In 2020, he was selected to lead the College of Liberal Arts' Department of Aviation, which has since been designated as the School of Aviation, and he has helped take the program to new heights.
Witte—who holds commercial, remote and airframe mechanic certificates—has more than 65 years of exemplary aviation service that earned him this special distinction. Richard Henry, the FAA Safety Team program manager in the Alabama Flight Standards District Office, wrote glowing remarks in Witte's notification letter.
"Your career as an educator and pilot is distinctive and extraordinary with an assortment of aircraft experience and thousands of accident-free flight hours.  Your career contributions to aviation and current efforts as Director of Auburn University's School of Aviation make you the epitome of what the Wright Brothers 'Master Pilot' Award represents," Henry said. "Though the general public may never truly understand the magnitude of your aviation experience or your accomplishment as an aviator, please be assured that we at the FAA fully understand your achievements and are very grateful to you for your service, professionalism and stewardship of the United States National Airspace System."

*School of Aviation Instructor Eric Stroberg, himself a Wright Brothers Master Pilot Award recipient, contributed to this story.
Related Articles
---