Philosophy alumna looks back on her time at Auburn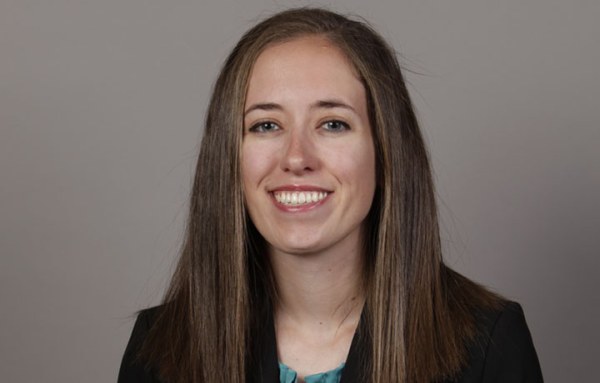 Meet Amanda Hale, a 2009 philosophy graduate. After taking an introductory logic course, Hale found herself gravitating toward the philosophy major and away from animal sciences. Read how the study of philosophy impacted her life and helped prepare her for success in law school.
How did you decide on Auburn University and a philosophy major? 
I am originally from Indian Springs, Alabama. My greatest mentor growing up was a family friend and veterinarian named Robert Okin. He went to Auburn, and I always knew I wanted to follow in his footsteps. I worked for him at his animal clinic, and I used to spend time with him on his farm, where he taught me about animal and land husbandry. When I arrived at Auburn, I first pursued animal science. I had been memorizing many things but did not feel fully engaged with the material. All this changed in my sophomore year when I took Intro to Logic and then Intro to Ethics in the philosophy department. I remember feeling excited about all the things I was assigned to read. I started attending the Friday afternoon philosophy talks and decided to become a philosophy major.
Philosophy, and more specifically, the philosophy department faculty, provided me with something that had been absent from my education up to that point. The faculty has created a nurturing environment for learning and improving one's self, an environment that, I am sure, has become even better since I graduated. The student-professor interaction in the philosophy department is unparalleled. As a student at Auburn, I took many classes from James Shelley. He always insists on precision from students and is superb in the classroom. Kelly Jolley and Mike Watkins have also been major influences on me. The faculty is generous with their time and guidance. They do whatever they can to foster the development of a philosophical community at Auburn, offering opportunities for students inside and outside of the classroom, and always making themselves available to students.
What was your path after graduating from Auburn?  Why did you decide to go to law school?
Keren Gorodeisky and Arata Hamawaki were mentors to me in many ways, especially when I was considering graduate studies in philosophy. I took many courses in aesthetics at Auburn, and I decided to continue to study aesthetics while pursuing a Master of Arts in philosophy from Texas Tech University. I felt prepared when I arrived because most of my philosophy classes at Auburn were taught like graduate school seminars.
When I arrived in Texas for graduate school, West Texas was experiencing one of the worst droughts in its history. Coming from Alabama where a shortage of water has never been a problem, I became fascinated by water law and the "tragedy of the commons." I decided to attend law school and study natural resources law. This was a field I kept returning to, so I hoped that working in natural resources would feel less like a job and more like learning every day about something I enjoyed.
How did your philosophy background prepare you for your career?
The difficult part of explaining how philosophy changed me is the incremental nature of its effects on me. Once you do philosophy for long enough, it is hard to think back to the way you used to approach problems or arguments. Studying philosophy taught me to be patient with a text rather than getting frustrated. My courses as a philosophy student emphasized writing, discussion, and argumentation, all of which are vital to a law career. I think that if you study philosophy for any period of time, it will change how you think about everything. No matter the career path you might pursue, if you study philosophy, your life will be richer, and you will become a better student.
What advice would you give someone who is interesting in pursuing a law degree/law career?
Law, and especially philosophy, are apprenticeship fields. It would be impossible to become a good lawyer or a good philosopher without discussing the subject matter with people who have worked in the field longer. Both fields are also quite intimidating to newcomers, so it is important to have good mentors. I would encourage someone who is interested in pursuing a law degree to seek out a lawyer-mentor. Many lawyers have dealt with the same uncertainties and are usually happy to discuss their paths. I think it is important to have a mentor and to be a mentor at all times: someone to guide you and someone to guide
What is a favorite memory you have from your time at Auburn?
I remember riding my bike to the Haley Center and going up to the Lyceum and chatting with people in the department on a daily basis. I also remember attending philosophy department garden parties with my best friend Emi during the summers. And the smell of magnolia everywhere.
Tell us about your position and your focus on oil, gas and energy transactions.
I am currently an associate lawyer at a mid-sized law firm based in Dallas called Hamilton & Squibb, LLP. I knew I wanted to be a natural resources lawyer, whether I was working in water law, environmental law, or oil and gas. I get to do a little bit of all of that now. I handle transactional matters and represent energy companies, investors, and families with the acquisition and divestiture of mineral and leasehold assets. I also advise companies faced with environmental and regulatory constraints.
What do you love most about your current job?
I enjoy figuring out complex title issues because it is akin to putting together a huge puzzle. Because so many mineral rights are transferred upon death, the ownership can be a complicated ancestry tangle. I also enjoy working on the front end of deals while the parties are still excited. It is much different for a lawyer to come in on the back side of a deal that did not go as a party intended.
Texas natural resources, both in its energy reserves and in its energy potential, play such an important role in the U.S. economy and the geopolitical climate at large. Because there are always important, yet often competing, concerns at play, natural resources is an intellectually challenging area to work in. It is also exciting to be able to pursue alternative areas such as solar energy, which clients are embracing more and more.
What is most challenging in your job?
Similar to philosophy, the study of law deals in gray areas; there are rarely right or wrong answers. It can be challenging to choose the best argument that will hopefully secure the best outcome for a client.
What are some key skills a young aspiring lawyer needs to be successful?
Being a good lawyer is not just about memorizing all the rules; it is much more about having good judgment and an ability to predict outcomes, both of which are aided by studying philosophy.
What would you do differently as an undergraduate student?  As a graduate student? 
When I started college, I was under the illusion that college coursework was some sort of measurable utility for finding a job. Some people I knew had a pessimistic view of the practicality of a philosophy degree, either for my future or for my job prospects. They were worried that I was not learning practical skills for the workplace. Nothing could be further from the truth, though. You have a lifetime to learn tasks and skills you will use in whatever workplace you end up in, but thinking, abstracting, and writing is useful in whatever field you pursue after school.
If there is something that truly interests you in college, then do not worry about how you will parlay that into a job. It will probably just happen naturally. It is not as easy to predict what fields those with philosophy degrees will one day work in, but I liked the open-endedness of studying something I enjoyed that would help make me better in many ways. The philosophy department faculty has worked together to provide a place where students are challenged to think carefully about what sort of life they ought to be living. And if that is not the most foundational construct to anything one might think of as practical, then I do not know what is.
Tags: Alumni Philosophy
Related Articles
---