Alumna with hearing impairment inspires as an actress and audiologist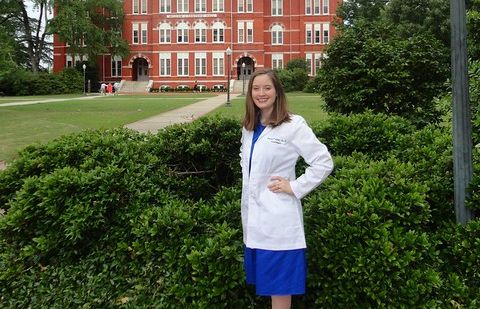 Laura Pratesi learned from an early age to take charge of her life no matter the circumstances.
"My hearing loss went untreated for a long time," said the 32-year-old Auburn University alumna and resident of Clermont, Florida. "I learned to compensate, but it took a lot of brainpower and resulted in listening fatigue. I was lucky in that my mother was a teacher. She really taught me to advocate and stand up for myself. We need to learn to speak up and not be ashamed to ask for help."
Pratesi has been partially deaf since childhood–the result of a common birth defect called Enlarged Vestibular Aqueduct. However, that circumstance didn't stop her from reaching for success, and it was at Auburn where she not only found inspiration to earn a doctoral degree but to do so in audiology, which led to the career she has today in helping others who also have a hearing impairment.
"Clermont was kind of an audiology desert," said Pratesi of where she practices at the Citrus Hearing Clinic. "I've now seen patients who were driving to Jacksonville, Gainesville or Tampa for services. I'm the only provider who works with kids for about 35 miles."
Pratesi also operates the only clinic in Clermont that works with cochlear implants and performs what is called the Real-Ear Measurement, which focuses on the sound pressure level in a patient's ear canal that's developed when a hearing aid is worn.
"It's been so rewarding to be able to provide care for people in the community where I work and play," she said. "I'm hoping to continue to offer more services as we grow."
Pratesi says she's so glad she attended Auburn for its lofty reputation and its true feeling of family. At Auburn, Pratesi earned her Bachelor of Science degree in communication disorders in 2008 and her Doctor of Audiology degree in 2012.
"Auburn is a respected university and when you have a degree from here, people sit up and take notice," she said, also adding that "the Auburn Family is not a myth!"
In a recent article in the Orlando Sentinel, Pratesi said it was at Auburn where her love for opera flowed into an interest in music therapy and then to a speech-therapy class. That's where she became fitted with a hearing aid for the first time. The Sentinel article pointed out that although Pratesi's hearing had been stable since age 5, it became much worse just a couple of years ago when she jumped on a trampoline.
"I was devastated," she told the Sentinel.
That's when Pratesi's love for of the arts stepped in and lifted her spirits. For many years, Pratesi has had a passion for performing, with an affinity for musicals. Early on, she was in ballet and played cello. On the stage, she's filled many leading acting roles through the years, including a recent production of Beauty and the Beast in Clermont.
"I've been in theatre since elementary school," she said. "I have been blessed to play most of my dream roles, including: Cinderella in Rodgers and Hammerstein's Cinderella, Eliza Doolittle in My Fair Lady, Maria in The Sound of Music, Belle in Beauty and the Beast, Dorothy Gale in The Wizard of Oz and Peter Pan in Peter Pan (getting to fly was pretty spectacular)."
It was in Cinderella that she met her husband, who played Prince Charming opposite of her and later filled the role in real life. On stage, Pratesi uses a hearing aid but also works hard to learn the timing of songs and has the music sent to her hearing aid via Bluetooth technology. Going forward, she has no plans of slowing down.
"Central Florida is a hotbed for theatrical roles, so there are many options from which to choose," she said, adding that one day she'd love to play Christine in Phantom of the Opera.
She's also excited for the future of her practice, knowing she's changing lives for the better much like that of her own experience at Auburn. She looks back on those college days fondly, recalling the research projects she worked on with professor Sridhar Krishnamurti.
"I was his graduate teaching assistant for a year," she said. "We got to work on several research projects together. I also cannot say enough nice things about Chris Huggins. She was my advisor during undergrad and the reason I was able to complete undergrad in three years. I always felt like my professors wanted me to succeed and were there to help me."
Pratesi now is the one helping and inspiring others, and she will always remember the catalyst to it all.
"I have so many happy memories from Auburn, it's difficult to choose just one. I would probably have to pick my white coat ceremony. I was surrounded by my classmates and family, seeing the fruition of all my years of hard work. It was such an awesome celebration."
Related Articles
---