Journalism junior Mikayla Kelly welcomes College Gameday to The Jungle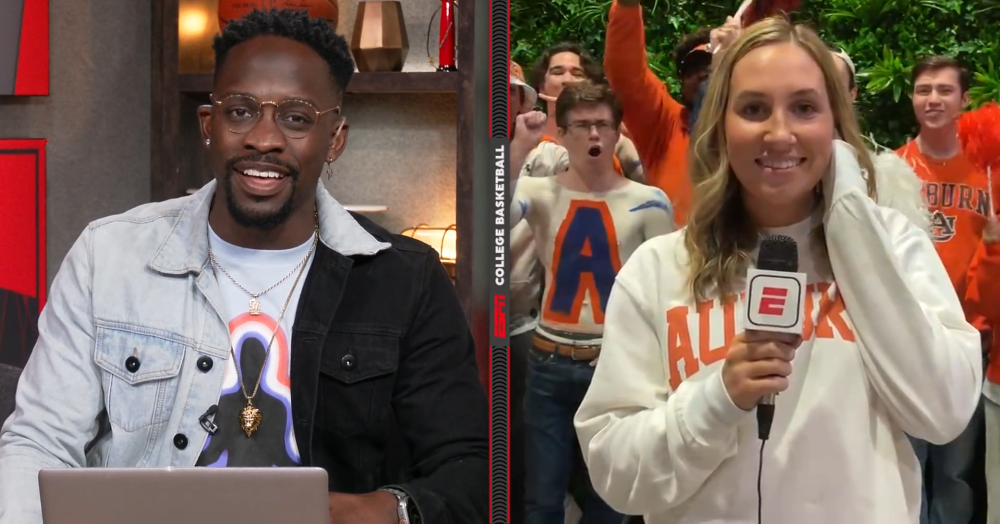 Watch Mikayla Kelly on Countdown to College Gameday.
On Feb. 11, Auburn University men's basketball hosted the Alabama Crimson Tide for the season's first rendition of the Iron Bowl of basketball. While the Tigers fell short of defeating their in-state rival, journalism student Mikayla Kelly received the opportunity of a lifetime when she was invited to join ESPN's College Gameday pregame broadcast.
Kelly, sports producer for Eagle Eye TV, was invited to join Countdown to College Gameday to help introduce The Jungle and give viewers a taste of Neville Arena's gameday atmosphere.
"The producer reached out to Eagle Eye since they knew we were the student television station on campus," said Kelly. "We joined a Zoom call and they basically told us that they needed an anchor, someone behind the camera and someone to control the crowd. I wasn't going to pass up the opportunity to hold the ESPN mic, so I volunteered to anchor."
Anchoring on College Gameday is not an easy feat. Kelly, along with Eagle Eye sports director Colin Beyersdorf and station manager Zach Card, were tasked with setting up equipment and ensuring a successful broadcast.
"ESPN sent us a ton of equipment that we had to set up ourselves," said Kelly. "We also had to organize all the students in the background and make sure that everything was running smoothly."
Kelly had to do her fair share of problem-solving too. College Gameday typically takes place outdoors, but on the day of the broadcast, the weather was cold and rainy.
"Unfortunately, the day of, it was raining outside," said Kelly. "We had to work with people that had never been on Auburn's campus before to quickly find a new location. Neville Arena isn't very big near the student section, so finding a new location was a bit of a challenge."
Neville Arena is famous for its rowdy student section, known as "The Jungle." Kelly and her team had to account for the loud crowd behind her throughout the broadcast.
"We had a set up with a phone attachment to call the ESPN office in Bristol, Connecticut," said Kelly. "I had an earpiece in, but it was incredibly hard to hear. Their anchor would talk directly to me through the earpiece and their director would talk to Colin to direct him behind the camera."
Despite some nerves, Kelly took the opportunity and ran with it.
"I was so nervous in the days leading up to it," said Kelly. "I couldn't believe I was actually going to do this. I hoped I didn't stutter or freeze up, but a lot of people don't get this opportunity, so I knew I had to work through it."
Kelly emphasizes how her education through the College of Liberal Arts helped prepare her for her first national television appearance.
"Starting with the basics, learning how every aspect of the newsroom works, helps prepare you," said Kelly. "In this major, you really have to learn how to trust yourself. Especially as a woman in journalism, I have had to learn that I am not an imposter and that I can do this. If you're confident in what you do, people will take you seriously."
Kelly advises other journalists to get involved and take the opportunities that Auburn offers.
"Get involved as early as you can," said Kelly. "Auburn is a massive SEC school with great sports and incredible gameday atmospheres. Jumping into the great opportunities we have on this campus is a great way to get your foot in the door."
Kelly reflects on her time on College Gameday and the experiences she will hold on to long after she graduates.
"Obviously the dream job is to work somewhere like ESPN, so to be able to hold that mic is something I will take with me forever," said Kelly. "Even if I am never able to do something like that again, knowing I was able to do it while attending Auburn is something that I will never forget. This university gives me so many opportunities and I am so grateful for that."
Kelly, Beyersdorf and Card have also been nominated for a collegiate Emmy for their work in Eagle Eye TV and will travel to Los Angeles in April.
Learn more about journalism in the College of Liberal Arts.
Related Articles
---