Fine art alumna Laura Lewis revisits mural, reflects on Auburn experience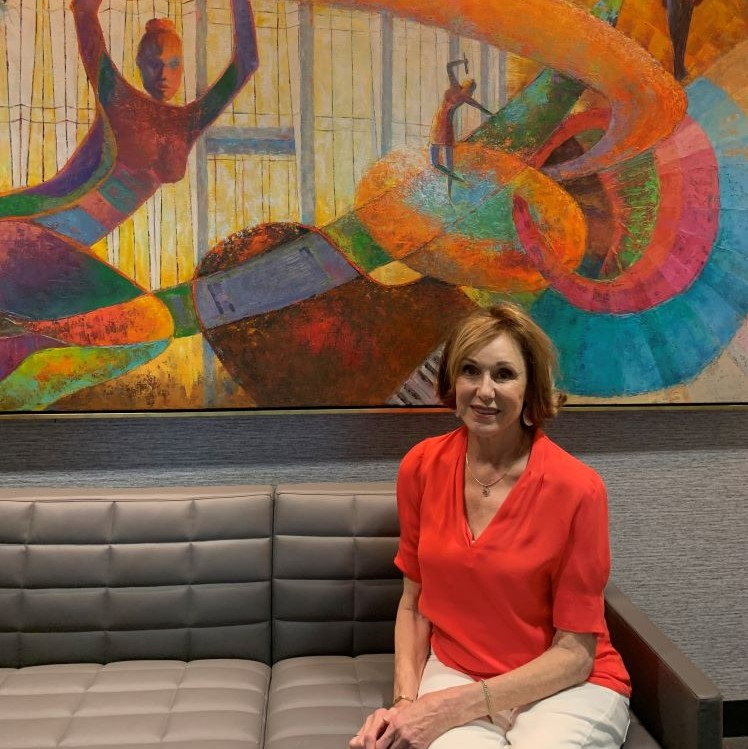 From the halls of Auburn University to the showcases of the American Impressionist Society, Laura Lewis '00 has left a unique mark on the art world. Lewis, a native of Auburn, has earned international recognition for her vibrant use of pigments and ability to capture sensitivities, responses and observations. Throughout her career, Lewis' work has been featured in galleries, tours and showcases around the globe.
Lewis was passionate about art from a young age. As she got older, Lewis realized how art could become so much more than she imagined.
"I always loved to draw from the time I was a little girl, but I didn't realize at the time that it was so much more than just being able to look at something and copy it," said Lewis. "I have had to gain experience in design and learn all of the elements and principles of design and how they interact with each other. It's just been a thread through my whole life. Art has been the one thing that has been there all the time."
After graduating from Auburn with a bachelor's degree in textile engineering, Lewis continued to pursue her passion for art through her work with C.R. Gibson, a company specializing in designing memory books, stationery, journals and notecards. This inspired her to pursue a fine arts degree.
"Working for C.R. Gibson, I did about 24 pieces of products. I did cards, photo albums, desktops, bridge tallies, anything you can really think of," said Lewis. "They helped enhance my portfolio and resume. The art director of the C.R. Gibson Company also wrote me letters of recommendation. I was able to go on to graduate school and become a professional because of them."
Lewis has been featured in several showcases through the American Impressionist Society. The American Impressionist Society is one of the largest art organizations in the country and features several of the top impressionist artists across North America. In 2022, Lewis achieved "Signature" status, one of the highest honors in the AIS. Lewis is one of only three artists in Alabama to achieve "Signature" status. 
"Once I found out about AIS, I thought, 'That's going to be my goal, I want to get Signature status,' but it was a pretty far-stretched goal," said Lewis. "I kept applying and sure enough, I was accepted in 2022. This has allowed me to travel all over the country to display my art and learn from other artists."
In 2018, Lewis was commissioned to paint a mural for the Jay and Susie Gogue Performing Arts Center. The mural, titled "Celebration of the Arts," features the impressionist style that Lewis has become known for. Lewis incorporated elements such as a music staff, a ballerina and a conductor, representing the different performances the Gogue Performing Arts Center offers. Through her attraction to color, Lewis used vibrant shades to allow each element to stand out.
---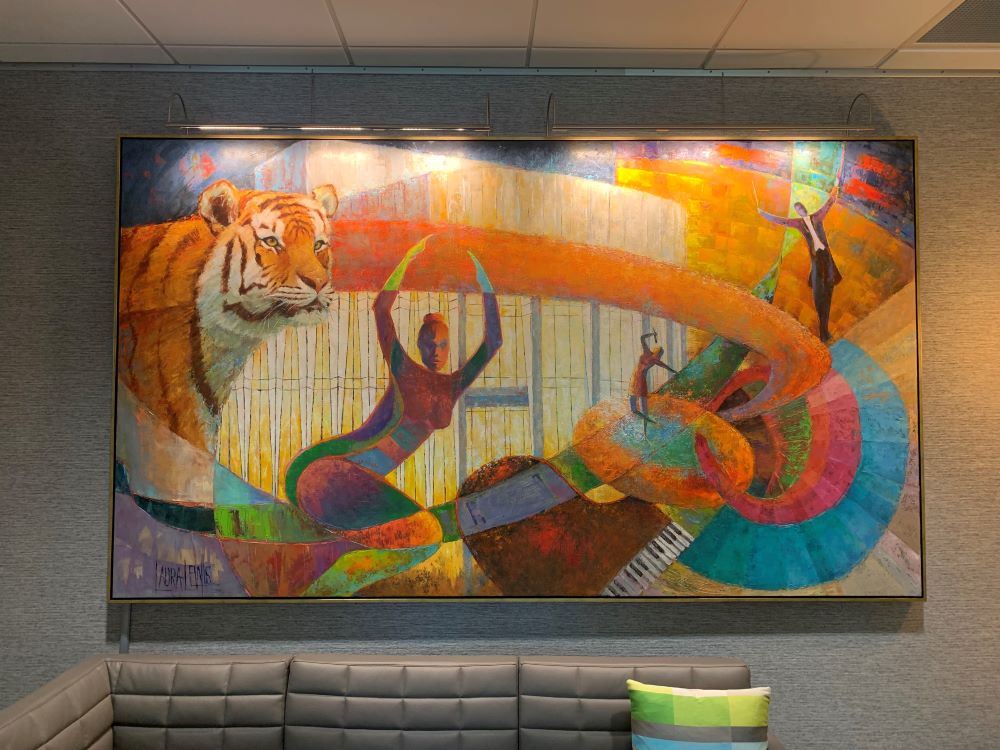 ---
"First, I tried to get the building placed and then incorporate the figures and the piano. The sense of a music staff and piano keys and something symbolizing a stage came second. Then it was a play of color for me," said Lewis. "I've always loved the impressionists, the way they do color. It vibrates against each other, and so I incorporated a lot of that in this painting. I would put down the color, knowing well what I planned to put on top of it. You'll see opposite colors coming through."
Professional art can be a challenging profession. Lewis advises aspiring artists to persevere, take opportunities and learn business skills to help promote their work.
"It's very hard to make a living doing art at first. It's difficult, but while you're in art school, don't give up," said Lewis. "Take some business classes because that's what's going to help you market yourself and enable you to be successful. Things like going to art galleries, tours and local markets to see what's popular right now is also something artists need to do frequently."
Lewis was a member of the Auburn Family from a young age. Both her mother and father graduated from Auburn, named Alabama Polytechnic Institute at the time. As Lewis reflects on her career, she credits Auburn with giving her an opportunity to forge her own path.
"In our family, we didn't consider that we would go anywhere else. It was, 'What are you going to take at Auburn?'" said Lewis. "Auburn is just a wonderful place. I think you can make Auburn as big or as small as you want. For me, it's a family school, but you can make your experience what you want it to be."
Learn more about the Department of Art & Art History.
Tags: Art and Art History Alumni
Related Articles
---