Shifting the industry: Auburn student studies shift quality factors for future nurses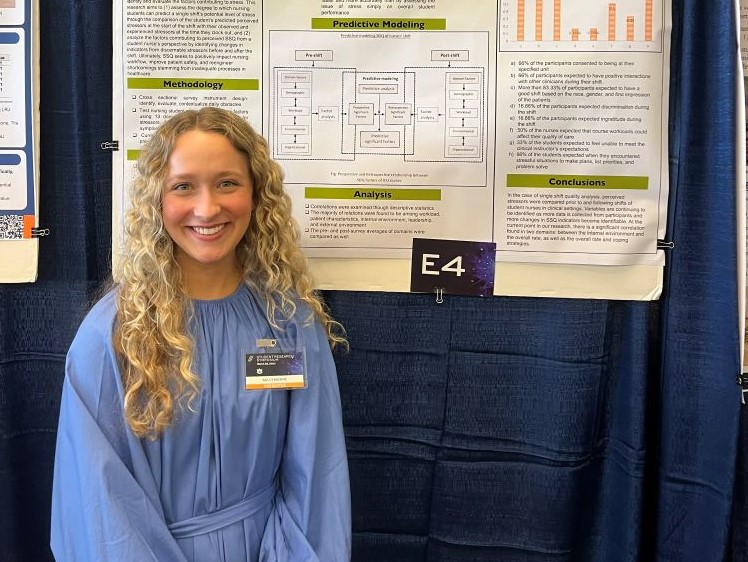 A study conducted by health services administration senior Kelly Moore examined how certain interactions, events or environments have the authority to define a shift as "good" or "bad" in the eyes of nursing students.
Over the course of the last few years, the health care industry has been put under an incredible amount of pressure. As a result of these workforce shifts, the mental health of frontline health care workers affects patient outcomes more than ever.
Research and data collection can help prevent medical errors before they occur, prevent catalysts of burnout among health care workers and create a more sustainable future for health care organizations. Moore realized the importance of the research and jumped on the opportunity.
"During a health care analytics lecture in my junior year, my professor, Dr. Haneen Ali, mentioned a research opportunity. I expressed my interest to her, and when she told me about the single shift quality project, I instantly was drawn to it," said Moore. "Burnout is a real issue in health care and as a future administrator, I think it is vitally important to understand the perspectives of frontline workers. This study is working to find the causation of the root of the problem by asking how they predict a shift to be, which reveals their feelings and attitudes toward many aspects of the health care continuum."
Throughout the study, factors such as type of interaction, workload and expectations of supervisors were evaluated before and after a shift to determine how they affected a nurse's shift quality. These factors were predetermined by nurses participating in the study. After conducting pre-shift and post-shift interviews, Moore and her fellow researchers synthesized the data to identify and evaluate the factors contributing to stress.
Results showed that workload, department and interactions with patients, co-workers and supervisors all influenced shift quality. While more data continues to be collected, Moore expected the results.
"Correlations we have found at this point between the internal environments and the overall rates have been consistent with what we believed would be true," Moore said. "So much more is still to come, though."
As with most research projects, Moore faced obstacles throughout the study such as clearing approval contingencies and working with nurses' busy schedules.
"As with anything worth doing, there have been challenges in this research. Institutional Review Board approval is not simple or easy, but with several sets of detail-oriented eyes, we cleared that obstacle," said Moore. "Additionally, it has been a process gathering data from nursing students at times. They have such rigorous academic and clinical schedules, so their time is very valuable. Explaining the meaning and importance of the research to students has been helpful in gathering data."
While the project is still young, Moore is excited by the many insights it has already shown.
"There have been so many little lightbulbs that have gone off in my head throughout this process," said Moore. "I feel that with every new survey we receive, we're on our way to a brighter future for the health care workforce and higher quality patient care. I didn't expect to feel this way so early in the project's life."
As the health care industry continues to shift and evolve with today's world, the need for research and evaluation only grows, according to Moore.
"This research matters to the future of health care," said Moore. "The last three years have taught us that so many processes in health care are not sustainable as we once thought. Understanding what makes a student nurse perceive a shift to be enjoyable or not so enjoyable is a small piece of the puzzle, but a cornerstone to the solution of many problems the health care workforce faces."
Moore expresses her gratitude to her fellow researchers for their help with the project. Haneen Ali, director of the health services administration program; Yasin Fatemi; Astin Cole; and Jude Ugwuoke, all political science GRAs, assisted Moore throughout the study.
Find more information on health services administration in the College of Liberal Arts.
Related Articles
---