Hébert named 2022 Bell Award winner by Georgia Historical Society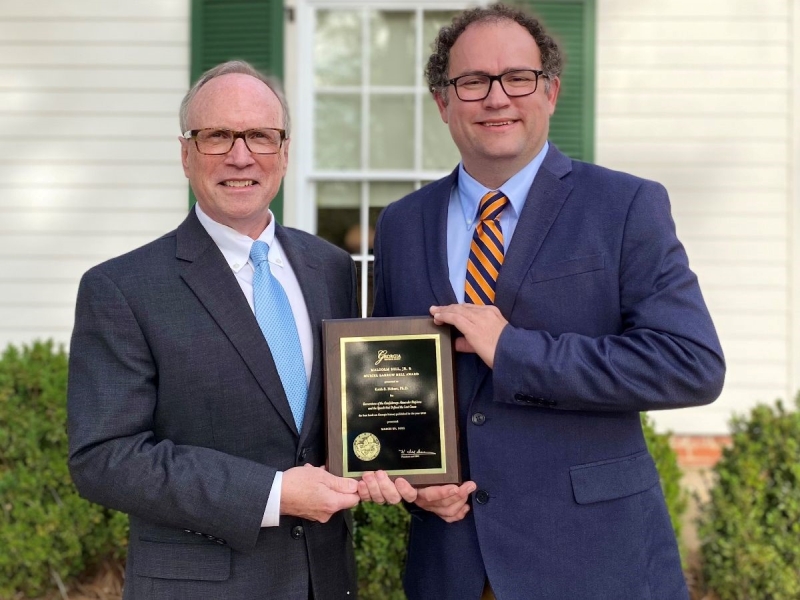 The Georgia Historical Society has named Draughon Associate Professor of Southern History Keith Hébert's "Cornerstone of the Confederacy: Alexander Stephens and the Speech that Shaped the Lost Cause" the best book on Georgia history published within the last year.
Hébert's examination of Alexander Stephens' "Cornerstone Speech" received the Bell Award–the highest honor awarded for publications by the Georgia Historical Society. The Bell Award, first awarded in 1992, celebrates outstanding history scholarship in honor of photographers and historians Malcolm Bell, Jr. and Muriel Barrow Bell.
The Bell Award holds personal and professional significance for Hébert. He said it's an honor to join a list of recipients who shaped his education, career and the field of history scholarship, as well as being recognized for his work to challenge misinformation of the past.
"Professionally, the award validates the quality of my research and analysis on a project spawned from years of hard work and personal reflection," Hébert said. "Also, the award demonstrates how far the historical profession has come in its recognition of new scholarship that challenges the lies concerning the Civil War's origins and meanings."
The "cornerstone speech" Hébert analyzes in his book refers to the March 21, 1861, address by Confederate States of America Vice President Alexander Stephens in Savannah, Georgia, that proclaimed the newly formed government was founded on the principles of white supremacy and in defense of slavery.
Hébert analyzes how those declarations have and continue to shape the contested memory of the Civil War, from the floor of the U.S. House of Representatives to the social media feeds on Facebook and Reddit.
"Today, how Americans choose to interpret the 'Cornerstone Speech' tells us much about where they stand on the Civil War's history, memory and potential application to problems in American society," Hébert said. "The speech is reflective of a larger sustained culture of white supremacist fallacies that pervade modern-day life as much as they did when Stephens proudly stood before that packed Savannah crowd in 1861. The 'Lost Cause' articulated by Confederate and neo-Confederates alike has been the most influential and damaging lie ever told in American history and helps explain where America stands today on issues of racial equality, equity and inclusion."
For more information and to buy the book, visit here.
Tags: History
Related Articles
---