Career Services welcomes Auburn students with CLA Career Week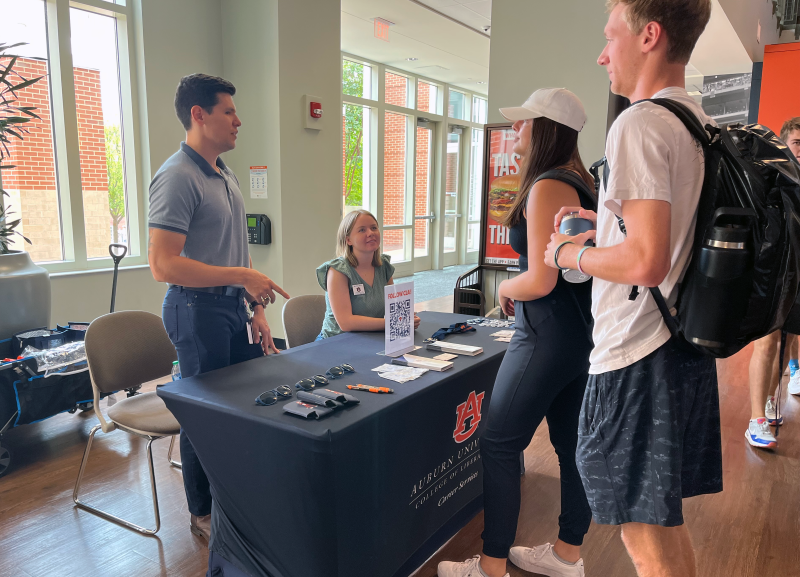 As another academic year kicks off at Auburn, the College of Liberal Arts' Career Services office hosted a week of events August 22-26 to promote career preparation and student success.
CLA Career Week connects Career Services with students through information sessions, workshops, panel discussions, headshot appointments and table displays where students can pick up free refreshments and swag while discussing their goals with a staff member.
"It's important students know that the Career Services team is here to support them in whatever path they're on," Assistant Dean of Student Services Melissa Adams said. "Anything from graduate or professional school, different career paths or internship opportunities, we are here to support their needs in finding success beyond Auburn."
The 2022 Career Week keynote presentation focused on diversity in the workplace, led by Auburn University Director of Diversity Education and Engagement Rochelle Johnson. Johnson explained the crucial relationship between diversity and inclusion, advised how to find a work placement that values diversity and encouraged students to lead inclusion efforts with "courageous vulnerability."
Johnson said engaging students with diversity, equity and inclusion practices before they enter an internship or career will improve their experiences inside and out of the professional world.
"It would be a disservice to not touch on diversity, equity and inclusion because diversity is our advantage. It brings in different perspectives," Johnson said. "We're not preparing them to just be Auburn students, we're preparing them to be global citizens. Part of that is understanding and being aware of diversity in the places they will enter and navigate. The more they learn here, the better prepared they are when they leave us."
Diversity is not only the right thing to do, Johnson told participants, but it is also strategically aligned with business goals and improves performance outcomes, productivity and innovation. Students engaged with the presentation by asking questions and having discussions about what they can do as young professionals to advance diversity, equity and inclusion in their work.
Assistant Dean of Student Services Melissa Adams said these conversations support career readiness.
"Career preparation goes beyond interviewing skills or knowing how to write a resume," Adams said. "Sessions like this are an opportunity for students to participate in discussions around various topics that will impact their experiences in the world of work. Through these discussions, we can better prepare students for what they will encounter in their careers."
Career Services in the College of Liberal Arts offers personalized career coaching and career development resources, including experiential learning, internships, employment and graduate school opportunities.
Psychology senior Beatrice Riley first reached out to Career Services to explore career options and, based on the information she received, tailored her extracurricular activities to fit her post-graduation goals. She currently serves as a peer advisor in the office, helping other students prepare to launch their careers.
Riley advises all Auburn students, no matter what year, to reach out to Career Services at least once.
"Practice helps. If you learn what to ask in an interview or how to edit your resume while you're in college, it's not going to be as scary once you're getting ready to enter the workforce," Riley said. "You can benefit from even one visit. Maybe you think you don't need help, but you never know. There could be one little tip or resource that you weren't even aware of that could help. Reach out and see what information we can give you."
For more information about Career Services in the College of Liberal Arts, visit here.
Tags: Career Services
Related Articles
---