Auburn music student stars as vocal artist for national ad campaign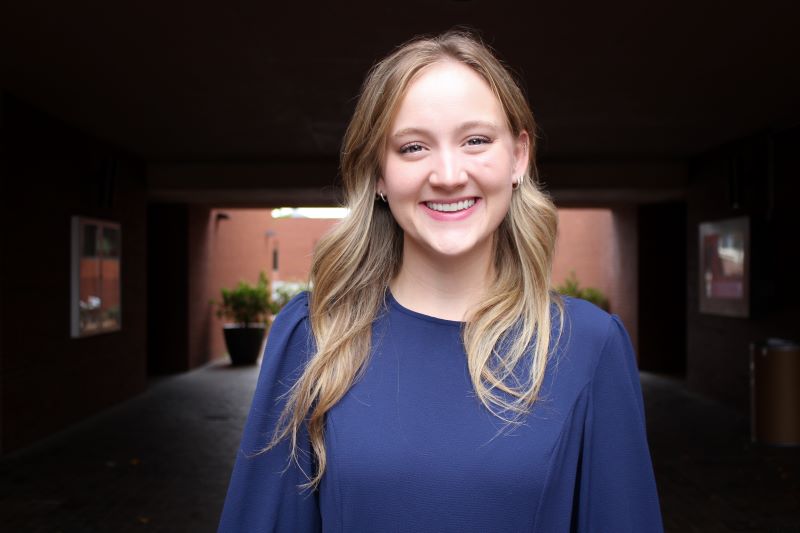 Catie Tucker, a music composition and technology senior in the College of Liberal Arts at Auburn University, hit screens and radio waves this year as the vocal talent of Regions Bank's "Embrace the IF in Life" campaign.
Tucker competed with talent from Nashville and Atlanta, among other places, during auditions for the role. She said being selected to sing in a national ad campaign, and all she learned throughout the process, will translate directly to her future career.
"I cannot explain how big of an answered prayer this was, and I didn't even realize that it was an opportunity waiting for me or that it was possible," Tucker said. "It was such an amazing experience, from the audition process to when I actually got to go into the studio, especially with this being a career I'm interested in, and not just the performance side of things, but the production behind it."
The "Embrace the IF in Life" campaign acknowledges the unknowns—or the 'ifs'—that people face every day. It promises Regions, the official bank of the Southeastern Conference, will support its customers in those moments through updated banking features and services.
Luckie & Company served as the creative agency behind Regions' latest campaign. Creative Director Bob Harrison wrote the song featured in the commercial and said he was looking for a voice to match the tone of the campaign.
"I wanted somebody who had a sense of whimsy about them—a little bit of humor, a lot of humanity, so we listened to a ton of voices, and everybody agreed that Catie rose to the top," Harrison said. "Her voice is really kind of unique, but at the same time, approachable. Everyone also really appreciated her intelligence; she was great at taking direction and lending her voice to the equation. She just did a fantastic job with it."
In addition to her vocal performance, Tucker got to see behind-the-scenes aspects of the campaign, including sound engineering and production technology. As a music composition and technology student, she said it opened her eyes to the various opportunities post-graduation.
"The biggest thing to me was realizing that there are so many things in the background of our life, like commercials, that we don't realize how many tiny parts, how many people and how much hard work go into it," Tucker said. "It was really crazy to see all of the creative minds that went into one commercial and how there are so many opportunities for all creative majors, and music majors especially, outside of college that we don't even think about."
Originally a vocal performance major, Tucker transferred to the music composition and technology program when it opened in fall 2020. Tucker said the program has built her professional development skills, knowledge, skill set and confidence.
Tucker said the decision to change her major was justified at her junior recital, at which she combined all her performance and technical skills.
"When Auburn finally offered a music and composition technology major, it really was like a dream come true," Tucker said. "At the end of the day, you have to do what you feel God is leading you to do, what you have a passionate dream for and what you can see yourself doing 10 years down the road."
Department of Music Chair Rick Good said he looks forward to offering students like Tucker even more opportunities at Auburn through the growing music composition and technology program, including a new recording studio and industry connections.
"Catie is a great ambassador for Auburn Music," Good said. "She really represents the drive, talent, professionalism and skill our students possess and took everything from the classroom to the studio. We're proud to have set her up for success in this campaign and look forward to what she does next."
For more information about the Department of Music in the College of Liberal Arts, visit here.
Related Articles
---