Auburn University's School of Aviation inks career pathway partnership with Southwest Airlines
Southwest Airlines, Auburn Aviation leaders gather for ceremonial announcement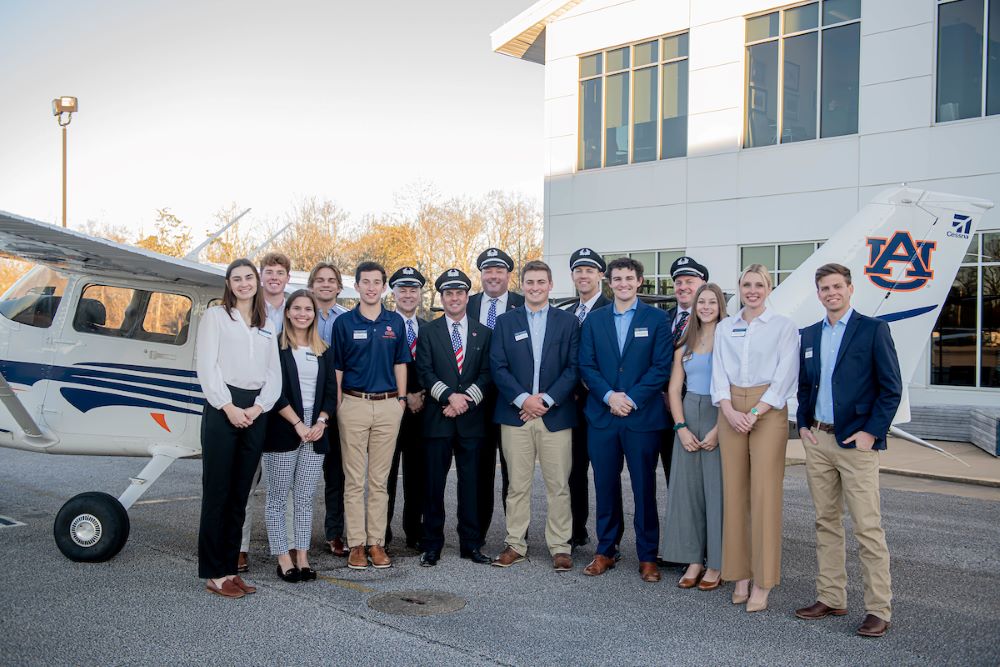 Auburn University's School of Aviation on Monday announced a partnership to make the university's acclaimed aviation program the newest university partner to join the Southwest Airlines Destination 225° pilot recruitment program.
The partnership aligns Auburn's growing School of Aviation with Southwest Airlines, frequently voted among the nation's most admired and awarded airlines. The Southwest Airlines Destination 225° University Pathway is for individuals interested in pursuing their university degree while building post-graduate flight instructing time within their college's flight program, with the goal of becoming competitively qualified to interview for a first officer role at one of the program's partner carriers.
The majority of Auburn's nearly 700 School of Aviation students are Professional Flight majors, making the partnership a high-quality feeder system for both parties.
"Our School of Aviation is a shining example of excellence at Auburn, and I am thrilled to see our program aligned with Southwest Airlines," Auburn President Christopher B. Roberts said. "We are committed to providing students with experiential learning and opportunities to make an impact in the world after their days on the Plains. Career pathway programs like Southwest's Destination 225° are a wonderful way for our aviation students to embark on fulfilling and meaningful careers after graduation. We look forward to a long and prosperous partnership with Southwest through Auburn Aviation."
After building their flying experience at a partner carrier through the program, candidates receive employment consideration for a First Officer position at Southwest Airlines. Auburn's job placement rate for professional flight and flight management majors has remained near 100 percent in recent years.
"This partnership is a win-win for everyone and the latest in a long line of amazing news for the Auburn School of Aviation program," said Jim Witte, director of Auburn's School of Aviation. "Southwest Airlines has a proven tradition of excellence in the industry, and we are excited about joining its Destination 225° pathway program to feed the pipeline of the future. Auburn Aviation graduates are making a substantial impact in the industry, and this alignment will help take that to the next level."
With multiple program partners, Southwest created the university pathway as a highly accessible, cost-effective, and innovative route to flying at a major carrier for students pursuing flight industry-related degrees. On a compass, 225˚ is the southwest directional heading, and the carrier developed Destination 225° to lead aspiring pilots to Southwest.
"We're thrilled to welcome Auburn University as a partner in Southwest's Destination 225˚ Program," said Lee Kinnebrew, vice president, Flight Operations at Southwest Airlines. "We continue our work of introducing career pathways for the next generation of professional pilots and look forward to supporting students as they train, gain flight experience and develop into competitively-qualified Southwest First Officer Candidates in the years ahead."
Along with an engaging training program, students involved in the pathway receive ongoing career mentorship from a Southwest Pilot during their university studies and early flying career. Their instruction includes a variety of aircraft, from single-engine planes to Boeing 737s.
Auburn joins an accomplished group of Southwest's university partners, which includes Angelo State University, Arizona State University, University of Nebraska at Omaha, The University of Oklahoma, Southeastern Oklahoma State University and Texas Southern University. More details about Destination 225° and the program's training and flying partners are available at careers.southwestair.com/D225.
Auburn's School of Aviation previously established similar partnerships with Delta Air Lines and United Airlines to streamline the transition from the Plains to flying planes.


About Southwest Airlines Co.
Southwest Airlines Co. operates one of the world's most admired and awarded airlines, offering its one-of-a-kind value and Hospitality at 121 airports across 11 countries. Having celebrated its 50th Anniversary in 2021, Southwest took flight in 1971 to democratize the sky through friendly, reliable, and low-cost air travel and now carries more air travelers flying nonstop within the United States than any other airline1. Based in Dallas and famous for an Employee-first corporate Culture, Southwest maintains an unprecedented record of no involuntary furloughs or layoffs in its history. By empowering its more than 64,0002 People to deliver unparalleled Hospitality, the maverick airline cherishes a passionate loyalty among as many as 130 million Customers carried a year. That formula for success brought industry-leading prosperity and 47 consecutive years3 of profitability for Southwest Shareholders (NYSE: LUV). Southwest leverages a unique legacy and mission to serve communities around the world including harnessing the power of its People and Purpose to put communities at the Heart of its success. Learn more by visiting Southwest.com/citizenship. Southwest is also continuing to develop tangible steps toward achieving carbon neutrality by 2050, including offering Customers an opportunity to help the airline offset its carbon emissions. To be part of the solution, visit Southwest.com/wannaoffsetcarbon.
1) U.S. Dept. of Transportation most recent reporting of domestic originating passengers boarded
2) Fulltime-equivalent active Employees
3) 1973-2019 annual profitability 
Related Articles
---