Magic to Do: Theatre & Dance's Ashley Butler on directing 'Pippin'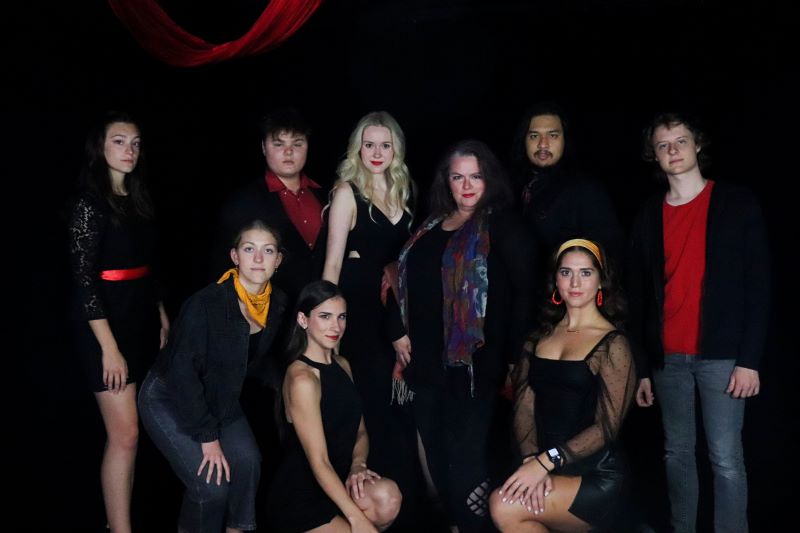 Life is full of patterns–mysterious twists and turns that often don't make sense until we look back at where we have been. Ashley Butler, the director of Auburn University Theatre and Dance's upcoming musical, "Pippin," is one example of how life sometimes leads us back to places previously traveled.
"Pippin" is Butler's first directed musical at Auburn on the Telfair Peet mainstage–a stage she herself traversed as an Auburn theatre student in her college days. We asked Butler to voice her perspective on her vision, the show itself and her journey from student to professor. 
One of the very first things we asked Butler was: why this show now? She first and foremost stated that she wanted a show that would fit in with the "& Dance" season theme.
"I was looking to identify a musical that would truly celebrate and showcase dance," Butler said. "'Pippin' affords many casting opportunities for our students as well as great opportunities for our design and tech students to shine."
Butler also expressed her wish for a less contemporary classic musical–and with "Pippin" being 50 years old, it seemed like the perfect fit. Stephen Schwartz wrote the music and lyrics while he was still in college, which also makes "Pippin" a perfect production for a college stage.
"Directing on the Telfair Peet Theatre stage has been a dream of mine since I was a student here some 30-plus years ago," Butler said. "With 'Pippin,' I've been entrusted the opportunity and been granted agency to direct a really big show with lots more moving parts and special challenges. With this big opportunity comes a responsibility to see things through in a professional, collaborative and artistically sound way, and I take that very seriously."
Butler previously directed a staged reading of "A Doll's House, Part 2" by Lucas Hnath, as well as "Love Letters," in which she even directed her former professor. "Pippin" is her biggest show yet.
Having been a student at Auburn, Butler has a unique perspective when it comes to teaching as well as directing. Of her time at Auburn, she reflects that the connections and lessons she learned directly affected the trajectory of her life.
"I learned from incredible mentors and made lifelong friends at Auburn," Butler said. "My time as a theatre major at Auburn will always hold a significant and special place in my heart."
As a director now, Butler remembers what it was like to be in the cast's shoes. She empathizes with the many responsibilities students face, while still balancing their needs with the demands of the production. She also loves experiencing the joy of the students.
"I get to anticipate and feel the thrill that I know the students are experiencing with each new level the show reaches," Butler said. "In the early music rehearsals for 'Pippin,' I could see smiles of wonder on some of the new students as they heard themselves in the mix of many gorgeous voices." 
Finally, we asked Butler about her vision for the piece and why audiences should come see it. She said that "Pippin" itself is comical, smart and magical. This story is not a classical musical theatre show. It is a high-concept, witty story that takes audiences on a journey through the life of one young man.
Pippin is also a play within a play; the mysterious players, as well as the young man who plays Pippin, are never named. This leaves Butler with lots of room to reimagine and play around with the concept.
The show also celebrates the magic of theatre. Magic and the supernatural are often linked to theatre, a concept that both the original "Pippin" and Butler's version explore. This idea of theater ghosts lingers in her own vision for the show in many ways.
"Theatre is steeped in superstition; most theaters have a resident ghost or two," Butler said. "Every person who passes through a theatrical space potentially leaves a bit of their essence behind that lasts eternally. In this sense, the 'ghost' of every person who has created theatre onstage or backstage is still here. There is a 'ghost' of my former student self here. And someday, those of us who currently study and work in this space will be the ghosts who have left a trace behind for those who come next." 
In the same way, audiences can expect the message and magic of "Pippin" to linger in their memories.
"Expect a fast-moving show with gorgeous music, beautiful singing and dancing, lots of laughs and possibly a few tears, an exciting spectacle, some mystery and darkness, some fiery light and a lot of magic!"
Tags: Theatre and Dance
Related Articles
---