Liberal Arts Career Initiatives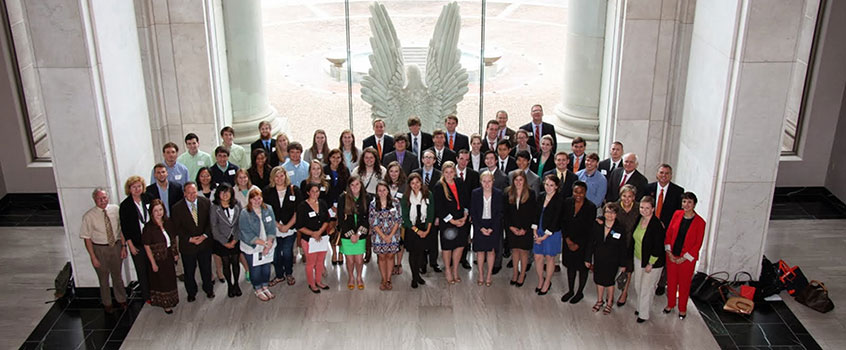 "When I was 17, if you asked me how I planned on getting a job in the future, I think I would have said: Get into the right college. When I was 18, if you asked me the same question, I would have said: Get into the right classes. When I was 19: Get good grades. But when employers recently named the most important elements in hiring a recent graduate, college reputation, GPA, and courses finished at the bottom of the list. At the top, according to the Chronicle of Higher Education, were experiences outside of academics: internships, jobs, volunteering, and extracurriculars."[i]
In the 2015 National Association of Colleges and Employers (NACE) Job Outlook Survey, 92.6% of employers indicated a preference for hiring new graduates with work experience. 72.5% of these said that they prefer experience that is related to the candidate's career field. NACE also reported that most of the top skills desired by employers are developed through experiences outside of the classroom. [ii]
According to Hart Research Associates,[iii] employers value the ability to apply learning in real world settings and broadly endorse an emphasis on applied learning experiences in college today:
§88% think that it is important for colleges and universities to ensure that all 1students are prepared with the skills and knowledge needed to complete an applied learning project;
73% think that requiring college students to complete a significant applied learning project before graduation would improve the quality of their preparation for careers;
§60% think that all students should be expected to complete a significant applied learning project before graduating;
§Large majorities say they are more likely to consider a job candidate who has participated in an internship, a senior project, a collaborative research project, a field-based project in a diverse community setting with people from different backgrounds, or a community-based project.
College students are closely aligned with employers on the importance of key learning outcomes, and, like employers, they believe that applied learning experiences are an important preparation for career success.
[i] Derek Thomson, The Atlantic, 19 August 2014 (retrieved Aug. 9, 2017)
[ii] AU Career Center Job Search Guide
[iii] Hart Research Associates p. 2, "Falling Short? College Learning and Career Success," LEAP: Association of American Colleges and Universities, January 20, 2015, retrieved Aug 9, 2017, https://www.aacu.org/leap/public-opinion-research/2015-survey-results
Last Updated: February 02, 2018