CLA Day 2023 celebrates the Auburn student journey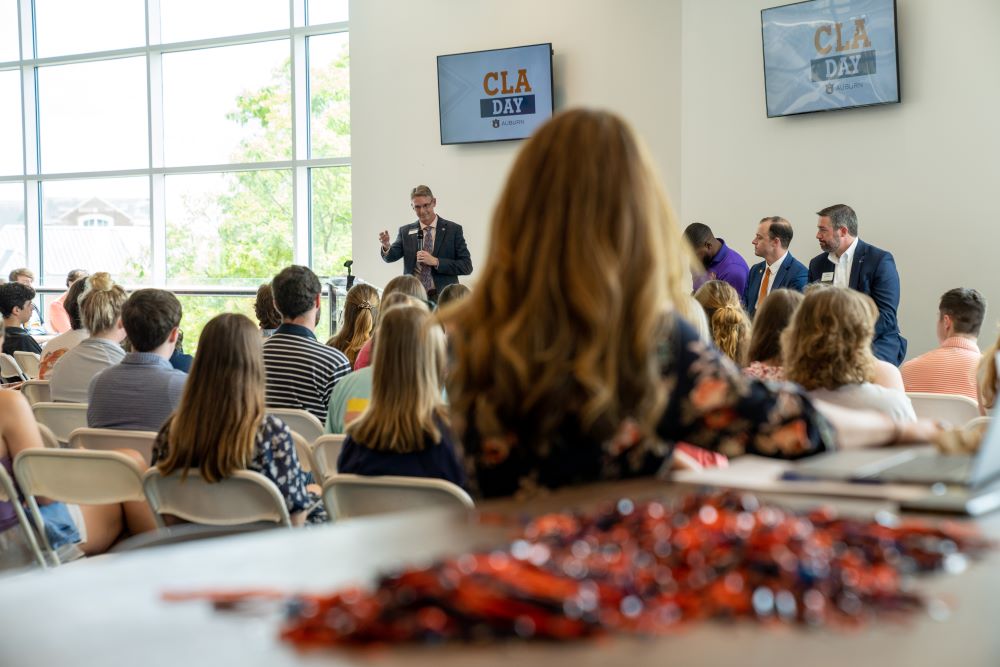 The College of Liberal Arts' Office of Student Services invited prospective, current and former Auburn students to Jordan-Hare Stadium this April to celebrate CLA Day and experience the AUsome Alumni Panel.
CLA Day, which began in 2017 as an event for admitted students, expanded this year to include current students and alumni.
To celebrate the College of Liberal Arts experience, CLA Day began with an event to introduce admitted students to the college's departments and campus partners. Then, Dean Jason Hicks addressed more than 150 admitted students and guests at the Tiger Walk Club and introduced them to the College of Liberal Arts' culture of creativity and innovation.
Admitted students also toured the Auburn Tigers locker room, the Delta Aviation Education building, the Telfair Peet Theatre, the Recreation and Wellness Center, an anthropology laboratory, the student media center and Biggin Hall, where the Department of Art & Art History is housed.
Later that afternoon, current and admitted students were welcomed to the second annual AUsome Alumni Panel, which the Office of Career Services presented to almost five dozen attendees.
Panelists included:
Jackson Pruett '15, political science alumnus and economic development coordinator for the City of Hoover, Alabama
Messiah Williams-Cole '21, interdisciplinary studies alumnus, mayor of the Town of Camp Hill, Alabama and law student
Cole Hendon '04, history alumnus and senior vice president and head of business operations and risk support for Regions Bank
Courtney Haun '19, public administration and public policy doctorate alumna and director of the healthcare administration undergraduate program, assistant professor and internship coordinator at Samford University
Mykeita Trammell '15, '19, public administration alumna and vice president and co-owner of Applying Pressure and PBE Career Services
William McLain '13, mass communication alumnus and news leader at WTVM
Panelists detailed how CLA prepared them to enter the workforce and equipped them with the skills and resources they needed to succeed while reflecting on their time at Auburn. Current students also provided insight into the many opportunities and experiences in the College of Liberal Arts.
"Each year, the AUsome Alumni Panel connects our students and alumni to discuss the various ways in which Auburn prepares its graduates for successful careers," said Employer and Alumni Relations Specialist Addie Roberds. "The event is more than a networking opportunity, it's an avenue for students to enter the professional world with encouragement, support and guidance."
Learn more about the Office of Student Services at their website.
Tags: Students Alumni Career Services
Related Articles
---