CLA Outreach Activities & Publications
Art & Art History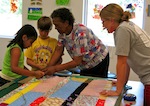 The Department of Art & Art History faculty members are engaged in a diverse array of outreach activities throughout the state and region. Courses offer expanded learning opportunities by taking students out of the classroom and into the Auburn and Opelika communities to work on special projects that benefit residents in those communities. Past community partnerships and classes have included:
Social and Community Engaged Practice Course: A special topics course co-taught by Professor Wendy DesChene and artist Rick Lowe, Auburn University's 2014-15 Breeden Scholar. Students worked directly with Lowe and a local community to learn about socially engaged art practices.
Art and Community Course: A special topics course taught by Professor Comstock in which students taught and made art with clients at Ease Adult Day Care Center to explore how art could benefit their local community.
The Art in Agriculture Initiative: An interdisciplinary collaboration of the Department of Art & Art History and the College of Agriculture that explored the intersections of art, culture, ecology, and the environment.
Alabama Prison Arts and Education Project (APAEP): Faculty and students from the Department of Art & Art History have taught drawing classes for the APAEP which seeks to provide sustained and meaningful educational experiences focusing on the arts and humanities to individuals incarcerated in Alabama's prisons.
Auburn CityKids: A collaborative effort between Auburn University, the Auburn Housing Authority, The City of Auburn Parks and Recreation Jan Dempsey Community Arts Center, and The Auburn Arts Association.
Drawing on Alabama: A biennial, statewide juried exhibition that aimed to promote contemporary drawing and provide professional advancement for practicing Alabama artists. Distinguished jurors included Carter Foster, Curator of Drawing at the Whitney Museum of American Art, and Florence Neal, Executive Director of the Kentler International Drawing Space in Brooklyn, NY.
Communication Disorders
The Department of Communication Disorders offers clinical outreach/civic engagement through a combination of on-campus and off-campus activities in all its degree programs: BS, M.S. and M.C.D., graduate programs emphasizing speech-language pathology, and the Clinical Doctorate in Audiology (Au.D.).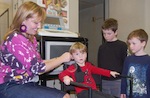 The Speech and Hearing Clinic is a major outreach arm of the College of Liberal Arts and is open daily when Auburn University is in session. Founded in 1947, the clinic serves patients from all over the region and has provided our students with supervised experience diagnosing and treating a variety of communication disorders, such as hearing loss, balance issues, voice and speech problems, and language disorders in both children and adults (such as following stroke). Additionally, clinical faculty members take students to off-campus sites to perform clinical services as well. Some of these activities are contractually arranged but many are free screenings for the public at large.
The Audiology Program's annual trip to Guatemala has been a major outreach initiative that has been active since 2009. Each year the program takes a team of Audiology students and faculty to Guatemala to provide hearing aids and exams to children in need.
Communication and Journalism
Faculty and students in the School of Communication and Journalism worked to produce a promotional and informative newspaper for Valley, AL. These efforts have resulted in an award winning publication and at least two presentations at national conferences about the civic engagement project.

Faculty members in the department have produced a website for the Chattahoochee Valley Heritage project and students are providing content. The work of Public Relations students can be seen on Auburn University's social networking website, Auburn Family. Additionally, they are active contributors to a website about Auburn, The Loveliest Village.

Journalism faculty and students provide summer workshops for advisors and high school students interested in journalism. The department also sponsors a student film festival each year where high school and college students may screen their films and win prizes. Additionally, organizations, particularly not for profit, have come to depend on PR students for campaigns to promote their causes.
English
The Department of English has a long and productive outreach relationship with the Jule Collins Smith Museum, from our work with them on the internationally-recognized Quilts of Gees Bend Exhibit, which focused on the community and K12 education, through our strong community-driven FILM@JCSM, and now through our ongoing Third Thursday Poetry Series, which brings regional and national poets to Auburn each month for a reading that combines "open mic" efforts with guest poets. This well-attended reading series is supported by JCSM, the English Department, and the Alabama State Council on the Arts. The series is crowned every year by the Auburn Witness Poetry Prize Reading in October, where the prizewinner and the well-known judge (including luminaries such as Natasha Trethewey and Naomi Shihab-Nye) share a public reading in the JCSM auditorium. The Auburn Witness Poetry Prize, honoring Jake Adam York (an Auburn alumnus and powerful poet of witness), is primarily coordinated and sponsored by the English Department's flagship journal, The Southern Humanities Review. This journal, which recently celebrated its 50th birthday, is stronger than ever, bringing poetry, fiction, and nonfiction to a broad audience within and beyond the state of Alabama, and is key to many of the Department's outreach efforts, including our annual Spring Sessions, which brings published writers to Auburn to conduct master classes for community and student writers and to give public readings.
The Southern Humanities Review (or SHR, as it is often called), was also the linchpin of our longstanding Auburn Writers Conference, co-sponsored through the Caroline Marshall Draughon Center for the Arts & Humanities and the College of Liberal Arts.
SHR is now joined in Auburn's English Department by three more specialized journals which extend the reach of our scholarly strengths to the broader international community of scholars.
Scriblerian has been offering insightful reviews of scholarship in late 17th- and early 18th-century literature since 1968. A Project Muse journal housed at Auburn since 2016, it is "a must for any student of the period."
Written Communication, housed at Auburn University since 2017, is the essential journal for research on the study of writing in all its symbolic forms. A SAGE journal, it has a broad and interdisciplinary view of what writing is, how writing gets done, and what writing does in the world. Written Communication's aims and scope encompass a wide range of topics, and its pages consistently provide readers with new research findings, new theoretical concepts, and new ways to understand and engage with writing across the diverse contexts of school, work, and community life. Learn more at journals.sagepub.com/home/wcx.
Communication Design Quarterly is our newest journal, arriving at Auburn University in Fall 2018. An ACM/SIGDOC publication, CDQ seeks to become the premier information source for industry, management, and academia in the multidisciplinary field of the design and communication of information. It contains a mix of peer-reviewed articles, columns, experience reports, and brief summaries of interesting research results.
The Department of English also maintains strong connections with LUCIA (the Lab for Usability, Communication Interaction, and Accessibility), which it co-founded in 2009. This resource brings faculty expertise to bear on the problems of human-computer interaction, media use, and group communication.
Foreign Languages and Literatures
The "Closing the Gap" project was created to help the Hispanic immigrant population integrate into American society through education. The CTG project involves three groups of students: Graduate teaching assistants from the Spanish M.A. program, undergraduate students enrolled in a Spanish course with a service learning component, and immigrants from the local Hispanic population.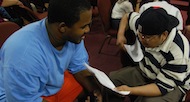 The objectives of this program are to teach local Hispanic immigrants basic English linguistic skills, American culture and its nuances, and the logistics of a capitalistic society. The program helps teach undergraduate students the value of knowing a second language and exposes them to different Hispanic cultures. Graduate students learn how to prepare and execute lesson plans for an adult population of different cultures.
Dr. Jana Gutiérrez launched a service-learning initiative entitled Unidos en voz y acción / United in Voice and Action. The purpose of this effort is to extend the learning experience beyond the traditional classroom and to educate the community beyond the university campus about the Spanish language and Hispanic culture. This civic engagement venture allows AU to continue its strong legacy of service while also giving faculty and students the opportunity to learn from local Lee County residents. Students chose from a variety of individualized volunteer programs. Some met weekly with elderly residents of Azalea Place Assisted & Retired Living to give basic Spanish conversation lessons and to explore Hispanic culture through music and food. Other students helped the volunteers at Lee County Food Bank find ways to communicate more effectively with their Hispanic clients. A few students gave their time and expertise to Spanish language learners at Auburn High School. And one technologically savvy student edited a Spanish video takeoff on the popular the Auburn Creed commercials. All the while the class explored the link between civic engagement and Foreign Language learning. The adventure continued in 2011. Students from Auburn University visited Azalea Place for Cinco de Mayo celebrations in May. They explained the historical origin of the holiday, sang some traditional Mexican rancheras, and ate a South of the Border inspired meal with the residents. Students participate in a Book Club, or Círculo de Lectores, with the senior citizen readers.
Dr. Jana Gutiérrez is pleased to announce the creation of a joint effort between the Encyclopedia of Alabama and undergraduate and graduate Spanish language students. The goal of this project is threefold: to broaden readership of the online encyclopedia; to provide students with a real-life professional translation experience; and to foster cross-cultural understanding. A fourth goal remains for the future: generating teacher resources for incorporating the translations into a Spanish-language classroom. Once the translations passed through the collective undergraduate authors' hands they were submitted to a lengthy editorial review thanks to the newly formed EOA (Es Otro Alabama) Editorial Translators Board. This group is comprised solely of graduate student volunteers from the AU Master of Spanish / Master of Hispanic Studies programs. The graduate students review each undergraduate-generated translation for accuracy, consistency, and flow. The board tests the translations on selected native speakers and provides further revision as needed. They assist Dr. Gutiérrez with promotion of the project and in generating valuable scholarship on the topic of Foreign Language service learning. Already this research has garnered much attention, both from May 2011's Community-University CU Expo conference attendees in Waterloo, Canada and the South Atlantic Modern Language Conference (SAMLA), held in November 2011 in Atlanta, GA.
Developing Global Citizens through German Language and Culture (under the supervision of Dr. Iulia Pittman and Dr. Traci O'Brien). During the spring semester of 2014, upper-level students from two German classes led a series of events on German language and culture hosted by the Auburn Public Library. The events of this community and civic engagement project included skits based on several fairy-tales, a movie night, and lessons on German language and culture. Through the different components of this program, that is, literature, language, and culture, students were able to foster an intellectual community through which they not only deepened their own understanding but also sparked interest amongst the community regarding a foreign language as well as cultural differences. Given the positive feedback that this project received from the community, the project leaders would like to continue the collaboration with the Auburn Public Library. In the future, the project could also include other languages and cultures taught in the Foreign Languages Department. The project leaders would like to express their gratitude to the Community and Civic Engagement Grant through which this project was sponsored.
History
The Department of History offers several "Public History" courses in which students in coordination with external partners develop a public history proposal and project drawing on knowledge gained in the course that will provide benefits to the public and assist the partner organization. The department's "Digital History" courses also collaborate with community partners across the region to develop state-of-the-art website designs and content for the benefit of organizations that might otherwise struggle to establish a web presence. The department's "Cultural Resource Management" courses have worked on campus to raise awareness of Auburn University's connection to slavery and to improve the university's public interpretation of its antebellum era buildings. Also offered is a "Historic Preservation Course" that has prepared research and heritage documentation surveys for organizations, such as the Alabama Historical Commission, on a broad range of topics including African American schools in Alabama and Alabama architectural history. These reports help state historic preservation planners coordinate future activities and provide students and faculty with hands-on outreach experiences.
Dr. Elijah Gaddis has and continues to work as a public historian in several capacities. He is a co-founder and the assistant director of the Community Histories Workshop in the Center for Urban and Regional Studies at the University of North Carolina. In that capacity he co-directs or has directed the Rocky Mount Mills History project (an expansive oral history and digital history project around the site of an historic mill), as well as a public environmental history partnership with Walnut Hill Nature Preserve in Raleigh, North Carolina. Dr. Gaddis also presently consults on adaptive reuse redevelopment projects in North and South Carolina as well as museum exhibits, digital projects, and museum operations in North Carolina and Alabama (including for Montgomery Landmarks Foundation and the Gaston County, NC Museum of History.) With an ongoing collaboration with the Jule Collins Smith Museum of Fine Arts and the Auburn Housing Authority, Dr. Gaddis involves both undergraduate and graduate students in community history efforts across Auburn. Gaddis also co-directs A Red Record ​(a digital mapping project on landscapes of lynching) and continues to contribute to other digital public history projects.
The Department of History has several agreements with the National Park Service that provide advanced students with opportunities to work at the Southeast Region Office in Atlanta. Through our outreach in the park, we have helped the park service identify, arrange, and describe historic and administrative records in numerous park units. The department has also prepared an administrative history of Horseshoe Bend National Military Park in Alabama for the National Park Service. This report will help the park preserve its institutional memory and play a role in future policy decisions.
History faculty have partnered with faculty from the College of Architecture to develop a 3-D reconstruction of the 1965 Bloody Sunday confrontation in Selma, Alabama. This project brings together a variety of experts to produce a digital product that will significantly expand that local community's retelling of this pivotal moment in the civil rights movement.
History students also perform a broad range of outreach activities through various department sponsored internships. Recently, students coordinated with the U.S. National Infantry Museum in Columbus, Georgia, to create new content for several of the museum's permanent exhibits. Students also worked with Fort Ticonderoga State Park in New York to develop new children's education programs. Meanwhile, students have worked with the Auburn University Special Collections to process archival collections that expand our knowledge of the region's history.
Several faculty have assisted the Alabama Bicentennial Commission with coordinating programs and offering training in historical research and interpretation. These activities have been part of several statewide K-12 educator workshops. Plus, department faculty played a central role in the development of the Alabama Department of Archives and History's "Alabama Voices" exhibit. The exhibit hosts over 80,000 Alabama school children annually and provides one of the best ways for historians to communicate historical knowledge to a broader community. Faculty regularly participate in invited community talks and serve as consultants on a variety of historical projects. Faculty have also taught courses in the Osher Lifelong Learning Program at Auburn University, including a course on slavery in Alabama, and collaborated with local partners to organize a commemorative program to honor the 50th anniversary of Rev. Dr. Martin Luther King, Jr.'s death. Faculty have also taught courses in American and World History for the Alabama Prison Arts and Education Program—the first college credit history courses taught in Alabama.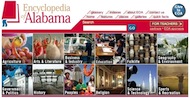 History faculty will continue to collaborate with the Office of the Vice President for Outreach on the Encyclopedia of Alabama, a demonstrably effective way to reach not just Alabama K-12 students but also anyone in the world with an internet connection. This project has been richly supported in the past by the Alabama Humanities Foundation and federal funds and enjoys continuing support from the Alabama Department of Education.
Music
"Music in the Forest" is a new collaboration between the Department of Music and the Louise Kreher Forest Ecology Preserve that features small instrumental ensembles performing for guests at the preserve's open-air amphitheater. Performances occurred this year on March 23 and March 30. A performance was scheduled for April 6, but had to be cancelled due to rain. We hope to continue this collaboration to offer opportunities for community members to hear a variety of music ensembles.
The Auburn Indian Music Ensemble performed at the Birmingham Museum of Art as part of their Holi celebration (Festival of Color) in collaboration with the Indian Cultural Society. This is part of their Outreach effort within the state of Alabama to spread Indian classical music. The hall was packed for the music and dance performances.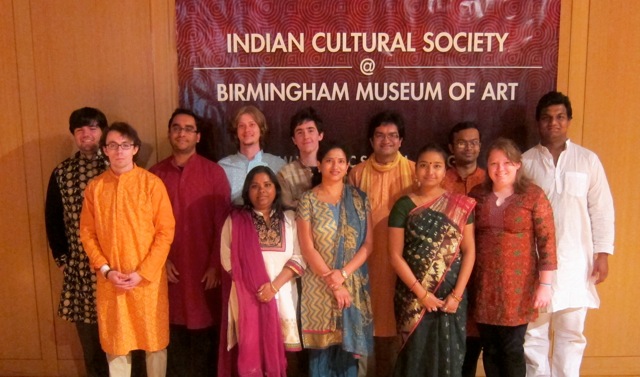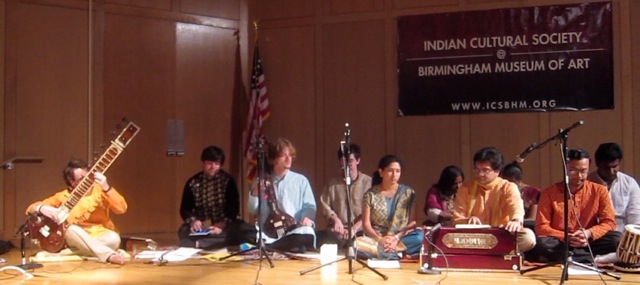 Department of Music ensembles have recently traveled in China with performances in Beijing, Jinan, Xuzhou, and Shanghai and in Europe with performances in Belgium, France, Germany, and Austria.
The Department of Music offers over 100 events annually featuring student, faculty, and guest artist performers in concert at Goodwin Hall or in other venues in the Auburn community. A number of Auburn University ensembles such as Symphonic Band, Chamber Choir, AU/Community Orchestra, University Singers, Jazz Band, Jazz Combo, Dean's Brass Quintet, Faculty Brass Trio, Percussion Ensemble, Opera Workshop, Woodwind Quintet, Saxophone Quartet, and Gospel Choir perform around campus and the community for a wide variety of public and private events.
Philosophy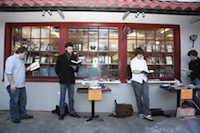 Each semester, the Philosophy Department and Philosophy Club sponsor a lively discussion forum series open to all students, faculty members, and the community at large on various topics of interest. This semester the panel discussions will focus on the philosophy of religion, legality and morality, and the problem of other minds. Previous themes have centered on free will, mind/body connections, and the problem of evil. The discussions are held in the afternoons at the Gnu's Room.
Political Science
In "Nonprofit Management" courses, graduate and undergraduate students have constituted their classroom as a mock nonprofit organization complete with board meetings and committee assignments. Their mission is to produce a comprehensive compilation of information around a current community interest, which in this case is the topic of community gardens. Their work will include identification and assessment of stakeholders, interests, resources, requirements, and alternative fundraising plans.
The course on "Nonprofit Law and Governance" is offered as a special topic for graduate and undergraduate students. Students will gain exposure to the real problems confronting nonprofit organizations through informal dialogues with local nonprofit leaders outside the classroom. Students will again constitute their class functioning as the board of directors of a mock nonprofit organization. A course on Fundraising for Nonprofit Organizations was offered for graduate and undergraduate students. The course featured an extensive, semester-long service learning component that partnered individuals students with local nonprofit organizations to conduct research to produce an extensive report to each organization analyzing their current fundraising activities, providing suggestions for fundraising strategies, and providing information to assist the organizations with future planning and implementation of a comprehensive approach to fundraising and development.

In addition, many Political Science professors are involved in a multitude of activities relating to civic engagement such as teaching and lecturing for the National Election Center; teaching landmark Supreme Court cases to Atlanta civics teachers; conducting moot court for area high schoolers; placing students in internships with civic organizations; lecturing to Alabama's League of Women Voters chapters; offering service learning opportunities in their classes; and conducting professional development seminars on fundraising for the AU Office of Public Service's Auburn Serves Community Partner Training Program.
Psychology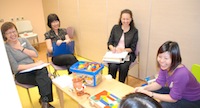 Community and civic engagement is an important area of service for Psychology Department members. The experiences available to students allow community and civic engagement to be an integral component of the student experience in the Psychology Department. Psychology faculty members reach out to the local community; local organizations; and governmental agencies in Alabama and Georgia. They offer their services in therapy; behavioral management committees; child advocacy centers; sex-offender programs; autism task force and advisory boards; for provision of training in different areas to federal agencies; and the development of employee well-being programs for local workplaces to name a few. The Psychology Department provides practical experience in such areas for students interested in service learning and/or pursuing a career in Psychology. Psychology faculty members have received many prestigious community and civic engagement awards, committees, and advisory boards. Among them are such accolades as The Algernon Sidney Sullivan Award for Humanitarian Service; The Auburn University Award for Excellence in Faculty Outreach; and College of Liberal Arts Engaged Scholarship Professorships.
Sociology, Anthropology, and Social Work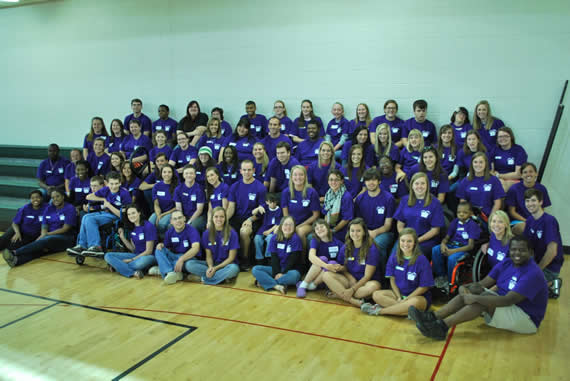 The award-winning program, Expressions of a BraveHeart, continues to serve the community by providing art, music and dance opportunities to teens and young adults with moderate to severe disabilities.
Sociology faculty members have been instrumental in designing AU's cyber security initiative. Working with Professor Bob Norton and General (Ret.) Ron Burgess, sociology is actively engaged in creating academic and research opportunities for Auburn faculty and students interested in studying and researching national security and providing a research service to law enforcement organizations.
BAMA Covered is a student powered grass roots movement to inform Alabama citizens about their health care options. Eleven students in a Social Work class on Community Organization have been trained as Connectors and have been canvassing the local community at health fairs, tax filing sites, barber shops, nail salons, and churches to provide education. Two social Work students are trained as Catalysts who can enroll individuals in Affordable Health Care if they are eligible. The goal of the initiative is to contact and educate 100,000 uninsured Alabamians to ensure they are informed. The program was featured in an article in the New York Times.
A second Social Work student group is completing a needs assessment of the elderly in Lee County. Once they have created a list of all services and service gaps, the students will provide agencies with the compilation to community venues that interact with the elderly. Students are interviewing stakeholders, clients, and social workers to alert them as to the ongoing needs of this population.
A number of faculty members provide expertise to organizations addressing serious social problems in our community. These groups serve to address problems such as domestic violence, poverty, homelessness, sexual assault, and HIV/AIDS. In addition, faculty serve on professional boards such as the Alabama Archaeological Society.
CSI Auburn is a multidisciplinary outreach effort of the Auburn University Department of Sociology, Anthropology and Social Work that promotes science literacy and highlights social science career opportunities in forensics. Participants include 5th-8th grade students who are invited to be a Forensic Scientist for a day as they are guided through a series of active learning stations led by Auburn University faculty and student facilitators. Each station presents "clues" and age-appropriate information that might be found at a crime scene: human fingerprints, mammalian bones and teeth, and reproductions of human skeletons showing key identifying features of age, sex/gender, stature, and traumatic injuries. Through CSI Auburn, elementary students gain insight into potential career fields that they may not have imagined before. Auburn University student facilitators learn new skills that may translate into future forensics careers while building invaluable leadership and communication experience needed for any field. Auburn University Anthropology (Forensic Anthropology & Archaeology) students and Sociology (Criminology) students serve team leaders who assist with training our next generation of facilitators as well as educating elementary students. Since 2011, CSI Auburn has partnered with the AU College of Liberal Arts, AU Museum of Natural History, and Alabama public educators across the state to provide students of all ages and public-school teachers with a truly unique and enriching experience.
Theatre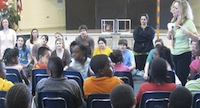 Seniors in the BFA Performance program conduct a series of vocal performance workshops with 4-8th graders in the Loachapoka Extended Day Program. Students collaborate on the study, rehearsal, and performance of African American praise poetry. Students in the final semester of the vocal performance sequence of the program, devise lesson plans introducing basic skills in vocal production and articulate speech, as well as guiding students to embody the language of the poetic texts that celebrate the cultural identity of African Americans.
As an alternative to a traditional research paper on a subject of theatre history, students in a an "Introduction to Theatre" class are given the opportunity to participate in community and civic engagement research projects that utilize a combination of service-learning volunteer work with a community partner. The project requires a weekly reflective journal, personal interviews with experts-in-the-field, and independent internet research in order to create group plays based on a social issue of interest to the student. At the end of the semester the culminating research project is a solo-written play in which the students synthesize the work of the course and create their own individual piece of "theatre for social change."
Publications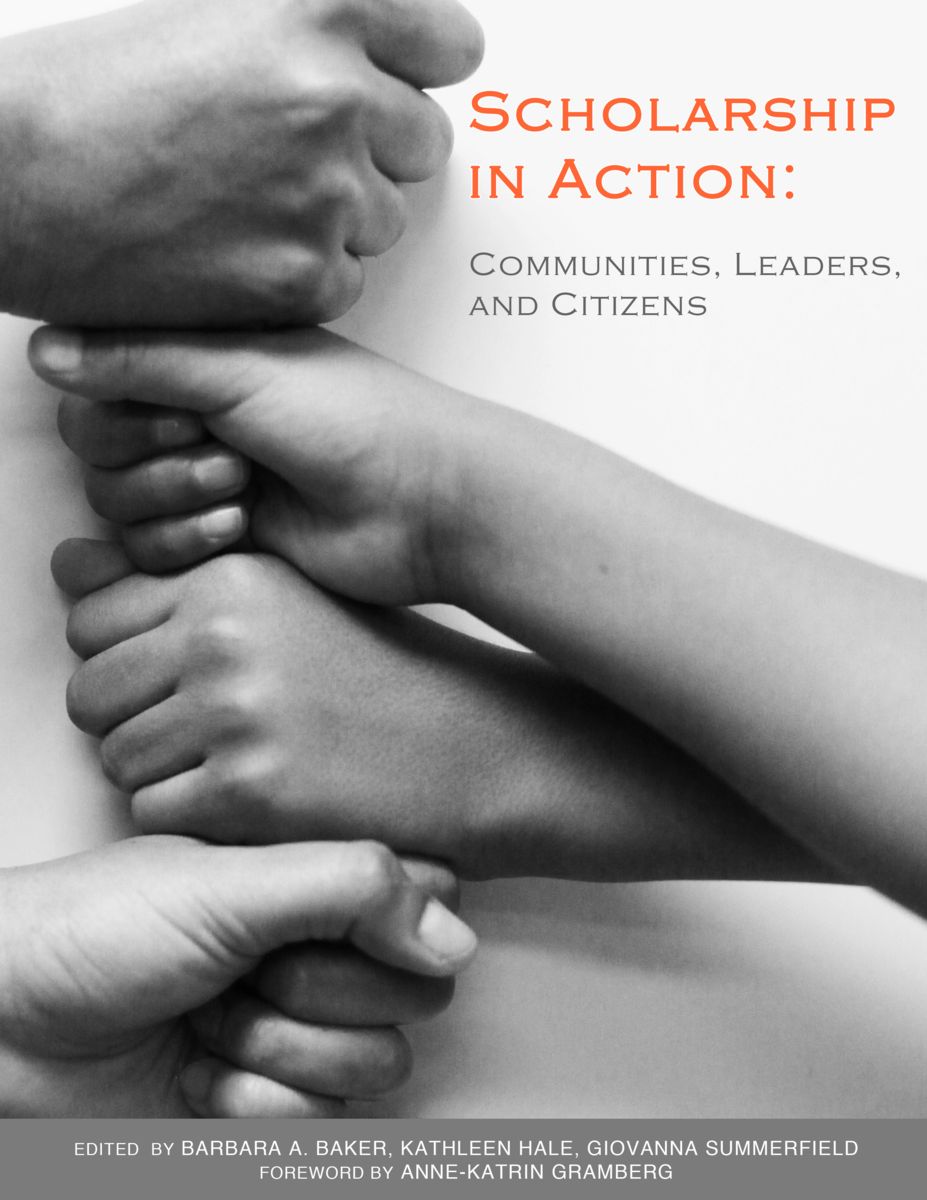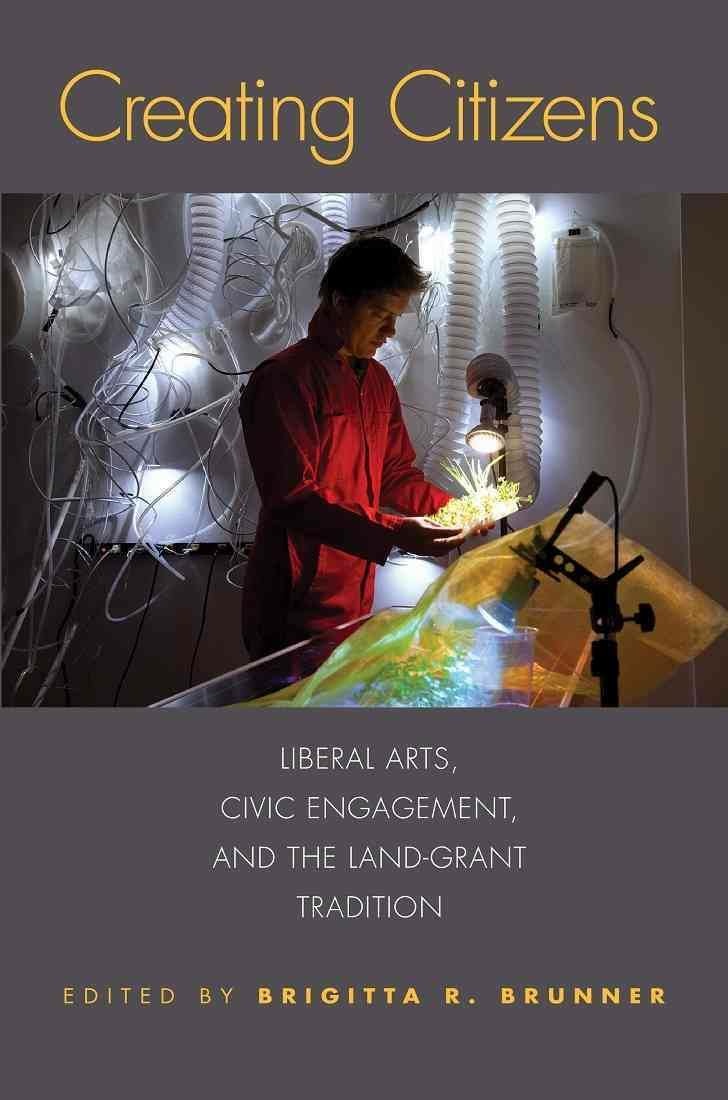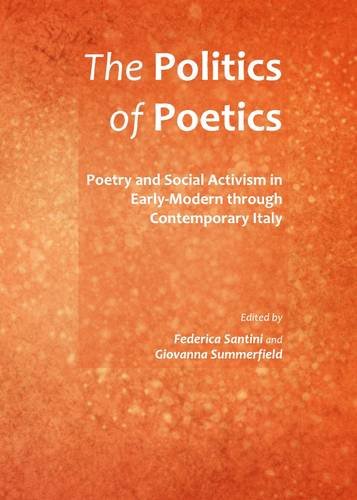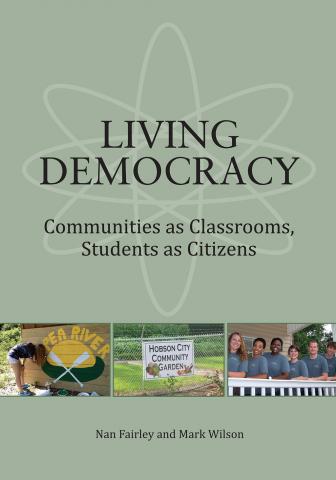 Last Updated: October 07, 2020