Behind the Stage: "Talking Into the Woods" with Sound Designer Bailey Fenn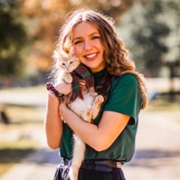 Opening March 4th and running through March 6th, Auburn University Theatre and Dance continues its season with Into the Woods. This classic Sondheim musical will be brought to life in collaboration with the Jay and Susie Gogue Performing Arts Center and the Auburn University Department of Music. This opportunity to perform at a new venue opens the door for new experiences and chances for growth for our students. Among the students impacted by this opportunity is Sound Designer Bailey Fenn.
Bailey Fenn is a senior BFA Design Technology student with a concentration in Lighting Design. Bailey's primary area of interest, however, is sound. Bailey transferred to Auburn University from Chipola College in the fall of 2020, where she had worked for two years as the sound engineer for all of their choir shows. Her previous Auburn credits include: Assistant Sound Designer for Little Women, Head Sound Assistant for New Day Dawning: Finding Hope at the Theatre, Sound Designer/A1/AME for A Doll's House, and Assistant Sound Designer/A1 for Spring Awakening. Bailey's favorite show experience at Auburn has been New Day Dawning because she found it interesting to be part of the recording process. "It was weird and fun," Bailey recalled. She liked getting to learn something new in a hands-on setting; for example, she explained how she received three pieces to mix during post-production, "virtually from home."
What interested Bailey most about the opportunity to design Into the Woods was that it was a big musical and she wanted to design one before she graduated from Auburn. Bailey was excited to explore the sound world of the show in a separate way from tracks, since there is a live orchestra providing the musical elements. Personally, Bailey has a special place in her heart for the show because she grew up loving Disney and fairytales. She said, "I really wanted to stick to what Sondheim created, especially with his recent passing, and find a way to keep his magical world alive."
Bailey's process began in early December when director Chase Bringardner gave his design concept presentation and shared what he wanted to create as a whole. She started working, reading the script, pulling out sound effects, and identifying moments that would be nicely highlighted with additional sound. Next, she started on the paperwork, which involves assigning microphones, matching skin tones, and listing which actors are onstage for which parts of the script. Since the soundboard operator and engineer do not typically wear a headset, because they need to hear the actors and musicians on stage, their scripts have to be very clearly marked. Bailey also picked which speakers and monitors would be utilized at the Jay and Susie Gogue Performing Arts Center, and where they should be placed on the load-in day, the day when all the musicians bring their gear into the venue. Most recently, Bailey has been working on sound effects, such as leaves rustling. She said, "I try to find copyright-free sounds online and manipulate them in my software. I then present multiple options to the director and have one approved." Her next step will be packing up the equipment they are taking to the Jay and Susie Gogue Performing Arts Center and conducting a line check on where microphone levels will get set in the space.
Her favorite sound cue in the show is the "Rapunzel squish". To learn more about what that entails you will have to come to see the show! Since the show is at the Jay and Susie Gogue Performing Arts Center at Auburn University, Bailey is also excited about getting to use their equipment and try out the unique acoustics of the space. One challenge of using a new space is that working with new equipment in a short time frame can be stressful. However, Bailey believes this experience will benefit her in her career after graduation. "Also," Bailey shared, "working at the GPAC [the Jay and Susie Gogue Performing Arts Center] will help with collaboration skills because you need to be conscious of leadership and who to speak to about what. The Peet [Telfair B. Peet Theatre] has a very clear path for communication, but the GPAC team is much larger." Overall, she feels like the hardest challenge has been designing everything by herself for the first time. She shared that she has also been working on how to present her material in a way that is universally understood. Despite these challenges, Bailey has enjoyed learning the ropes as a young sound designer.
Bailey thinks you should watch the show because "being in such a big space with a big storyline has made for a great collaboration, so if you want to enjoy theatre and have it back in your life for a night this is a perfect way to do so."
Come see Bailey's work, as well as the work of many other graduating seniors in action one last time at Auburn, on Into the Woods, opening March 4th.
Into the Woods (A Staged Concert)
Music and Lyrics by STEPHEN SONDHEIM
Book by JAMES LAPINE
Originally Directed on Broadway by James Lapine
Orchestrations by Jonathan Tunick
Directed by Chase Bringardner
Music Direction by James Mablin
Choreography by Jeri Dickey
March 4-6, 2022
The Jay and Susie Gogue Performing Arts Center at Auburn University

Fri. Mar. 4 @ 7:30pm
Sat. Mar. 5 @ 7:30pm
Sun. Mar. 6 @ 2:30pm
Last Updated: February 23, 2022