Announcing Scholarship Day 2019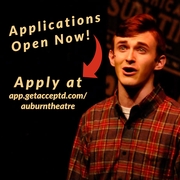 Save the Date! Auburn University Theatre Scholarship Day auditions will be held Saturday, October 19th, 2019 at the Telfair Peet Theatre. All prospective students interested in the music theatre program and/or scholarship awards for Fall 2020 must complete an application at https://app.getacceptd.com/auburntheatre.
Find out more information about Scholarship Day and audition requirements at the Scholarship and Awards Page.
Please email theatre@auburn.edu or call 334-844-4748 with any questions regarding Scholarship Day!
Last Updated: August 12, 2019