Tracy Witte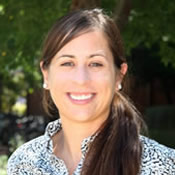 Education
2010, Ph.D. in Clinical Psychology, Florida State University
2006, M.S. in Clinical Psychology, Florida State University
2004, B.S. in Psychology, The Ohio State University
About Tracy Witte
Associate Professor
Tracy Witte received her B.S. in Psychology from The Ohio State University in 2004 and her M.S. and Ph.D. in Clinical Psychology from Florida State University in 2006 and 2010, respectively. She completed a clinical psychology pre-doctoral internship at the Brown University Training Consortium, Brown Medical School in 2010. Currently, she is an Associate Professor of Psychology. Dr. Witte's research is broadly concerned with understanding and preventing suicidal behavior. She has a secondary interest in psychopathology (e.g., posttraumatic stress disorder, eating disorders, alcohol use disorders) insofar as it overlaps with suicidal behavior. Dr. Witte is a clinical supervisor at the Auburn University Psychological Services Center.
Classes Taught
PSYC 8910, Clinical Practicum
PSYC 3560 Abnormal Psychology
PSYC 8970 Structural Equation Modeling for Applied Researchers
PSYC 7250, Clinical Research Methods and Ethics
Representative Publications
Google Scholar
*Denotes graduate student co-author
Witte, T. K., *Gauthier, J. M., Huang, X., Ribeiro, J. D., & Franklin, J. C. (in press). Is externalizing psychopathology a robust risk factor for suicidal thoughts and behaviors? A meta-analysis of longitudinal studies. Journal of Clinical Psychology.
†Witte, T. K., †Holm-Denoma, J. M., *Zuromski, K. L., *Gauthier, J. M., & Ruscio, J. (2017). Individuals at high risk for suicide are categorically distinct from those at low risk. Psychological Assessment, 29, 382-393. †Joint first authorship.
*Zuromski, K. L., *Cero, I., & Witte, T. K. (2017). Insomnia symptoms drive changes in suicide ideation: A latent difference score model of community adults over a brief interval. Journal of Abnormal Psychology, 126, 739-749.
Witte, T. K., *Zuromski, K. L., *Gauthier, J. M., Smith, A. R., Bartlett, M., Siegfried, N., Bodell, L., & Goodwin, N. (2016). Restrictive eating: Associated with suicide attempts, but not acquired capability in residential patients with eating disorders. Psychiatry Research, 235, 90-96.
Nett, R. J., Witte, T. K., Holzbauer, S. M., Elchos, B. L., Campagnolo, E. R., Musgrave, K. J., Carter, K. K., Kurkjian, K. M., Vanicek, C., O'Leary, D. R., Pride, K. R., Funk, R. H. (2015). Risk factors for suicide, attitudes toward mental illness, and practice-related stressors among U.S. veterinarians. Journal of the American Veterinary Medical Association, 247, 945-955.
Ribeiro, J. D., Witte, T. K., Van Orden, K. A., Selby, E. A., Gordon, K., Bender, T. W., & Joiner, T. E. (2014). Fearlessness about death: The psychometric properties and construct validity of the revision to the Acquired Capability for Suicide Scale. Psychological Assessment, 26, 115-126.
Van Orden, K. A., Cukrowicz, K. C., Witte, T.K., & Joiner, T. E. (2012). Thwarted belongingness and perceived burdensomeness: Construct validity and psychometric properties of the Interpersonal Needs Questionnaire. Psychological Assessment, 24, 197-215.
Van Orden, K. A., Witte, T. K., Cukrowicz, K. C., Braithwaite, S., Selby, E. A., & Joiner, T. E. (2010). The interpersonal theory of suicide. Psychological Review, 117, 575-600. Pub Med Central Identification Number: PMC3130348.
Last Updated: July 30, 2018