Sarah Richling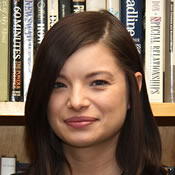 Education
2017, Ph.D., Applied Behavior Analysis, University of Nevada-Reno
2010, M.S., Applied Behavior Analysis, St. Cloud State University
2007, B.A., Psychology/Applied Behavior Analysis, University of Wisconsin-Eau Claire
About Sarah Richling
Assistant Clinical Professor
Dr. Richling is a Clinical Assistant Professor of Psychology at Auburn University and serves as Director of ABA services and Practica. Sarah is a Board Certified Behavior Analyst (2010). Her current scholarly interests include criminal recidivism, cultural and social issues, evidence-based practice and continuing education, the empirical evaluation of common clinical practices, scientific system-building, Interbehaviorism, and the philosophical bases of behavioral science.
Classes Taught
Undergraduate
PSYC 3500: Applied Behavior Analysis
PSYC 3503: Applied Behavior Analysis (online)
Graduate
PSYC 8550: Applied Behavior Analysis I
PSYC 8540: Behaviorism
PSYC 7910: Practicum in Applied Psychology
PSYC 7980: Capstone and Practicum
Representative Publications
Google Scholar
Maragakis, A., Vriesman, M., LaLonde, L., Richling, S. M., & Lancaster, B. (in press). Quality improvement and behavior analysis: Another name for a rose that smells just as sweet. Journal of Contextual Behavior Science.
McDougale, C., Richling, S. M., Longino, E. B., & O'Rourke, S. A. (in press) Mastery criteria and maintenance:A descriptive analysis of applied research procedures. Behavior Analysis in Practice.
Richling, S. M., Williams, W. L., & Carr, J. E. (in press). The effects of different mastery criteria on the skill maintenance of children with developmental disabilities. Journal of Applied Behavior Analysis.
McDougale, C. M., Coon, J., Richling, S. M., Rapp, J. T., Thompson, K., & Burkhart, B. (2018). Group Procedures for decreasing problem behavior displayed by detained adolescents. Behavior Modification, online, 1-24.
Brogan, K. M., Richling, S. M., Rapp, J. T., Thompson, K. R., & Burkhart, B. R. (2018). Activism and advocacy note: Collaborative efforts by the Auburn University Applied Behavior Analysis Program in the treatment of adolescents adjudicated for illegal sexual behavior. Behavior and Social Issues, 27, AA11-AA15.
Richling, S. M., Luke, M. M., Hayes, L. J., & Legaspi, D. N. (2017). Interbehavioral research: A commentary on the investigative and interpretive domains. Conductual, 5, 5-16.
Richling, S. M., Rapp, J. T., Funk, J. A., D'Agostini, J., Garrido, N., & Moreno, V. (2014). Low publication rate of 2005 conference presentations: Implications for practitioners serving individuals with autism and intellectual disabilities. Research in Developmental Disabilities, 35, 2744-2750.
Lanovaz, M. J., Rapp, J. T., Long, E. S., Richling, S. M., & Carroll, R. A. (2014). Preliminary effects of conditioned motivating operations on stereotypy. The Psychological Record, 64, 209-216.
Richling, S. M., Rapp, J. T., Carroll, Smith, J. M., & Siewert, B. (2011). Using noncontingent reinforcement to increase compliance with wearing prescription prostheses. Journal of Applied Behavior Analysis, 44, 375-379.
Last Updated: April 02, 2019