Shakespeare returns to the Telfair Peet Theatre Mainstage after 10 years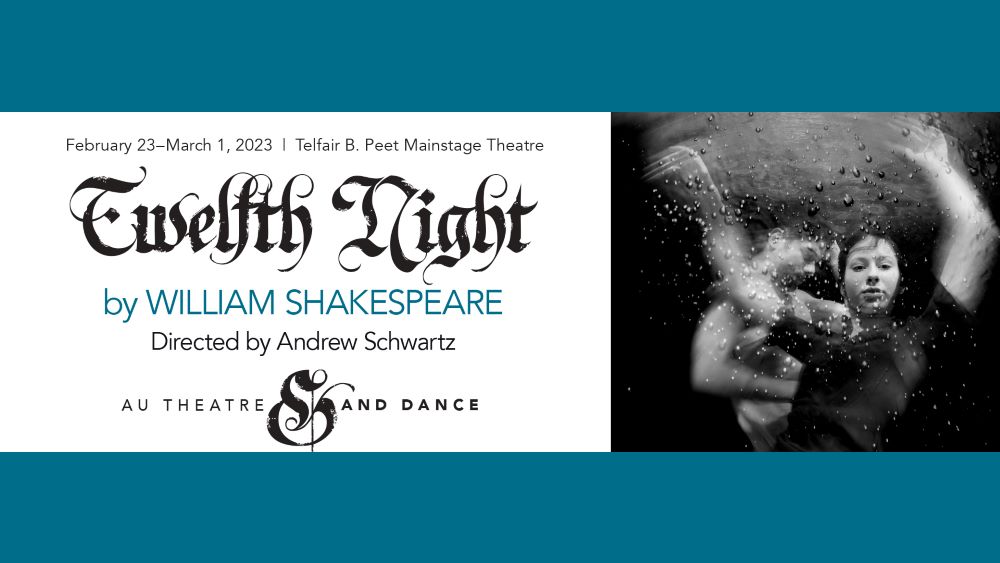 Auburn University Theatre and Dance continues its 2022-23 season "& Dance" with "Twelfth Night," the classic comedy by William Shakespeare, opening Feb. 23, 7:30 p.m. on the Telfair Peet Theatre Mainstage. The show is directed by Shakespeare expert and Assistant Professor Andrew Schwartz.
A savage shipwreck. Tormented twins. A leery Lady. A desperate Duke. William Shakespeare's beloved comedy revels in the mayhem and mishaps of a motley crew in the idyllic kingdom of Ilyria. Mistaken identities, love triangles and a litany of letters lead to revelation and declarations of devotion. Come, play on and enjoy the delightful chaos.
Shakespeare's timeless play pulses with a modern sensibility. "Twelfth Night" offers audiences the opportunity to experience the splendor of Shakespeare's language while also relishing the humor and musicality of this story. We invite our communities on campus and throughout Auburn to join us for an evening of laughter, love and a bit of lunacy. After too long an absence from the Telfair Peet, "Twelfth Night" marks the return of the Bard to our stage and showcases a wonderful collaboration between our current students, faculty and staff, along with alumni and new faculty members. 
The artistic team for "Twelfth Night" includes director Andrew Schwartz, student assistant director Jordinia Denson, costume designer Tracy Oleinick, student assistant costume designer Shelby Dupree, scenic designer and guest artist Mejah Balams '17, student lighting designer Olivia Price, sound designer Andrew Lynch, student assistant sound designer and engineer Annabell Mallard, and student dramaturgs Annabell Mallard and Dallas McGrady. 
The management team includes student stage manager Madison Todd and student assistant stage manager Tatum Clark. The cast includes Whitley Adams, Patrick Barnett, Riley Brazell, Jake Brockman, Camryn Chapman, Antonavia Collins, Antonisia Collins, Tapley Cronier, Johnathan Davis, Nick DiJulio, Daisha Flint, Asha Knight, Pierce Rossman, Tony To, Avonlea Yeakley and Cassie Vitale.
The run time for "Twelfth Night" is approximately two hours with an intermission.
Buy Tickets
Tickets for the production of "Twelfth Night" are available now! Reserve early to get your desired seats! Auburn faculty/staff and students receive special promotions to all performances at the Telfair Peet Theatre, all you have to do is log in to unlock your benefits!
We also have season subscriptions still available for the remainder of our 2022/2023 season!
Three shows for only $35!
Find more information on the Department of Theatre and Dance's ticketing page.
Talkback
To engage in discussion around the performance or learn more about the production, make plans to attend "Talkback Tuesday" on Tuesday, Feb. 28 after the show for a conversation with the director and company members.
Showtimes:
Thursday, Feb. 23, 7:30 p.m.
Friday, Feb. 24, 7:30 p.m.
Saturday, Feb. 25, 7:30 p.m.
Sunday, Feb. 26, 2:30 p.m. (Matinee)
Tuesday, Feb. 28, 7:30 p.m. *
Wednesday, Mar. 1, 7:30 p.m.
*Talkback Tuesday
Ticket Prices:
•    General: $16
•    Senior Citizen: $12
•    Faculty and Staff: $12
•    AU student with ID: Free
•    Non-Auburn University Student: $12
Find more information on the Department of Theatre & Dance's ticketing page.
Box Office Hours:
•    Monday–Friday: 8:00 a.m.–4:45 p.m.
•    On Saturday evening performances: 6–8 p.m.
•    For matinee performances: 1–3 p.m.
Or call the box office: 334-844-4154
Tags: Theatre and Dance
Related Articles
---