Keeping student body informed serves as Ambus' guiding principle as Plainsman editor-in-chief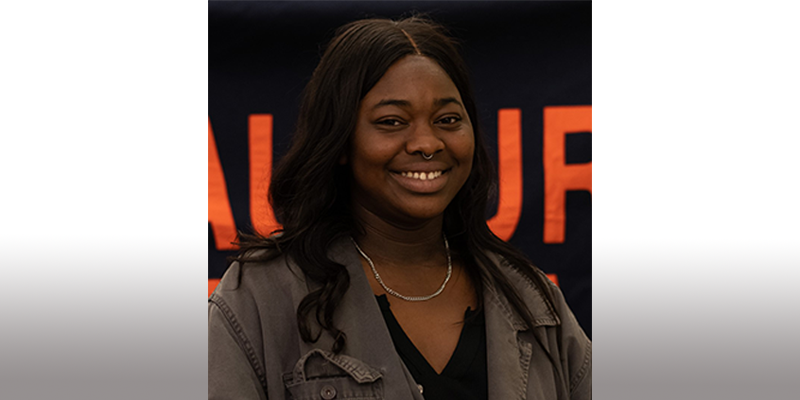 Rising senior Destini Ambus has worn many hats as a member of The Auburn Plainsman, including campus writer, campus reporter, opinion editor, content editor and now editor-in-chief.
Originally from Beulah, Alabama, Ambus chose to attend Auburn so she could continue to be with friends and near family. While at Beulah High School, Ambus was a member of the yearbook staff and also ran her own news show with her best friend. Those experiences in writing and reporting led her to choose journalism as her major.
Once on the Plains, Ambus got involved with Eagle Eye TV, Auburn's student-run television station. After a stint there, she decided she wanted to try something new. That search for something new resulted in her finding a place as a member of The Plainsman.
"I applied for The Plainsman on a whim, and a couple weeks later I got an email from Eduardo [Medina], who was editor-in-chief at the time," Ambus said. "Then spring semester of 2020, I walked in and have been here ever since."
As a writer for The Plainsman, Ambus has had the chance to cover important events and tell the stories of impactful members of the Auburn Family. An example that stands out to her was interviewing Harold Melton, Auburn's first Black Student Government Association president and former chief justice of the Supreme Court of Georgia.
"The interview I did with Harold Melton is probably the most prepared I've ever been for an interview," Ambus said.
As editor-in-chief, one aspect of Ambus' vision for The Plainsman is to expand outreach so that more students are informed about the newspaper and its purpose. She says The Plainsman is planning an event in collaboration with Auburn's other student media organizations for the upcoming fall semester to introduce students to the organizations.
"In my application [for editor-in-chief], outreach is one of the things I said I wanted to improve upon," Ambus said. "I want us to be on the concourse more, doing more events and making sure that students know that we are a resource for them to stay informed."
Another core aspect of Ambus' vision is to expand equitable coverage in the stories The Plainsman publishes.
"Along with my vision in terms of outreach, equity in our coverage is also important to me," Ambus said. "There is like 27 percent of Auburn that's not white, so 27 percent of our content should be representative of people on campus who are not white. I want to make sure that we are getting everyone that we can covered in our coverage and that our writers are aware that they can cover things outside of what they are familiar or used to."
Along with her duties as Plainsman editor-in-chief, Ambus also is completing an internship with the Montgomery Advertiser this summer. Her beat is public safety, and her experiences so far have further cemented journalism as the career path she wants to follow.
"I really like it, and the more I do it, the more I am like, 'Yes, this is what I want to do after college,'" Ambus said. "It's been pretty fun so far."
Ambus also is co-president of the Auburn chapter of the Society of Professional Journalists, a student organization dedicated to encouraging the free practice of journalism and protection of the First Amendment. After graduating and working in the industry for a while, Ambus has a goal to one day return to school and eventually become a journalism professor.
She believes the purpose of a student-run newspaper like The Plainsman is to share the stories of the students it represents. In the newspaper's Camp War Eagle edition, Ambus wrote directly to students about their purpose.
"We say it's for you," Ambus said in her address to incoming students. "We're here to tell your story. We here at The Plainsman love journalism, and by loving journalism, we love a good story."
Related Articles
---