Auburn History Club blends research, innovation to share history through WEGL radio hour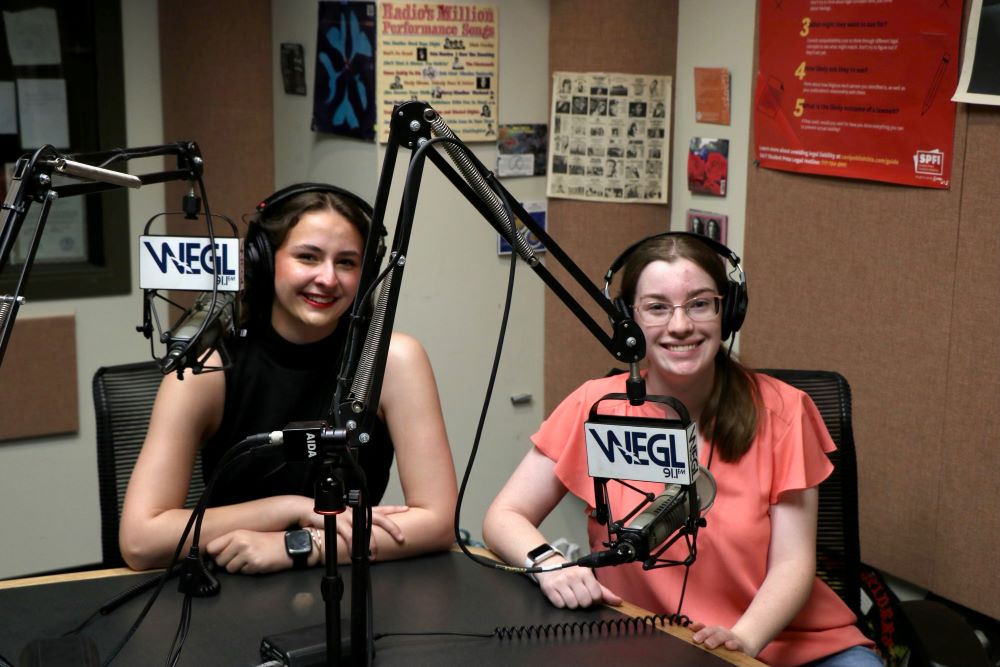 Auburn History Club co-presidents Sofia Foradori and Victoria Ashley are broadcasting the importance of history research through a new podcast partnership with WEGL radio.
Each week, they host "It's All History to Me," an hourlong broadcast on WEGL, Auburn's student-run radio station, focused on history topics at the intersection of power and people. Ashley said the radio show helps Auburn history professors meet listeners where they are.
"We're hoping to spread the message that history is relevant for everyone," Ashley said. "It's more of a public history research project where we're getting professors to connect with the greater community, and helping prospective students or history buffs see all the great stuff that's going on at Auburn. A lot of people are genuinely interested in what our faculty have to say, and we wanted to give them a platform to do so."
During the radio hour's first season, Ashley and Foradori have hosted Department of History Chair Melissa Blair to discuss Women's History Month and Associate Professor Xaq Frohlich to discuss food history, as well as a conversation about why the study of history is so important.
"History is engaging in that you can find connections to yourself and also the world around you," Foradori said. "When we have guest speakers or even invite professors on the show, the stuff they talk about really supplements what we do well. It was a really great way for me to expand the way I think about history and I hope that either people who are part of the club or want to join the club or even just listen to our radio hour have the same experience."
Foradori and Ashley revitalized the Auburn History Club after the COVID-19 pandemic shut down its operation. By formalizing the student organization in AU Involve and expanding the club's reach through partnerships on campus, Foradori and Ashley hope to engage more of the Auburn community with the Department of History.
In addition to the WEGL radio hour, the History Club hosts guest speakers, movie nights and field trips to engage with local historians and build research skills. Previous events have included a talk by Assistant Professor Heidi Hausse on the history of witchcraft, a tour of the Jule Collins Smith Museum of Fine Art and a viewing of "Iron Jawed Angels," a film depicting the lives of suffragettes.
Between running the club and hosting the radio hour, Ashley said she's building vital skills across campus.
"When I first walked into the radio station, I felt like I was checking something off my college bucket list in a way," Ashley said. "This is an amazing opportunity to get more connected to Auburn. The communication skills we're learning by connecting with professors and time management, and then the research skills of learning what the professors do so we can ask the right questions and communicate that in a way that's engaging to audiences, will be super valuable in the future."
For Foradori, the History Club represents a way to make the most of her time at Auburn. She said getting to know more history professors, connecting with her peers and reaching across campus and community to connect people with history is paving a way for her to start a career in modern history work.
Foradori encourages any student interested in history to join the Auburn History Club and contribute to projects that will benefit the community.
"As we continue to grow, we're hoping to do a lot more outreach," Foradori said. "We're doing the radio hour, but hopefully as we continue to boost our numbers, we can start doing research in the community to grow and share with the community."
"It's All History to Me" airs every Wednesday at 7 a.m. CDT on WEGL. The club meets every other Friday at 5 p.m. For more information or to join the History Club, visit AU Involve.
Related Articles
---