Emma Poole wins President's Award for CLA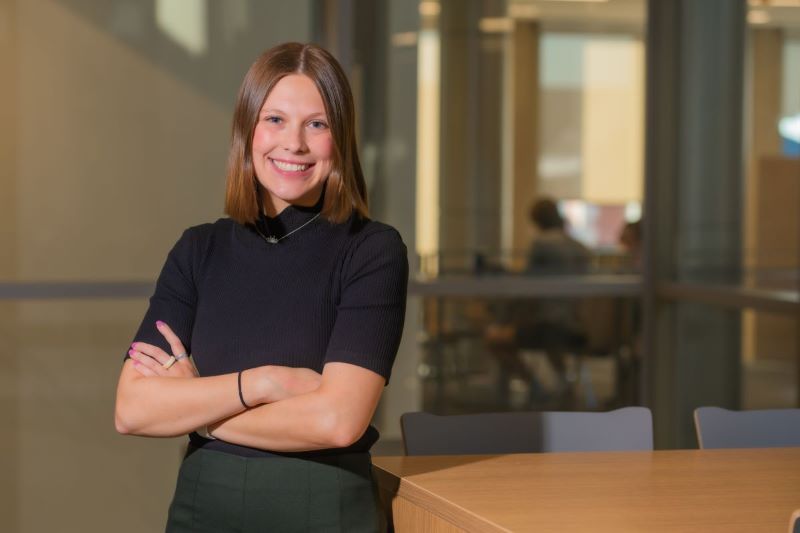 Each year, the Auburn University President's Award recognizes one outstanding student from each College for their academic excellence and extracurricular success. The spring 2022 recipient for the College of Liberal Arts is political science senior Emma Poole.
"To me, this honor has really represented what it means to be an Auburn student," Poole said. "Coming from out of state, it can be really easy to just fly under the radar, but I think one of the unique things about Auburn students is that no matter where they came from, they love to jump right into the Auburn community. That's exactly what I did, so being recognized for that represents how welcoming the Auburn family can be and how many opportunities there are here."
Poole grew up outside of Washington, D.C. and both her parents worked for the government. She said she was always drawn to politics, so she chose to pursue political science at Auburn and began to build the foundation for a career in law and justice. Last summer, she interned at the Executive Office of the President of the United States. At Auburn, she served as co-director of programs for the College of Liberal Arts School Council and is a member of the Lobby Board for the Auburn Student Government Association. Poole currently interns with the U.S. Green Building Council.
In addition to her major study of political science, Poole earned minors in psychology and Spanish.
"Politics was always a part of my life. During high school, I really developed an interest in politics and government, so political science was the best fit," Poole said. "The Spanish program at Auburn is, in my opinion, one of the best, and I've been able to expand on the language I've studied for so long, while also being able to learn about different cultures, Spanish literature and more."
At Auburn, Poole is also in the Honors College and the director of diversity, equity and inclusion for Alpha Omicron Pi-Delta Delta. She also served as director of event management for the Auburn University Dance Marathon, a LEAD peer mentor and director of scholarship for the Panhellenic Council.
After graduating, Poole will begin law school at the University of North Carolina at Chapel Hill. She said minoring in psychology at Auburn taught her several transferrable concepts that she will continue to build on in law school, including social psychology and decision-making.
"I'm super excited for this next step and super thankful for all Auburn and CLA have done to help get me there," Poole said. "As of now, I'm hoping to pursue a career in public interest law, working ideally on criminal justice, prison reform and civil rights law."
Read more about the President's Awards here.
Tags: Political Science World Languages Literatures and Cultures Psychological Sciences
Related Articles
---