News

|

Articles

|

Belk's Project Hometown Heroes selects BraveHearts Center for Place and Purpose for $10k award
Belk's Project Hometown Heroes selects BraveHearts Center for Place and Purpose for $10k award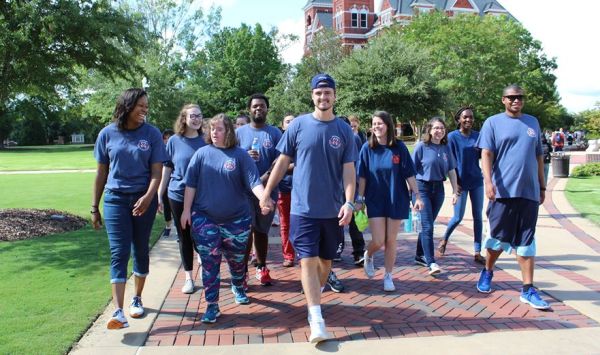 Launched in December 2017, Project Hometown was created by Belk to promote communities, to help families thrive, and to empower their stores and their associates to make a difference. As an additional effort to acknowledge and support community initiatives in the Southeast Conference (SEC), Belk also recently created Project Hometown Heroes.  
Auburn University's BraveHearts Center for Place and Purpose (BCPP) was selected as a promising community outreach program with a history of volunteers representing AU Athletics. As part of the Hometown Heroes Project, BCPP identified Eysha Ambler, former assistant volleyball coach, as BraveHearts local Hometown Hero.

BCPP is a comprehensive health and wellness community inclusion program created by faculty in the social work program to enhance the quality of life for young adults with disability facing moderate to severe life challenges. Professors Angie Burque and Danilea Werner designed the program to provide a daily structured routine that cultivates mind, body, and spirit. 
"Coach Ambler spent countless hours supporting BCPP.  She asked how she could be involved with BCPP and she followed through and showed up. Not only that, she came with enthusiasm and said, 'tell us what do we need to do, and we're there,'" Burque said.  

Ambler said that working with BCPP has had a lasting effect on her. "To come and work with BraveHearts, it brightens my day just seeing the kids happy and doing things that you don't think they can do. Just spending time with BCPP will change you," Ambler said. 

BCPP was recognized on-field during the SEC Championship game in Atlanta and awarded $10,000 to go towards BCPP's programming, supplies, and outreach initiatives. 

"It has been an honor and humbling to be recognized and supported, especially at such a national level," Werner said.
BCPP was created in 2016 and is located at the First Presbyterian Church of Auburn. It represents a university/faith partnership and serves as an optimal site for student internships, practicums, and volunteer opportunities. If you are interested in volunteering or donating to BCPP please contact Angie Burque at burquad@auburn.edu or 334-844-2834. 
Tags: Community and Outreach Sociology Anthropology and Social Work Social Work Diversity, Equity, and Inclusion
Related Articles
---