Andrea Kelley
Associate Professor, Media Studies
115 Tichenor Hall
(334) 844-0230
ajk0037@auburn.edu
Office Hours
Monday 1-2:30 p.m.
Wednesday 1-2:30 p.m.
Profile
Andrea Kelley is an associate professor of media studies in the School of Communication and Journalism.
Education
Ph.D., Indiana University
M.A., Indiana University
B.A., Columbia University
Research and Teaching Interests
Her research and teaching interests focus on film history, screen technologies, and representations of race on film. Her current research focuses on the broader relations between film and culture with an emphasis on how nontheatrical film screens entered into everyday life.
Representative Publications
Book Publications
Soundies Jukebox Films and the Shift to Small Screen Culture (Rutgers University Press, May 2018)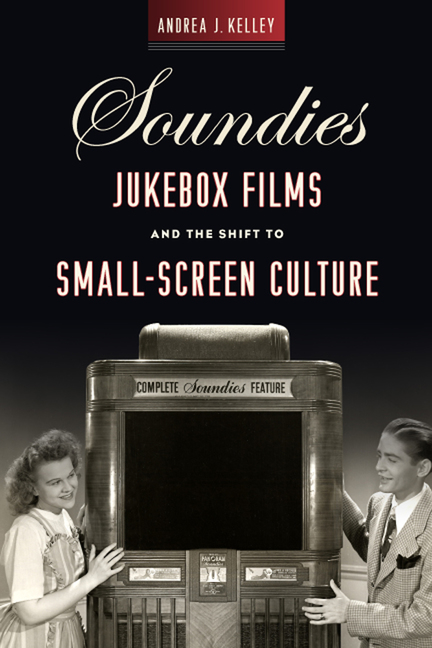 Journal Articles
"A Revolution in the Atmosphere: The Dynamics of Site and Screen in 1940s Soundies" Cinema Journal (Winter 2015) Vol. 54, No. 2, 72-93
"From Attraction to Distraction: The Panoram Machine and Emerging Modes of Multi-Sited Screen Consumption" Continuum: Journal of Media and Cultural Studies (2014) Vol. 28, No. 3, 330–341
"Be(ing) More" than Television: the PBS Brand as Post-Network TV" Spectator 28:1 (2008), 29-39
Book Chapters in an Anthology
"Mobilizing the Moving Image: Movie Machines at U.S. Military Bases and Veteran Hospitals during WWII," Cinema's Military Industrial Complex, ed. Lee Grieveson and Haidee Wasson (University of California Press, 2018), 44-60.
Classes Taught
Introduction to Film Studies
American Film Genres
Race and U.S. Film History
Screen Cultures
Qualitative Research Methods in Communication
Last Updated: August 11, 2022