Lift Every Voice: A Celebration of African-American Praise Poetry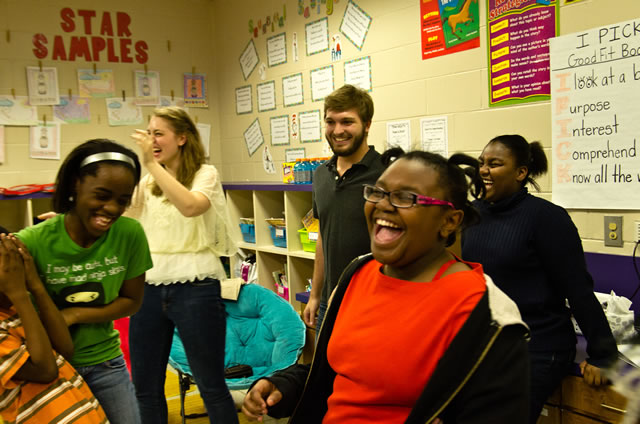 For the past four years, senior acting students in the BFA Theatre Performance Program at Auburn University have taught a series of performance workshops in the Loachapoka Extended Day Program, which culminate in a public performance of African-American Praise Poetry. The performance brings together members of the university, the Loachapoka schools, and African-American artists from the region in a collaboration that celebrates the oral traditions of theatre and aspects of African-American history through praise poetry.
Loachapoka, Alabama is an agricultural community of roughly 1,000 people whose school system is comprised of one K-12 campus, where 87% of the students qualify for subsidized lunch programs, teacher turn over is high, and there is no sustained arts programming in the elementary school. The school, for all intents and purposes, is the community center. Auburn University, through its land grant mission, it's K-12 Outreach Program, and the Community and Civic Engagement Program in the College of Liberal Arts, is committed to developing sustainable initiatives that strengthen communities through education, and provide enhanced learning opportunities for university students and faculty.
We identified the Loachapoka Extended Day Program as a viable community partner, because its executive director has a background in the arts, and is committed to providing the students in her program with exposure to the fine and performing arts, and the skills they develop. She has sustained her program with grants and state funding for several years, and the community has come to rely on the structure, safety, and academic support it provides for children. The Department of Theatre and the Outreach Office of the university have consistently demonstrated their commitment to providing financial, logistical, and instructional support for our efforts in the Loachapoka schools.
Senior BFA actors prepare and teach twelve workshops covering vocal production, ensemble building, movement skills, basic text analysis of the poems, and their historical context, and techniques for bringing the poetry to life in performance. Through these inter-active sessions we attempt to engage both sets of students, black and white, in activities that enrich their knowledge of language, African-American culture, and the power of the spoken word to build community and connect students of different backgrounds. Praise Poetry traditionally served to preserve community history and to pass on rituals of language, poetry, tradition and ethics to the younger generation, and our community partners felt this would be a meaningful and relevant exercise for the Loachapoka students. Auburn University students benefit from this enhanced academic experience by solidifying a knowledge of their craft by teaching it to others, expanding their multicultural literacy through a study of African-American poets, developing an appreciation of human diversity and commonality, and strengthening a sense of empathy and social responsibility with respect to their roles as artists and citizens.
The project has enjoyed the support of both the university and the Loachapoka community, and the performances have always been enthusiastically received. Over the years we have streamlined the process to maximize the focus and enthusiasm of both sets of students, and many of the Auburn students have found the engaged experience rewarding-even moving on to teaching artist positions after graduation. Over the course of the month long residency in the after school program, the Auburn students have demonstrated significant growth in their ability apply their analytic, organizational and performative skills to a discontinuous experience, a new community, and a new performance venue. Our challenge is to provide a year long arts experience for the elementary children, so they can continue to build on the skills they've acquired during the residency. In addition we need to find a way to convince more students actors that service learning can contribute to their artistic process, their marketability, and their evolving humanity.
African American Praise Poetry Movie
Loachapoka Elementary School Does Praise Poetry from Payne Hopton-Jones on Vimeo.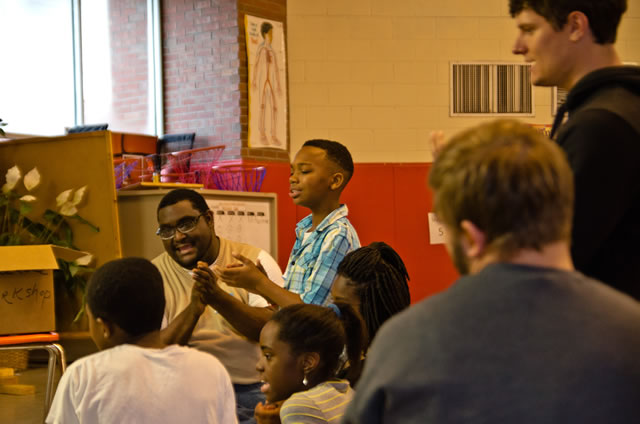 Last Updated: February 07, 2018