Minor
Click here for a list of courses that qualify for the CCE minor!
What is Community and Civic Engagement?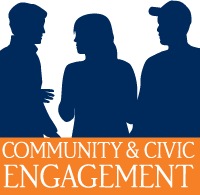 Community and Civic Engagement is acting upon a heightened sense of responsibility to one's communities. This includes a wide range of activities, including developing civic sensitivity, participation in building civil society, and benefiting the common good. Community and Civic Engagement encompasses the notions of global citizenship and interdependence. Through civic engagement, individuals—as citizens of their communities, their nations, and the world—are empowered as agents of positive social change for a more democratic world.
Why Minor in Community and Civic Engagement?
Students who want to make a difference in their communities and want to learn how to apply their academic disciplines in making contributions to the larger society will find this interdisciplinary minor rewarding and worthwhile.
Requirements for the Community and Civic Engagement Minor:
15 credit hours with a minimum of 9 credits at the 3000-level or higher.
1 hour Capstone Course: The Capstone requires students to draw upon the knowledge obtained throughout their coursework and to perform relevant service projects.

Students MUST have completed 15 credits toward a Minor in Community and Civic Engagement prior to enrollment in this course.

Students must take at least one course from each of the four CCE categories (Context; Public Issue; Public Skills, Tools, & Methods; and Service Learning). View a list of all CCE courses here.
The additional course may be taken in any of the four categories.
Courses taken in fulfillment of the College Core or for other majors and minors may not be counted toward the Community and Civic Engagement minor.
To be given credit for completing the minor, your calculated GPA in the minor must be a minimum of 2.5.
To sign up for the Minor, fill out this form:
The Community and Civic Engagement minor form can be found here. This form will list the classes you plan on using for the minor. The faculty advisors (see Contact Information below) can help you choose courses that meet the requirements.
You may either fill out the form online, print it out, and submit it to a Community and Civic Engagement faculty advisor or print it out and have a Community and Faculty Advisor assist you in filling it out.
The completed form for the Community and Civic Engagement minor must be signed by one of the Community and Civic Engagement Faculty Advisors and the Academic Dean within your college.
In order to have the form signed by your college's Academic Dean, most colleges require that you submit the form first to your college's academic advisor, who will confirm that you have met all the requirements. The final signature on the form should be signed by the Academic Dean in your college. Please consult with your college advisor to determine if you should submit the form directly to the Academic Dean or through the college advisor.
Contact Information:
For more information, please contact the Community and Civic Engagement faculty Advisors:
Dr. Giovanna Summerfield
Associate Dean for Educational Affairs
College of Liberal Arts
315A Tichenor Hall
(334) 844-2890
summegi@auburn.edu
Dr. Mark Wilson
Director of Community Engagement
College of Liberal Arts
Pebble Hill
(334) 844-6198
mwilson@auburn.edu
Are you a faculty member interested in submitting a course for inclusion in the minor?
Click here (MS WORD document) or here (PDF file) for the course proposal form or contact one of the advisors listed above with questions.
Last Updated: July 18, 2018