Programs

|

Stories

|

Equitable Neighborhoods Initiative puts focus on health-related issues
Equitable Neighborhoods Initiative puts focus on health-related issues
Greg Sarabia, an administrator assistant and translator for Collinsville High School, was approached in 2021 to become the community liaison for the Alabama Equitable Neighborhoods Initiative in Collinsville.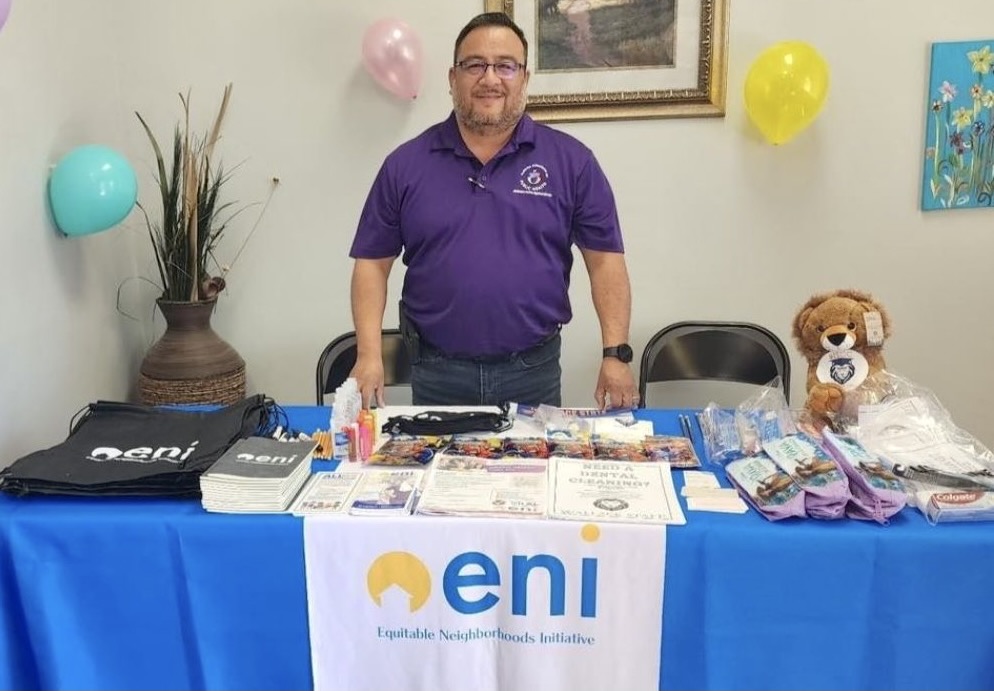 ENI is led by University of Alabama professor and project leader Dr. Arturo Menefee and funded by the Center for Disease Control and Prevention (CDC) to address health-related issues related to the Covid-19 pandemic while preparing communities to navigate future health problems.
Collinsville is one of 15 Alabama communities, participating in ENI. The project plans to add five more communities by 2024 to serve 20 Alabama communities in total.
Dr. Frannie Koe is a doctor and resident of Collinsville who specializes in rural healthcare. She works with ENI from the perspective of a healthcare provider to give input on changes and resources that need to be brought to the area.
"ENI is teaching our community how to manage serious mental health issues, write grants, build an improved park system, and ultimately, join together to be a more healthy and fit community," Koe said.
ENI started as a one-year program, and during that time Collinsville Public Library hosted a mental health workshop for the community attended by law enforcement, firefighters, local businesses, and interested community members.
Now in its second year of funding, the Collinsville ENI group is working on plans for building picnic tables and play equipment at Collinsville Town South Park called "The Healing Zone" with the help of UA faculty members Brian Rushing, project co-leader and Healing Zone coordinator, and Craig Wedderspoon, co-leader and Healing Zone designer.
Sarabria explained that Healing Zones are meant to encourage community members to leave their homes and spend time together outside.
He acts as a bridge between regional director, Cristin Brawner, and the adult advisory council, a group of Collinsville community members who make decisions on allocating ENI resources.
The adult advisory council includes city clerk Jill Tidmore, Mayor Johnny Traffenstedt, park director James Coker, head librarian Jennifer Wilkins, Addison Goza, Madalyn Goza, Mary Kreguer, Ricky Patterson, Margarita Juan, Roberta Mendoza, Francisco Andres Tomas, Juana Felipe and Tammy Goza.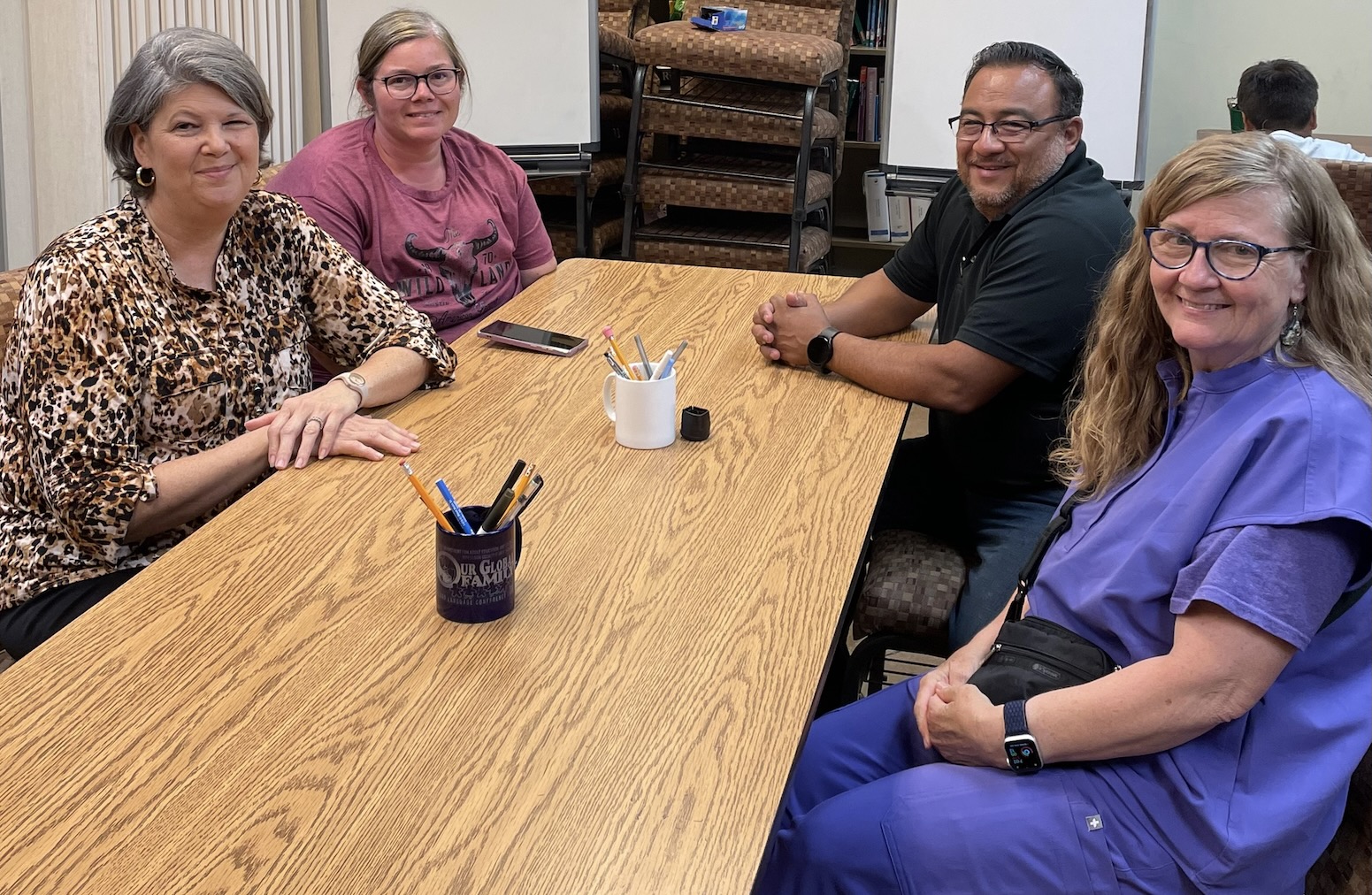 According to Sarabia, the Collinsville Public Library is an asset to ENI, allowing the meetings to be held in their space and with head librarian, Jennifer Wilkins, participating in the program.
"I already feel like [ENI] has been such a benefit. The mental health workshop that they brought to the library at no charge put people in a room, some that I knew, some that I didn't, and they were talking about mental health in ways that I had never heard," Wilkins said.
Each of the communities participating in ENI has a large population of racial minorities that were disproportionately affected by the Covid-19 pandemic.
According to the Mayo Clinic, "Racial and ethnic minorities in the United States have had higher rates of infection, hospital stays and death caused by the COVID-19 virus than white, non-Hispanic people." Access to healthcare is a possible factor in the disparity, which is a problem in rural Alabama. Alabama Public Health identifies rural Alabama as the primary location at risk for inaccessible healthcare.
 The rural town of Collinsville has a majority Latin American population of immigrants from Mexico and Guatemala. Around 1,400 people out of the 2,310 people in Collinsville are Latin Americans, according to Data USA.
Sarabia, a Mexican immigrant himself, is committed to engaging with the Hispanic community in Collinsville to bring them the healthcare resources they need, but immigration status plays a huge role in his ability to reach out into the community.
"The biggest problem that I've seen with the Hispanic community is that they're afraid to call the police for help, because a lot of the Hispanic community here in town, they're undocumented. They're afraid to even reach out for help," explained Sarabia.
The fear of deportation keeps people away from the library, hospitals, and emergency services. Sarabia recounted a story of a man who had a fire that got out of control who called Sarabia instead of 911. "I told him they're not going to ask for an ID. He was going to go out there and put the fire out. I ended up calling 911 for him."
He added, "What I've tried to tell the Hispanic community is don't be afraid to reach out for help, you know? Go to the library, go to the police department, go to the fire department, if you need help with anything."
With language barriers and a lack of knowledge about programs, undocumented immigrants don't know there is help for them without the risk of deportation, he said.
Sarabia said he hopes to leave the community with sustainable change that will outlive the ENI program itself through engaging the youth of Collinsville. "We're getting involved with the school. We want to hear from a youth community advisory group, you know, what their needs are."
Tags: Collinsville
Related Articles
---