Art

|

Emotional Support Art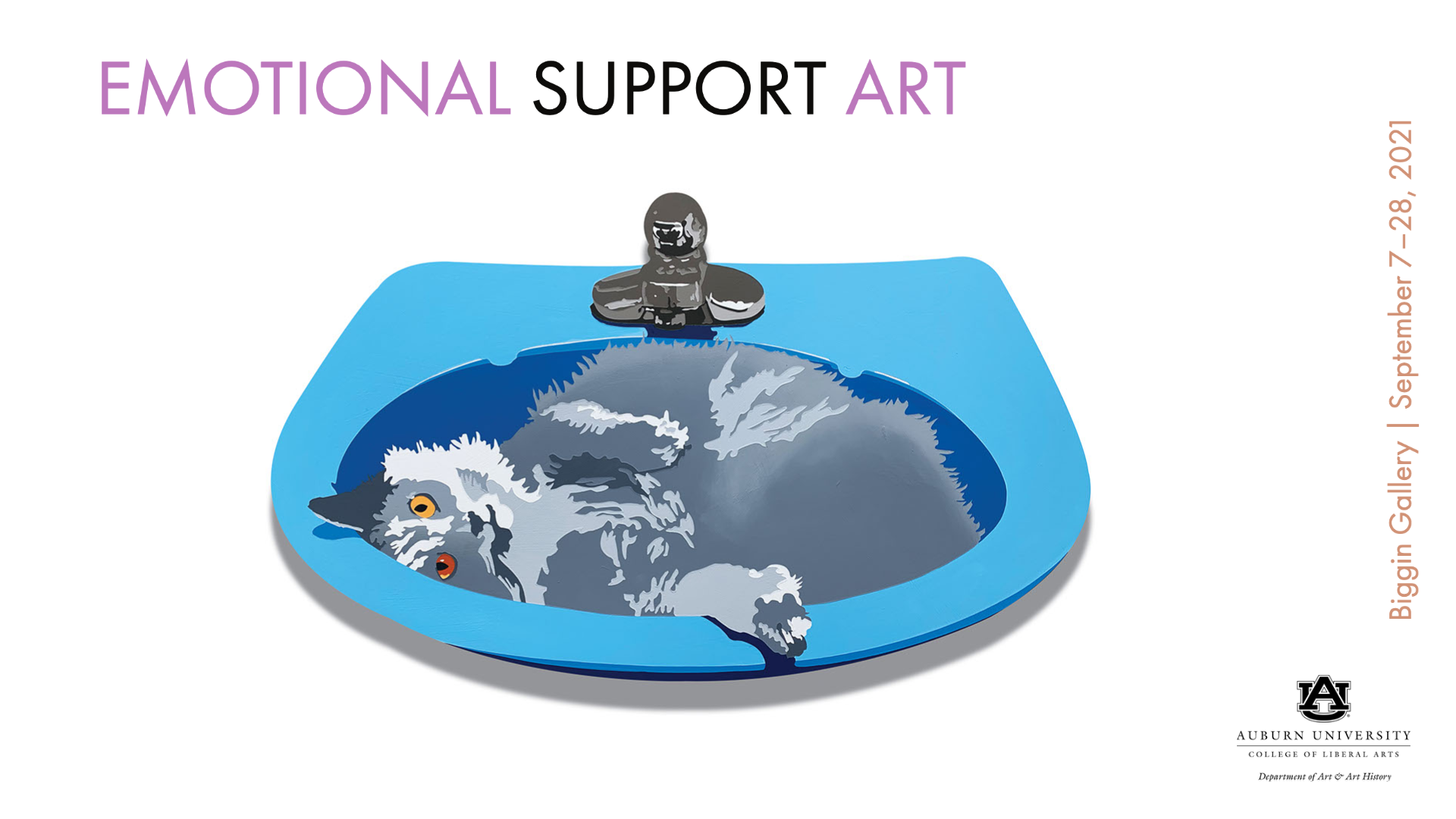 Group exhibition featuring works by Carissa Potter Carlson, JooYoung Choi, Mark Fleuridor, Carly Glovinski, Lori Larusso, Emily O'Leary, Pamela Pecchio, and Polly Shindler.
September 7–28, 2021
This group exhibition features artwork exploring small comforts and joyful scenes. Through painting, printmaking, textiles, sculpture, photography and video art, the eight artists featured in this exhibition show the rich artistic potential of themes of family, nature, friendship and everyday delights.
Join us for artist lectures online:
September 22 @ 6 pm  Carly Glovinski & Lori Larusso
https://auburn.zoom.us/j/89567380167
September 23 @ 8 pm  Pamela Pecchio & Polly Shindler
https://auburn.zoom.us/j/82775532842
September 27 @ 7 pm  Mark Fleuridor
https://auburn.zoom.us/j/85323303476
September 28 @ 7 pm  JooYoung Choi, Emily O'Leary, & Carissa Carlson Potter
https://auburn.zoom.us/j/87952551213
*All times in CDT
About the Artists
Carissa Potter is an artist who lives and works in Oakland, California. Carissa is a founding member of Colpa Press, co-founder of If You Were Here Now, and is the founder of People I've Loved. Her work playfully explores human connection and emotion. Carissa is currently working on her third book, How To Heal Heartbreak, coming fall 2022, and her third show with Eleanor Harwood in San Francisco. She lives with her daughter, father, and partner in a house with a lemon tree.
JooYoung Choi, born in Seoul, South Korea, immigrated to Concord, New Hampshire in 1982 by way of adoption. While completing her BFA at Massachusetts College of Art and Design, she returned to South Korea and reunited with her birth family. Since receiving her MFA from Lesley University in Cambridge, Massachusetts, Choi's artwork has been exhibited in such venues as the Crystal Bridges Museum of American Art, Bentonville, AR; Parrish Art Museum, Water Mill, NY; The Contemporary Arts Museum Houston, TX; Project Row Houses, Houston, TX; The Wing Luke Museum of the Asian Pacific American Experience, Seattle, WA; The National Museum of Mexican Art, Chicago, IL; The Art Museum of South East Texas, Beaumont, TX; and Lawndale Art Center, Houston, TX. Choi has received grants from Artadia and Idea Fund. She has also participated in the Lawndale Artist Residency in Houston, TX and the Harvester Artist Residency in Wichita, KS.

Choi's work has been featured by numerous media groups and publications, including the PBS Digital Studios Art Assignment, Korean Global News Network YTN, the LA Times, New American Paintings, Arts+Culture Magazine, the Houston Chronicle, Glasstire, Houston's PaperCity, Nat. Brut, and the Huffington Post.
Mark Fleuridor is a Haitian American artist born and raised in Miami, Florida. He graduated from the Maryland Institute College of Art with a BFA in Painting. Fleuridor explores his own personal history within his background and familial experiences. These topics are explored through mediums such as painting, quilting and collage. Fleuridor has completed artist residencies such as Vermont Studio Center (VT) and the Oxbow Artist Residency (MI) and is currently attending Oolite Artist Residency in Miami, FL. Fleuridor has exhibited his works in various exhibitions, including Black Castor Oil at Art and Culture Center, Fort Lauderdale, Florida, and Noir, Noir, at Prizm Art Fair, Miami, FL.
Carly Glovinski makes work on paper, sculpture and installations that explore the make-do, resourceful attitudes associated with domestic craft and a reverence for nature. The elements of time and place are embedded in her work, measured by tides and seasonal flower blooms, and marked by labor and repetitive process. She mines the everyday things in her surrounding coastal New Hampshire and Maine environment, encountered by chance, by search, and by sentiment. The old bumps up against the new in work that testifies to the present and embraces a slip in perception. Carly received her BFA from Boston University in 2003 and is represented by Morgan Lehman Gallery in New York.
Lori Larusso has exhibited her work widely in the US and abroad, and it is included in many public and private collections. Lori has been awarded numerous residency fellowships including Bemis Center for Contemporary Art, McColl Center for Art + Innovation, Sam & Adele Golden Foundation, Art + History Museums Maitland, chaNorth, and MacDowell where she received a Milton and Sally Avery Fellowship. She is a recipient of the Kentucky Arts Council's Al Smith Fellowship, multiple grants from the Great Meadows Foundation and the Kentucky Foundation for Women.

Lori is the 2019 Kentucky South Arts Fellow and is the recipient of the 2020 Fischer Prize for Visual Art. Lori Larusso earned an MFA from the Maryland Institute College of Art (MICA) and a BFA from the University of Cincinnati's College of Design, Architecture, Art, and Planning (DAAP). She currently lives and works in Louisville, Kentucky and is represented by Galleri Urbane in Dallas, TX.
Emily O'Leary is a Brooklyn-based artist working mostly in fibers. Originally from Massachusetts, she received her BFA in Sculpture from the Massachusetts College of Art and Design and her MFA in Painting and Drawing from the University of Texas in 2018. Her work employs craft mediums like embroidery and rug hooking to depict humans and other animals as counterparts in an ongoing process of domestication.
Pamela Pecchio is a Boston-based artist who works primarily in photography and collage. Her work has been included in exhibitions at Aperture, Daniel Cooney Fine Art, and Wallspace Galleries in New York, as well as International Art Camp in Beijing, China, the Amsterdam DreamBike Festival, and Köeln Art in Cologne, Germany. She is the author of two books—eight, an artist's book published by Nexus Press, and 509, a limited edition monograph published by Daniel 13 Press. Permanent collections include the Yale University Art Museum, the Museum of Fine Arts Boston, the North Carolina Museum of Art, the Museum of Contemporary Art of Georgia, and the Ogden Museum of Southern Art. Pamela is a founding member of Boston-based photography collective Too Much Light.
Polly Shindler was born in Hamden, CT. She received her MFA in Painting from Pratt Institute in 2011. Polly has shown throughout the US as well as internationally in Madrid and London. She has an upcoming solo show at Jennifer Terzian Gallery (Litchfield, CT) opening in January 2022. Previous solo shows include Time Management at Freight + Volume, Retreat, at Ortega Y Gasset (Brooklyn, NY) and at the project space, Tennis Elbow, at The Journal Gallery (Brooklyn). Recently, she has shown in group exhibits such as Just What Is It...?,at Cristea Roberts Gallery (London) and Five Points Gallery in Torrington, CT. Other group show venues include The Flinn Gallery (Greenwich, CT), Kaller Fine Arts (Washington, D.C.), Hashimoto Contemporary (Berkeley, CA), Able Baker Contemporary (Portland, ME) and Underdonk (Brooklyn, NY). The show at Underdonk, Still Lives, was featured in "Goings on About Town" in New Yorker Magazine in September 2018. She was granted a yearlong curatorial residency at Trestle Projects (Brooklyn) in 2015. Polly has attended residencies at Vermont Studio Center (2013) and The Wassaic Project (2020) and will be visiting Provincetown for the DNA Residency in September 2021. Her artwork was recently chosen as the cover of the novel Early Morning Riser by Katherine Heiny. She is in the process of moving to the Hudson Valley with her dog, Owen.