Role in "Selma" Transports Extra to Another Time
This past week, I stood in front of Alabama's Capitol building and listened to Martin Luther King Jr. deliver a roaring speech on voting rights.  Women with beehive hairdos and cat-eye glasses and men sporting skinny ties and penny loafers surrounded me.
Anyone would have believed it was 1965 all over again. But it wasn't. It was 2014 - almost 50 years after the Selma to Montgomery march.
I was on the set of "Selma", a Paramount Studios film that is set for release early next year. The movie follows Dr. Martin Luther King Jr. through events that led up to the marches in Selma and the passage of the Voting Rights Act. The movie also features storylines of other fascinating figures – President Lyndon Johnson, attorney Fred Gray, Rev. Ralph Abernathy, Gov. George Wallace, Amelia Boynton and many others. I should also mention that it is being produced by Oprah Winfrey and Brad Pitt.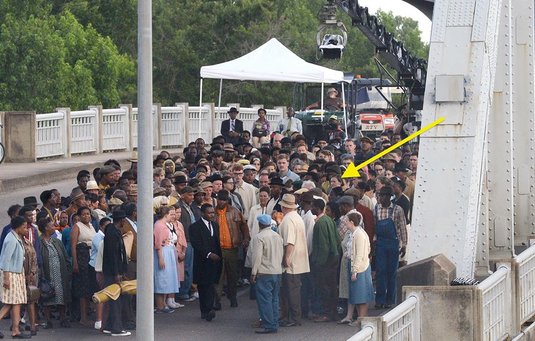 The film will commemorate one of the most important events in the 20 Century, the Civil Rights Movement, and show the drama and significance of the Selma marches. Hopefully, this movie will share this still-amazing 50-year-old story with a new generation.
I had the privilege of being cast as an extra in the movie in the role of "anonymous white marcher" (glamorous, I know) and was on set for scenes filmed at the Edmund Pettus Bridge in Selma and in Montgomery.
Simply having the chance to visit these historic landmarks can be moving. However, cheering for MLK's speech at the steps of the Capitol, and singing "We Will Overcome" as I marched across the bridge amidst a crowd of hundreds. These are experiences I will never forget.
While this was clearly not the same as marching for civil rights in the tumultuous 1960s, it was still very thought provoking and emotional for me and many others.
Throughout the week, I talked with several people who participated in the original marches, and many others who remembered seeing and hearing about them. They all said how realistic the filming seemed and how glad they were to be a part of telling this story for the world to see again.
The emotion hit when these people began comparing stories of their childhoods and young adulthoods in the segregated South and how the real marches affected them. One man recalled stories of Ku Klux Klan action in his neighborhood in the 1960s. Another lady remembered walking in the march to Montgomery with a handful of her ninth grade classmates. They snuck out of school and walked ten miles to the bridge along railroad tracks to avoid policemen and truant officers waiting for them in the streets.
Another woman told a powerful story about her experience in the "Bloody Sunday" march at the bridge. She, like many others, left her high school and walked the almost 12 miles to downtown Selma. She said they knew the event would be too momentous to miss, but they were afraid.
The fear only increased when herds of state troopers and policemen began chasing the crowd back across the bridge, using billy clubs, tear gas and barbed wire to force the retreat. This woman remembered falling down by the railing of the bridge and looking up to a horse-mounted policemen who told her he ought to throw her over the edge into the river.
Stories like this circulated among the crowd of film extras all week. Younger folks listened intently to accounts they might not have believed true a week earlier. And older groups shared and compared stories, some exclaiming that they never knew how bad things really were in the 60s.
After hearing these stories, it took a little imagination to envision the bridge full of film extras as fearful marchers and angry policemen. After all, the extras had cordially shared lunch tables just hours ago. Imagination is part of the film experience, though, and was a really big part of the 1965 marches as well.
Civil Rights activists dared to dream of a society where all people were afforded their "undeniable" rights, children had equal opportunities, and citizens had the same democratic impact, regardless of race. Only in their wildest dreams could many of the residents of a 1965 Selma have imagined the camaraderie, empathy, and kindness shared between folks on the Edmund Pettus Bridge last week.
I saw people from all walks of life share jokes, opinions, and prayers at lunch tables, replace bobby pins in one another's hairdos, huddle under umbrellas to escape the searing June sun, bring each other water, offer to drive one another home and share personal stories of pain and joy. This was community at its finest, and it happened at the Edmund Pettus Bridge. Some of the most progressive thinkers of 1965 might have found it difficult to ever imagine this kinship in Selma.
Now Alabama, and the United States for that matter, are well away from being completely democratic, prejudice-free societies, but we have come a long way from 1965. It is this progress that tells the real story of the Selma marches. The efforts, blood, sweat, and tears of citizens 50 years ago changed our country for the better, and that change has continued to roll on into the 21 Century. Their actions impacted future generations more than they could have ever imagined.
Tags: