Artist's mosaics reflect community, beauty
When Collinsville was looking to add some art to their downtown area, they looked to Linda Muñoz, a glass mosaic artist in North Alabama.  Having already worked with the town on some previous projects, she was well acquainted with the area. When approached with the proposal of making six original mosaic pieces, she quickly agreed.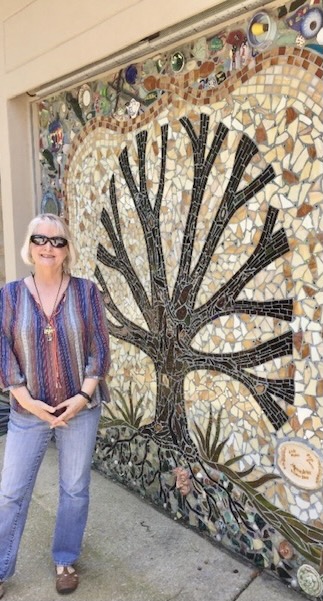 While working as a nurse, Muñoz started working with glass to create stained glass artwork for her home. With previous experience in quilting, she knew she could transfer those skills to glass. She went to Nashville for over two weeks to take a course in stained glass making. After falling in love with the medium, she made several pieces for her home and as commissions for others.  
After taking a break for several years and retiring from nursing, Muñoz returned to working with glass but in a different form.  She took a course in mosaic making and, using the scraps from her old stained-glass projects, she made her first glass mosaic piece. Since then, she has created mosaics now displayed across the state of Alabama. "I love the freedom that mosaic gives the artist," she said.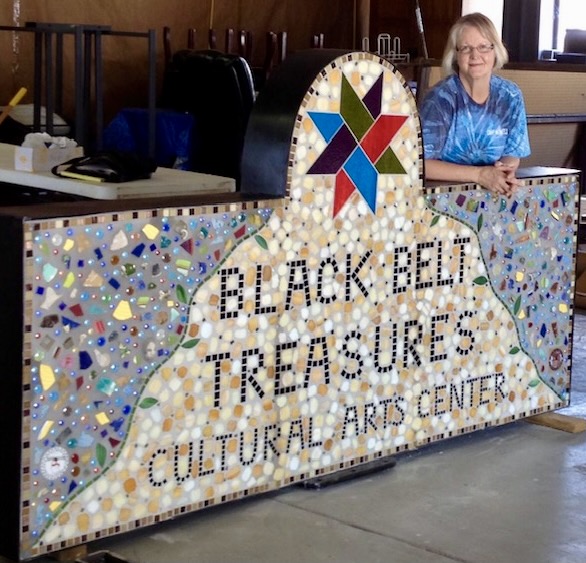 Mosaic making is an intense process.  After creating a design on paper called a "cartoon", every piece of glass needs to be cut and glued down.  Once that is finished, the piece is grouted to fill in the gaps between the glass.  Muñoz said it took two and a half weeks to finish a project she made for the Black Belt Treasures Cultural Arts Center in Camden, Alabama.
Aside from commissions and personal projects, Muñoz also takes part in larger scale projects and teaches classes in mosaics. She frequently teaches at Camp McDowell in Nauvoo, Alabama, during their camp sessions.  She was one of over 1,000 people involved in the making of mosaics for a set of steps at DeSoto State Park in Fort Payne.
While working on a project at Kentuck Arts Festival in Northport, Alabama, Muñoz involved those attending the festival in creating mosaic art. Since then, she has made her projects community oriented.  Muñoz said, "What I love about mosaics is that you can involve the community. You can let little kids take part. The community takes ownership when they are part of the process."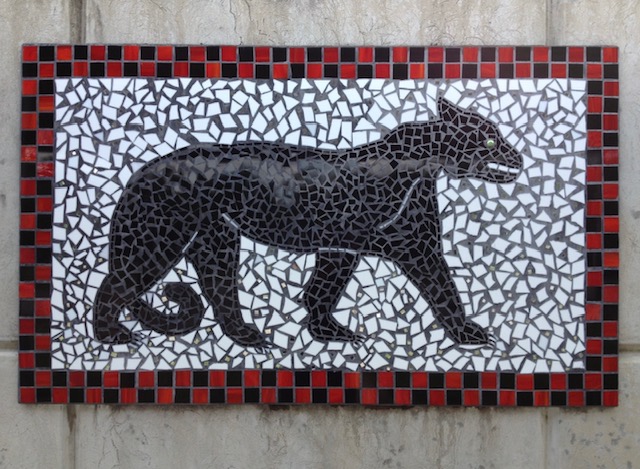 For the project in Collinsville, members of the community help designed the pieces and took an active role in their construction. Muñoz worked with many groups such as the local Study Club, the school, and the library to make the mosaics for Collinsville.  Locals contributed their own broken pottery and ceramics to put into the artworks.
Jennifer Wilkins, librarian at the Collinsville Public Library, has been involved in the process of organizing and designing the project.  She said she hopes that the mosaic display "will be the first of many projects to highlight the downtown historic district."
On June 14 and June 21, Muñoz worked with children and staff at the Collinsville Public Library for their summer reading program.  The program, attended by children of all ages, included lessons about mosaic making including design, glass cutting, and placement. The older attendees were able to try cutting glass themselves while the younger ones worked on placing and gluing the mosaic pieces.
The six pieces all represent Collinsville in different ways. There is one honoring the school, Turkey Trot, the Hispanic community in Collinsville and others. The pieces are all unique but have elements that tie them together, just like the town itself.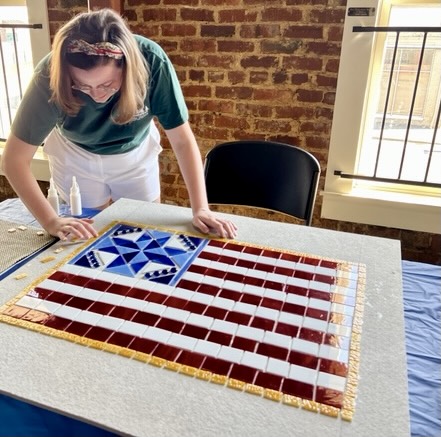 After all six pieces are completed, they will be displayed together on Main Street.  The unveiling is planned for this year's annual Turkey Trot in mid-November.
For more information visit: http://www.littleriverart.com/
Tags: Collinsville
Related Articles
---