Alumni and Friends
Whitney Wood Bailey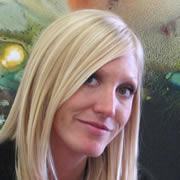 I received a BFA with a concentration in Painting from Auburn University in 2005. I came to Auburn not knowing whether or not I wanted to pursue a career as a professional artist. I left Auburn with certainty as well as the tools that I needed to continue my determined journey as a painter. I attribute that to the excellent faculty at Auburn who grounded us in studio practice and motivated us to challenge ourselves. I also gained an artistic community at Auburn that remains vital to my life as a working artist.
During my time at Auburn, I studied with the University of Georgia's Lamar Dodd School of Art in Cortona, Italy. After graduation, I did a postgraduate study with Rhode Island School of Design in France. A professor in the RISD program, who became a friend and mentor, encouraged me to move to NYC for a time before starting graduate school. I took her advice and lived in New York for nearly two years where I worked at Paul Kasmin Gallery and studied under painter Larry Poons at the Art Students League. This experience was invaluable in that it provided a true and up-close view of the art world and the struggles and joys that are a part of it.
I received my MFA in painting in 2008 from the Savannah College of Art and Design in Atlanta where I was awarded the Artistic Honors Fellowship. These were intensely challenging as well as inspiring years of growth as an art maker. I found that I benefited greatly from the strong and balanced foundation I received from my professors at Auburn. During this time, I interned with numerous artists including Radcliffe Bailey and video artist Patricia Esquivias, and also studied with SCAD in London.
In 2009, I received the New Artist Initiative Award for the Hambidge residency fellowship in Rabun Gap, Ga., and later completed a second residency at the Vermont Studio Center. During a sponsored return trip to France that year, I was fortunate to explore the ancient art caves of southern France. This began my intense fascination with the structural aspects of mark making and it's relationship to the natural elements. The combination of the two and the suggestions that it poses continues to inform my work today.
I have been fortunate to exhibit internationally in cities including Paris, Shanghai and Hong Kong, as well as New York and the southeastern U.S. My work is included in the permanent collections of the Museum of Contemporary Art in Atlanta, GA, The Savannah College of Art and Design in Savannah, Atlanta and Hong Kong, the Nashville Music City Center in Nashville, TN, and other public and private collections.
I am a professional working artist today in part because of my experience at Auburn. I continue to benefit in studio practice from what I learned from my exceptional professors who were also professional artists, and from the artistic community that surrounded me.
I am currently living and working in Brooklyn NY.
Last Updated: February 02, 2016