Alumni and Friends
Katie Darby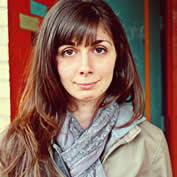 I received my Bachelor of Fine Arts with a concentration in Painting from Auburn University in December of 2011. My senior project consisted of works that explored society's reliance on the automobile and the consequences of this dependency. They further evoked the emotional attachment felt towards our vehicles, the blending of masculinity and femininity, and the endless innovation of technology.
After graduation The Caroline Marshall Draughon Center for the Arts and Humanities generously offered me a position as their artist in residence. I did a couple of paintings for their house, as well as designed images for postcards and advertisements. They also offered me studio space for one year. During that time, I continued to work on my own paintings and pushed my work forward. My work was exhibited locally in Auburn, as well as Georgia and New York.
Over the next year I participated in two artist residencies. In April of 2012, the Art Students League of New York offered me a full fellowship to attend a four-week program at the Vytlacil campus. This was such a wonderful experience that allowed me to interact with artists from around the world outside of an academic setting. It completely changed my work and forced me to consider new ways of creating.
The second residency I attended was the Vermont Studio Center, to which I received a partial scholarship. It was completely different than the first residency, but just as rewarding. This one took place in February of 2013, the month before I went to interview for graduate school at the School of the Art Institute of Chicago, University of Texas at Austin, and the Rhode Island School of Design.
This past Fall I started the Rhode Island School of Design graduate painting program. The workload is extremely challenging, but I can already see how much it has improved my work both formally and conceptually. I think the most important thing I have learned so far, from all of these experiences, is that you have to be true to who you are. Always make work that you want to see in the world. I am so fortunate that I have attended such wonderful programs and get to spend my time working towards my dream of becoming an artist.
I know that none of this would be possible without the support of the faculty from Auburn University. Having education and the ability to paint is such a gift; I want to seize every opportunity to share it. I will be forever grateful to the faculty at Auburn University.
Last Updated: February 22, 2016