Alumni and Friends
Cynthia Farnell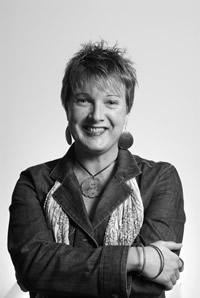 Without a doubt, my experiences as an undergraduate art student at Auburn laid the foundation for my career in the visual arts. In addition to acquiring technical skills and a conceptual framework at Auburn, I participated in my first exhibitions and was encouraged by the professional artists who were my teachers. I have great memories of late nights spent in the studios at Biggin! The faculty really demanded a lot of us and treated us like serious artists. I am grateful for that.
After I graduated from Auburn with a BFA in 1992, I traveled in the United States and abroad. I spent several years in the Czech Republic and supported myself as an ESL teacher. Although as an undergraduate I concentrated on ceramics and painting, I became involved with photography while living in Central Europe. Photography suited my nomadic lifestyle at the time. In the late '90s I was accepted to the photography program at the International Center of Photography in New York City. Living, working and studying in New York City was an amazing education. On the basis of a body of work I created as a student at ICP, I was then selected to participate in the MFA program in photography at The Rhode Island School of Design.
Subsequently, I set out to carve a career niche for myself in gallery and exhibitions work. I gained experience through a series of administrative positions in not-for-profit galleries. These work experiences eventually led to my current position as the Director of the Welch School Galleries at Georgia State University in Atlanta where I curate, administrate and teach. It is a challenging and fulfilling position. Atlanta has a vibrant international arts community, and I am fortunate to be able to participate in it as an artist and arts administrator.
BIOGRAPHY
Alabama native Cynthia Farnell is a multi-disciplinary visual artist whose projects encompass a range of media including photography, video and installation. Much of her work addresses the shifting meanings of home, place, community and identity in contemporary life.
Farnell has exhibited her work internationally including venues in New York City, France, New England and the southern United States. She has been awarded residencies at The Sloss Furnaces Visiting Artist Program in Birmingham, Alabama and at the Virginia Center For Creative Arts in Amherst, Virginia. Her work is in the permanent collection of the International Center of Photography and the Jule Collins Smith Museum of Fine Art. She has received grants to support her work from the South Carolina Arts Commission, The Horry County Arts and Cultural Council, Coastal Carolina University and the Humanities Council, South Carolina.
Farnell earned her M.F.A. from the Rhode Island School of Design, her B.F.A. from Auburn University and a Certificate of General Studies of Photography from The International Center of Photography in New York City. She is currently the director of The Welch Gallery at Georgia State University in Atlanta, Georgia.
Farnell's work is featured in upcoming solo exhibitions at Artspace in Raleigh, North Carolina, and The Myrtle Beach Art Museum in South Carolina. For more information, visit her web site: www.cynthiafarnell.com.
Last Updated: December 02, 2019